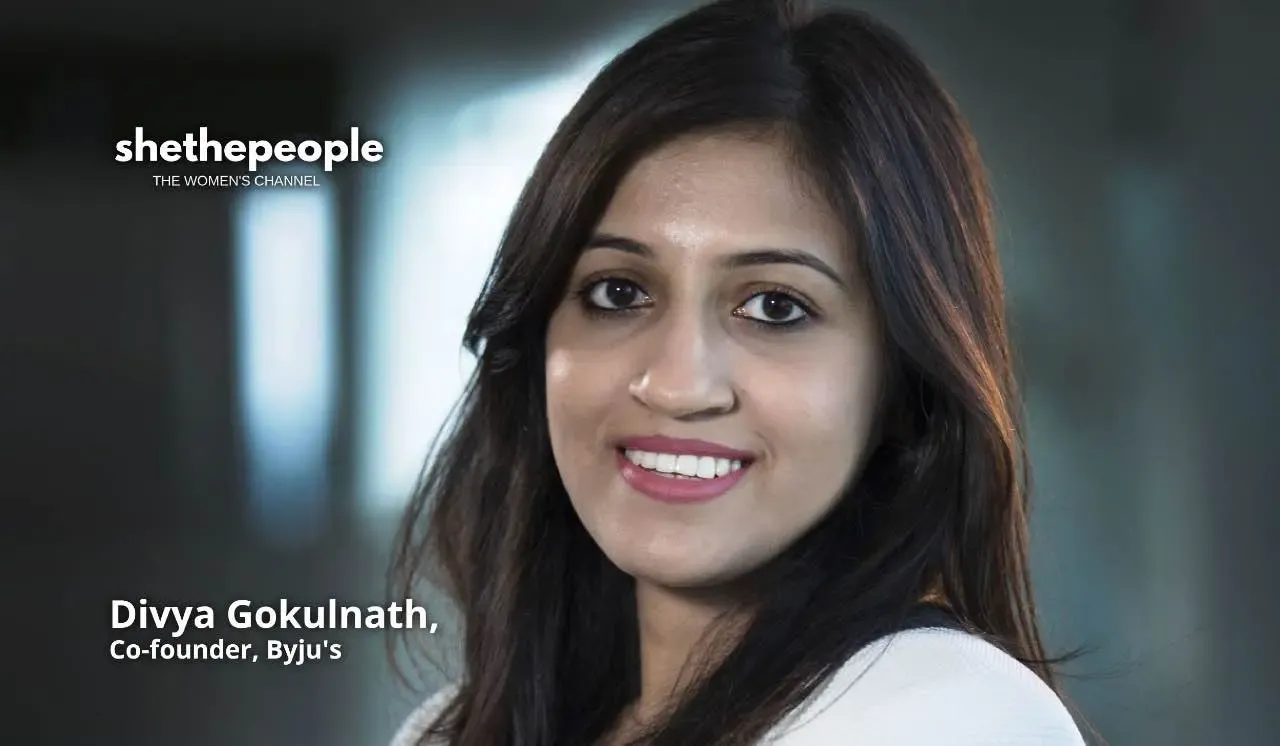 Divya Gokulnath who is the co-founder of learning app, Byju's believes leadership is a combination of numbers and an intuitive sense. The Byju's company was valued it at more than $10 billion as on September 2020. The company counts Mark Zuckerberg, Tencent and Tiger Global as its investors. Late 2020, Byju's also did the acquisition of White Hat Jr. Divya Gokulnath Leadership Mantra
"I am definitely about intuition and also about numbers. I deeply look into numbers because that ensures we value money. Anything we do, we track every RoI. That's very important for every startup and it keeps you grounded because you know you are never going to go wrong."
Gokulnath is an Indian Air Force officer's daughter. Her father served as a doctor in the forces and worked mostly in Bangalore with an exception of one or two outside postings. Divya Gokulnath grew up in Bangalore as her parents only child. Having been raised by two working professionals, she put importance on learning, and valued money. That has helped her build her startup consciously and fearlessly.
The vision, Gokulnath says, is to take the company to the global markets for a listing. What's held the company in good stead is that they have been fixed with their vision and flexible with their plans.
"What's really helped us is that we have been very fixated on our mission and flexible with our execution. If you asked me ten years ago what is it that you guys want to do, the answer would be: we want to create an impact in the way child learn. If you ask us today, the answer will be the same. If you ask us tomorrow, our answer will be the same. So very focussed but we have flexible with the way we have done it and positively disrupted the space. So the future for us looks much more impactful than it is today. We have 80 million children on our platform. COVID put EdTech in the spotlight and all stakeholders transitioned online overnight. There are a lot of subjects that can be taught more effectively online.
&feature=youtu.be
Five Things to know About Divya Gokulnath at Work
Important to go with your intuition about things.
Necessary for a start up to value money and track return on investment.
Believes women can take care and take charge - they shouldn't have to give up one for the other.
As co-founder she believes in shaping the vision of Byju's as a place where learning is made fun.
She doesn't believe that learning should always be with an eye to be a topper. It's important she says to enjoy the learning journey.
Divya Gokulnath Leadership Mantra : Being Intuitive Backed by Numbers
---
Do you know these women achievers?
---
https://www.shethepeople.tv/news/40-over-40-awards-age-barrier-women-workplaces-india/