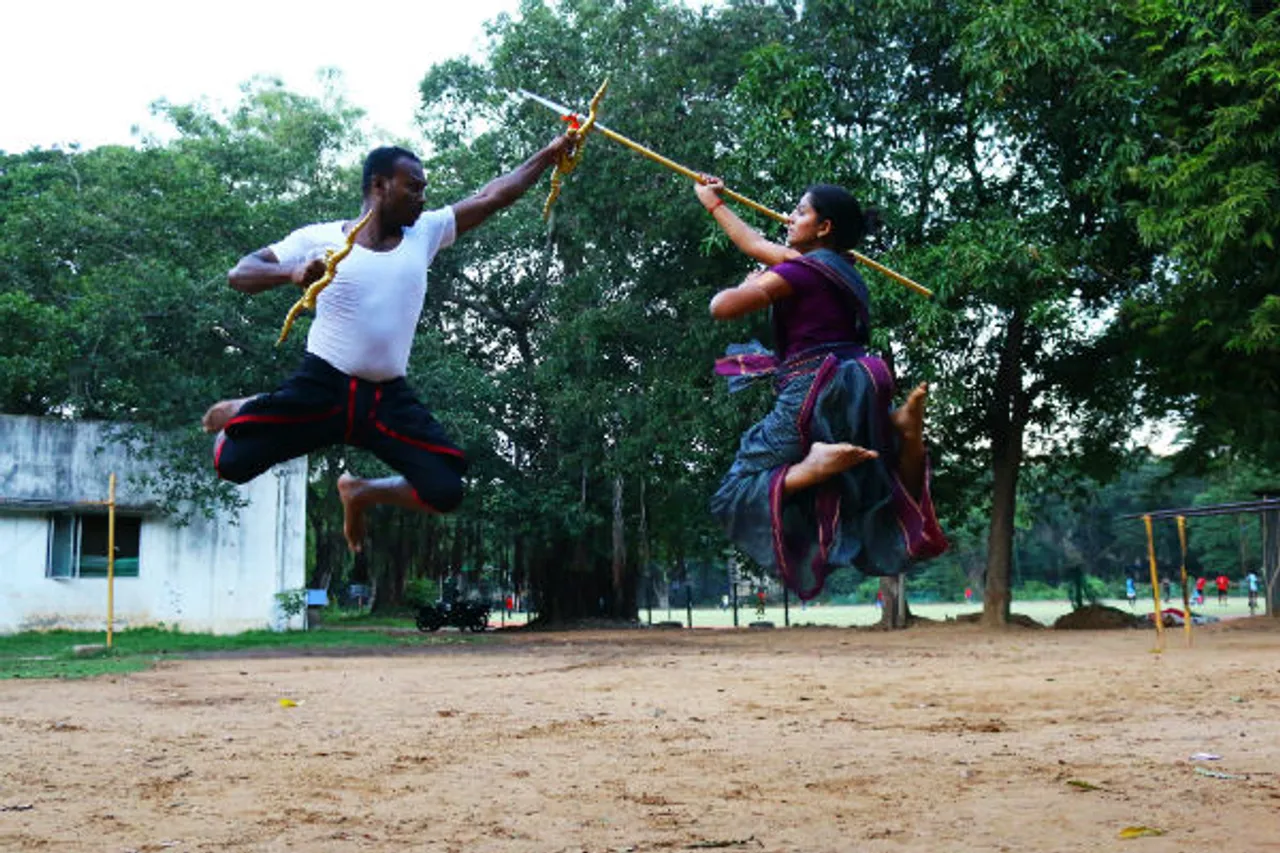 Clad in a saree, swords held in hand, feet perfectly balanced, Aishwarya Manivannan is the warrior we pledge our allegiance to. A professor of art and design, she specialises in Silambam, an ancient traditional martial art form of India dating back to more than 3000 years. A martial artist and dancer, Aishwarya has represented India in various championships and won 'golds' and glory in Silambam. Securing a Diploma in Silambam Fencing, Aishwarya gabbed the spotlight with her unique Silambam act when a video on National Handloom Day 2016 was circulated worldwide which gained popularity on social media.
An artist, designer and educator, Aishwarya, dons many hats, is passionate about education and is an ardent proponent of creativity. Aishwarya, founder of MAISHA Studio, strives to inspire people to become independent thinkers and confident individuals who understand their creative potential and are future leaders and innovators in their chosen fields. Her other interests include travelling, adventure sports, trekking, performing arts and outdoor activity.
Chennai-born martial arts expert, 28-year-old Aishwarya is smashing patriarchy by choosing Silambam over Bharatanatyam. SheThePeople.TV catches up.
What inspired you to pursue Silambam instead of Bharatanatyam?
I used to learn Bharathanatyam and my dance guru mentioned to me about how traditional martial arts help strengthen a dancer's movements and body language. This led me to start looking for martial arts classes in the city. It was during this search that I was introduced to Power Pandian Aasan my Silambam master. I had no idea about the intricacies of the art and its scope in terms of tournaments, weapons, etc. As I started exploring and learning Silambam, I realised how much depth it had in it. I then decided to focus my efforts towards Silambam.
At 23, I started learning Silambam while managing a full-time career. I choose the art form over everything because I felt that there is a lot of potential in it and mainly because I felt that I can do something extraordinary through the art. I found a calling or purpose in Silambam. It inspired and fascinated me because of its history and character.
To be able to learn and practice a traditional Indian martial art form that was developed in my land and by my own ancestors thousands of years ago was such a rarity that I did not want to let it go.
Also, I felt that since I had gotten a taste of the art form, it was my responsibility to share it with more people so that they are also able to understand its beauty and value.
READ: Fencing Makes Me Feel Like A Warrior, Says Shreya Gupta
Please tell us in detail about this martial art form and how it is used today.
Silambam originated from the South of India. It is said that the sage Agathiya Muniver formulated the staff wielding techniques of Silambam and documented the details in palm leaf manuscripts as Kambu Suthram. During the reign of the Cholas, Cheras and Pandyas the techniques of Silambam was used effectively in warfare. Queen Velu Nachiar from the Sivagangai region in the 18th century is said to have been well-trained in Silambam and had an entire army of women soldiers who were all trained in the nuances of this formidable fighting technique. Now it has become a sport and is called different names all over the world, Bayas in West Indies, Shaolin stick fighting by other Asian countries, Arnis in the Philippines etc. Silambam is one of the world's oldest martial art forms which is now being practiced as a sport, fighting technique and performance art.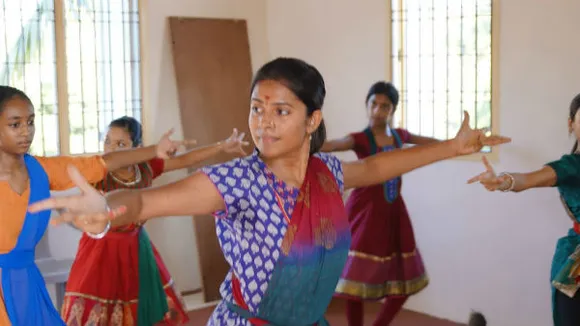 The practice of Silambam improves flexibility, agility, strength, speed, muscular endurance and cardiovascular stamina. The regular practice of Silambam gives the body a full-body workout and brings about an overall well-being of both mind and body. It requires a lot of concentration and breathing regulations that lead to the practice being almost meditative in nature.
Practicing Silambam every morning makes me calm, composed, healthy and energised to take on the day's activities in a motivated and positive way.
Silambam to me is an art form, a martial art form, a self-defense technique, a performing art and a sport. There is no specific age, fitness level or body type  required to learn Silambam, which, means that anybody of any age group can start Silambam training and it is such that the practice automatically conditions and strengthens the body through the varied techniques and movements involved in Silambam.
Clad in a saree, performing such a tough art, who was the inspiration behind your career?

I am blessed to have many role models starting with my paternal grandmother who was a gynecologist and the first female doctor in my native place Tirupattur which is a small town in Tamil Nadu. She worked very hard and built a hospital where she treated patients from the town and neighbouring villages. She was an artist and loved embroidery and stitching. She was also a Scout and built a community building called Thamarai Magalir Mandram to teach women vocational skills to self-sustain. She has been one of my biggest role models and also someone who  made me realise the importance of doing work that will impact others around us.
My Bharathanatyam Guru Kavitha Akka is an IAS Officer and a professional dancer, and my ex-boss Krithika Subrahmaniam, is a senior architect and Bharathanatyam dancer. They pushed me out of my boundaries and inspired me.
Do you use any kind of weapons or equipment to perform the art?

My favourite weapons are the Surul Vaal (metal whip) and the Kambu (stick). Also my favourite is Vaal Veechu - Sword, used as a single sword or double sword. I have trained under Power Pandian Aasan for the last 6 years and have learnt all my techniques from him. I continue to learn and train as Silambam entails a lifetime of learning.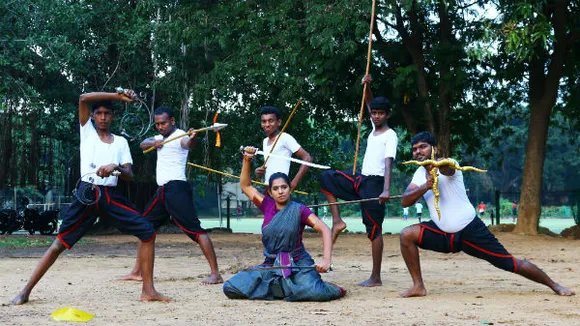 Do you also teach young aspirants? If yes, how many girls are there in the academy? What has been the response so far?
I do conduct Silambam workshops across India and abroad and have taught people of various age groups and backgrounds. It is always a matter of pride when I teach Silambam to people of other countries. Last year in 2018, I received an invitation from the Philippine High School for the Arts to teach Silambam to more than 60 students who specialise in folk art forms. I also taught young school students of the neighbouring towns during my stay in the Philippines. Over the last three years I have seen a definite increase in the number of girls training in Silambam. I was the only woman in my class when I started 6 years back. Today there are more than 30 girls and women in the Power Pandian Aasan Silambam Team.
READ: How A German Created Hockey Village India: Meet Andrea Thumshirn
Do you struggle to get sponsors to continue with your passion?  Tell us about the experience and how important is it for your future?
Sponsors and funding is a constant struggle and is one of the main reasons why we are facing challenges to develop the sport. When compared to other more popular sports, Silambam athletes do not get financial support and due to this, many good athletes are unable to participate in tournaments both in the national and international levels. It is only through better financial support that we will be able to develop Silambam as a sport and take it to the world.
Other than that, societal pressures are always a part of a person's struggle when it comes to doing something different.
Initially, when I started, a lot of people used to question me about why I am pursuing an art form which is usually considered to be practiced by men in the rural areas.
People used to ask me why I started to learn something at that age and even said that training outdoors will cause tanning and I will lose my natural skin colour. They'd also say things like Silambam will make a girl's hand rough and that I would scare away the boys. This was all so meaningless and superficial to me because I believe that art has no gender and Silambam has made me more balanced, sensitive and grounded in an otherwise chaotic and aggressive world that we all live in.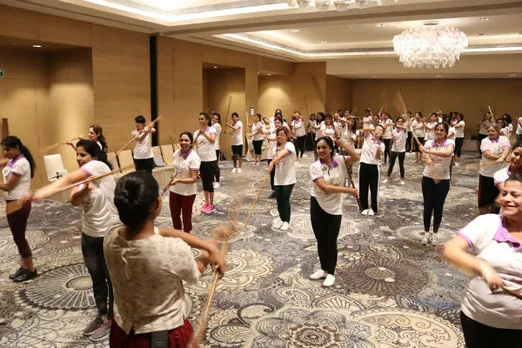 To enter the world of an unknown art form, to start from scratch as an adult while being in a full-time job and managing my company, with no external guidance in sports, to work with people of different mind-sets and still work on creating an impact in this male-dominated space has been my achievement. But Silambam has given me so much happiness and balance in return.
The journey has not been easy, but it has been full of surprises, happiness, learning, growth and satisfaction. Most of the time, people don't acknowledge and see the struggles behind a person's journey. I have had to overcome fractures, injuries, etc, but every challenge makes us stronger. I have had the honour of representing my country and be a means for more people to learn about this ancient art form.
What has been your most touching moment?
At the Asian Silambam Championship 2016 held in KL Malaysia, among many Silambam masters (male or female) in the Indian Team, I was unanimously chosen to be the flag bearer, even though the organisers had asked for a male athlete. Being able to lead the Indian contingent, I don't think I have ever felt so overwhelmed and humbled and proud all at once. I was the only woman chosen to lead a contingent among all the countries present there that day.
Picture credit: Aishwarya Manivannan