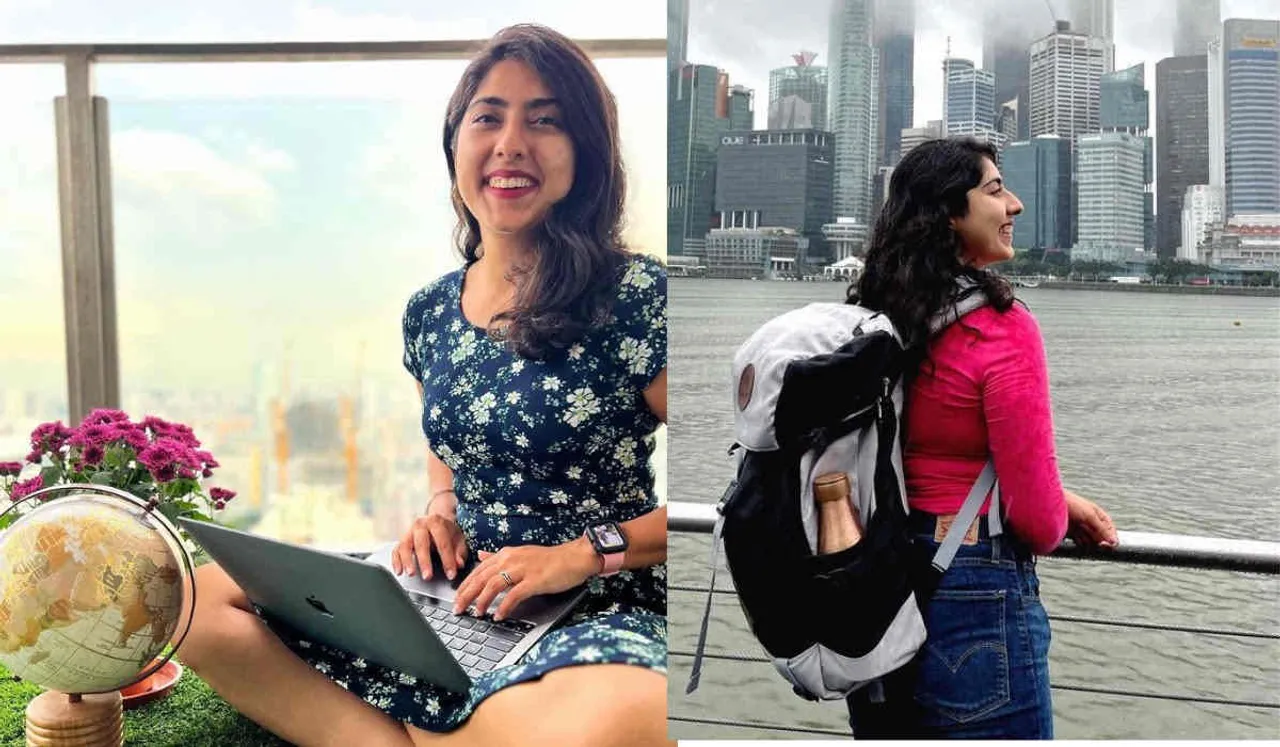 While Monika Guwalani's aspiration to see the world started when she was growing up, it was during the pandemic that her ambition got pumped, considering most companies had started providing remote working options for their employees.
Monika, who worked as an investment banker, took every opportunity she got to travel, and with that, she embraced both the challenges that came along with it and the surprises the impeccable landscapes around showered her with.
In conversation with SheThePeople, Monika Guwalani talks about her journey from being an investment banker to living the life of a digital nomad, how the travel bug fuels her dreams and the challenges that come with choosing this path.
Monika Guwalani Journey
POV: JACKIE of all trades and slaying it all.
Growing up, we used to go on a lot of family trips, so I caught the travel bug pretty young. Being an investment banker, travel has always been my idea of self-love. My voyage, or NOMADism as I like to call it, started during COVID. Organizations started offering remote working options for employees, and I took it way too seriously. I just grabbed this chance and went to Dharamkot to work from the hills.
It was 45 days of crazy adventure. I went on and on amidst breathtaking routes, experienced local life, culture, and festivities and even ended up becoming a paragliding pilot.
I started liking this style of working, and so I decided to stick to the switch. I packed my bags, picked a place, lived there for as long as I wished, and worked.
'Was it a piece of cake?' 'Certainly not'. Solo travelling may sound empowering, but it comes with challenges that I certainly had not accounted for.
To begin with, travel comes at a cost, so one must have enough savings to survive, which I realized a bit late.
Also, as fascinating as it may sound, there comes a time when you feel lonely. I badly wanted someone to talk with. On some days, I would just feel anxious and really sad. I then started practising mindfulness, started meeting people, attending nomadic meetups, and even trying to work at co-working spaces. Gradually, things started making a lot more sense. I met the right kind of people, learned new things, and even adopted new cultures, which became a part of me.
Slowly I got used to my new lifestyle. When I quit my job to make a digital career, Papa asked, "What will you do when you get tired of this hippie life?" I remember I said, "Paa, What if I don't?" I don't know how or when I became a digital nomad, as they call remote travellers nowadays, but all I knew was that this is what makes me happy and accomplished. I made a living digitally, learned a lot more new things along the way, and now I earn way more.
On a recent trip with my husband, he asked me, 'Tell me one thing you want at the end?'. My instant reply was, "Main UDNA chahti hu, DAUDNA chahti hu, GIRNA bhi chahti hu, bas RUKNA nahi chahti"
Narrated by Monika Guwalani. Written by Bhavika Mittal, edited by Niharika, Team SheThePeople
---
Suggested reading: Meet Shivya Nath, At 23 She Gave Up Her Home To Travel