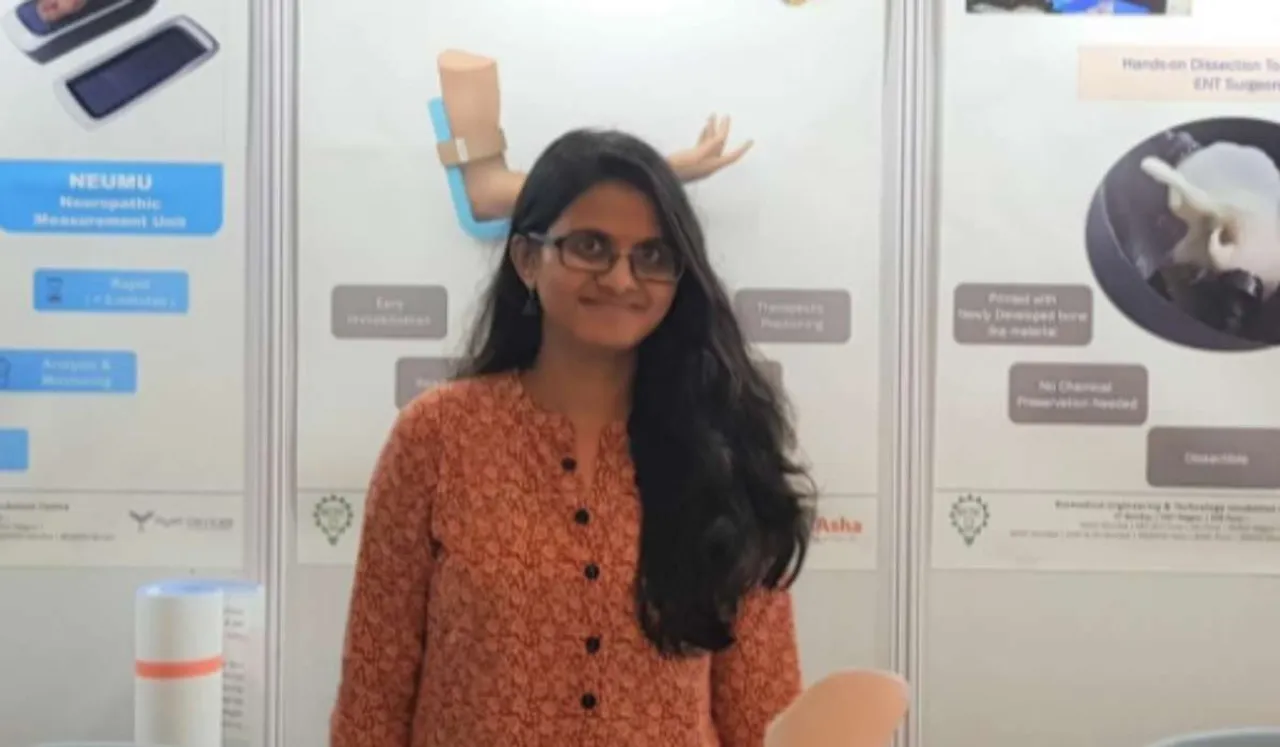 In a country where science and health research is still considered a 'men's club', Komal Sanas has managed to break the mould and bring game-changing variation with her entrepreneurial endeavours in the field. Her initiative MediAsha is working towards finding quick solutions in first-aid so injuries can be nursed on time for thousands who don't get access to it and end up with complications later.
Even as a mechanical engineering student at Kolhapur University, Sanas harboured a keen interest in medical device innovation. Years after college, she actualised her early aspirations with MediAsha, a venture she founded with her husband. And now, together with him, she is well on her way to redirect the conversation of technology in first aid.
India accounts for approximately six percent of road accidents in the world. As per latest government data, the country recorded 449,002 such accidents, out of which 151,113 resulted in death and majority in injuries.
And yet, Sanas says there is a lack of quick, convenient point-of-injury solutions in first aid for these serious mishaps that oftentimes cost people their limbs and more if not urgently nursed.
"Even a slight movement of the fractured limb will cause pain and lead to further internal injuries or cause life-changing disability. The need is to immobilise the limb as early as possible in the pre-hospitalisation hour. With that thought in mind, we devised FractoAid," she tells SheThePeople. 
With an easy-to-use method, users of the fracture first aid device need only dip it in water, remove excess liquid and wrap it around the fractured limb. The cast gets hard enough to support the limb in only five minutes. "We have rigorously consulted doctors in Pune for feedback on the product and worked with them to create something useful," Sanas says.
Bringing Change To Science
The maximum potential of her fracture aid device, Sanas says, will be realised by way of use in elderly care, by athletes, the armed forces, and particularly also for pathological disorders causing bone injury. "Making it available via law and order authorities, sports organisations, or the National Disaster Response Force (NDRF) for swift access will be beneficial for its access."
Are there enough health facilities and devices for persons with disability? Disability rights activist and executive director of Mumbai NGO Rising Flame, Nidhi Goyal, in an interview with SheThePeople earlier this year had outlined the imbalance in health resources for disabled people, something that had become more pronounced during the pandemic. Read here.
"A lot of startups are working in the area of disability, providing assistance devices and prosthetics," Sanas says, naming IIT Bombay's Biomedical Engineering and Technology Innovation Centre (BETIC) that is engaged in work towards this end.
Even with technological advancements, science and tech as a male bastion still leaves the gender ratio, and therefore the potential in the field, lopsided.
At institutes and universities and classrooms, what kind of conversation are we having with regard to more women joining the healthcare research field? Is the gap in engineering or STEM filling up? Or does big promise from half of the workforce still remain untapped?
"I was discussing with one of my seniors about the ratio of girls in the mechanical department in colleges recently, in fact. During his time, there was one girl in a batch of 130 students. Five years later, in my time, the ratio was relatively higher with around 30 girls to a hundred boys," Sanas says.
"The gap is decreasing. One needs to create awareness. My &t=1s">family was supportive of my decision to study the subject. Even with fields like production or manufacturing departments, girls are joining in higher numbers. Girls are also taking subjects of their choice and even institutes are promoting it. Ideas like 'girls can't handle the work in these heavyweight fields' are changing for the positive."
---