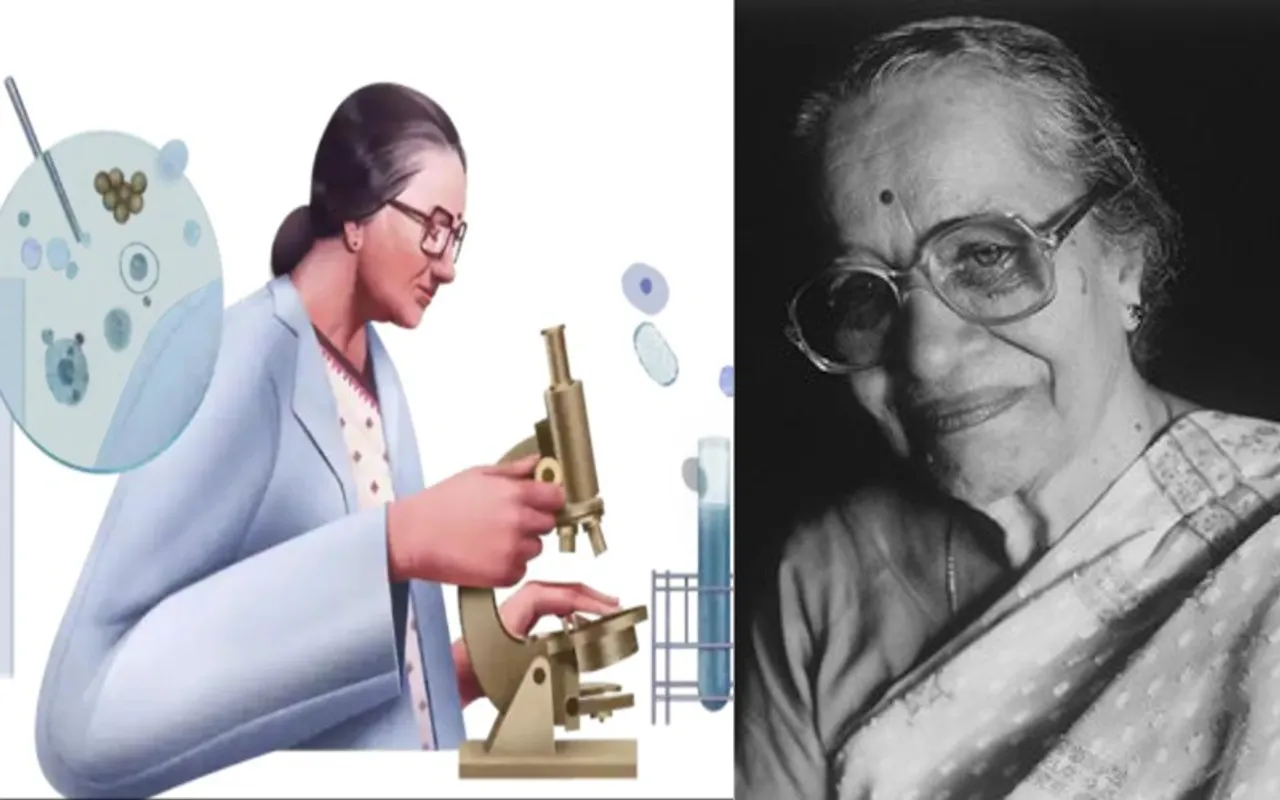 Who Was Dr Kamal Ranadive: If you log in to Google today, you will see a doodle of a woman in lab coat holding a microscope in her hands. The doodle was unveiled on November 8, to mark the 104th birth anniversary of one of India's pioneer cell biologists Dr Kamal Ranadive. Not only was Ranadive known for her groundbreaking work in cancer research, she is also credited for founding India's first-ever tissue culture laboratory.
The doodle on Dr Ranadive is the work of illustrator Ibrahim Rayintakath. The artist said that he got a chance to delve deep into Dr Ranadive's life and work, to understand her brilliance in the field. "Not just work but also how she was as a person, which wouldn't have crossed me otherwise," he added.
A cell biologist with an immense body of work, Dr Ranadive's life is an inspiration for young women in our country today, to pursue a career in biology and research. Here are 10 things you should know about Dr Kamal Ranadive:
1. Dr Ranadive was born in Pune on November 8, 1917.
2. While her father had encouraged her to pursue a career in the medical field, she veered toward biology, eventually receiving her doctorate in cytology (the study of cells) in 1949. She achieved the feat while working as a researcher at the Indian Cancer Research Center.
3. Dr Ranadive then completed her fellowship from Johns Hopkins University in Baltimore, United States, after which she returned to India and re-joined ICRC.
4. Dr Ranadive established India's first tissue culture laboratory at ICRC.
5. She was among the first researchers in the country to propose a link between breast cancer and heredity and also the link between cancers and certain viruses.
6. She also worked closely with the development of a vaccine for Mycobacterium leprae- the bacteria which causes leprosy.
7. In 1973, she founded Indian Women Scientists' Association with her 11 colleagues. The initiative intends to support women across various scientific fields.
8. According to Google, ISWA now has 11 chapters in the country and provides scholarships and childcare options for women in science.
9. After she retired in 1989, Dr Ranadive took to training women as healthcare workers, also providing health and nutrition education.
10. In 1982, she was felicitated with the third highest civilian honour of the country- the Padma Bhushan, for her contribution to the field of Medicine.
---
Suggested Reading:
How Harmful Gender Stereotypes May Be Keeping Girls Away From STEM
Who is Deepa Mohanan, The Dalit PhD Scholar On Hunger Strike In Kerala?
Meet Researcher Gopika Bhasi, Winner Of Scholarship Named After SRK
---
&t=1s