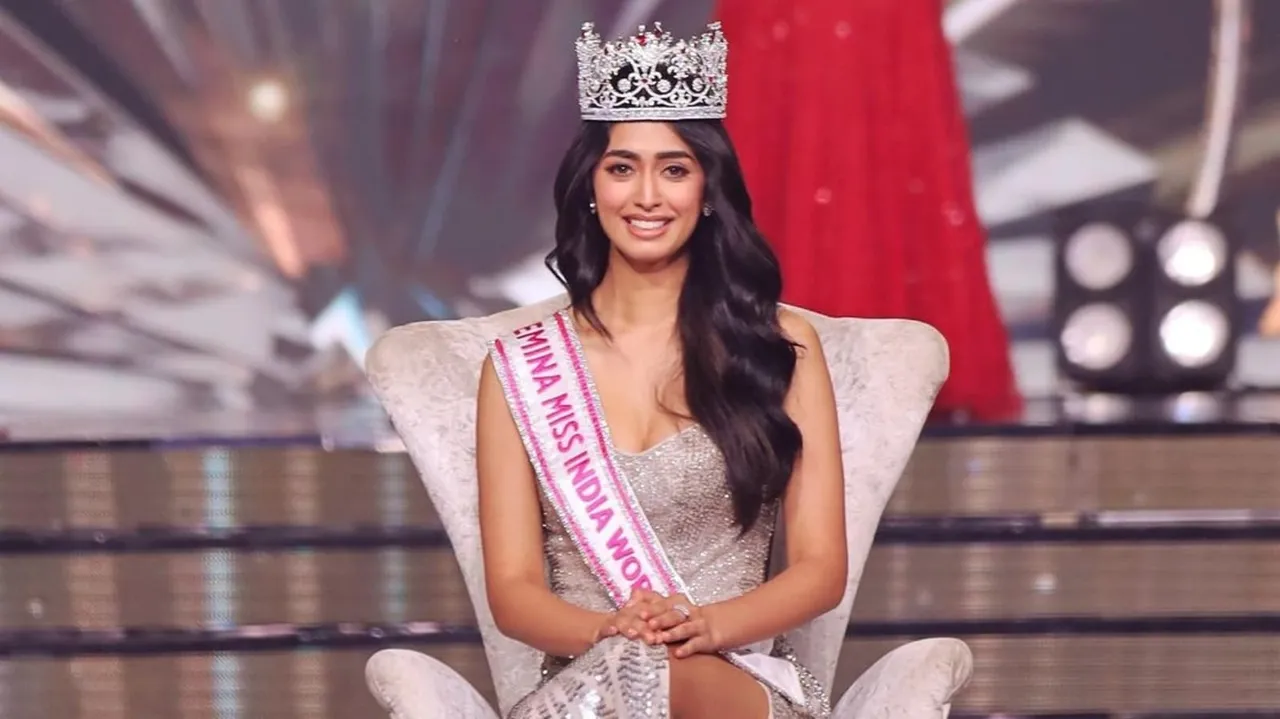 Sini Shetty, the newly crowned Femina Miss India hails from Karnataka.
Sini Shetty, a 21-year-old, from Karnataka, became the winner of VLCC Femina Miss India 2022, with Rupal Shekhawat becoming first and Shinata Chauhan being named second runner-up. Rupal hails from Rajasthan and Shinata represented Uttar Pradesh. The finale event of the Femina Miss India saw celebs like Neha Dhupia, Kriti Sanon, Maniesh Paul, Rajkummar Rao, Dino Morea, Mithali Raj, Malaika Arora. Kriti Sanon and Lauren Gottlieb also added to the night by staging a performance.
The top 5 finalists of the event were Sini Shetty, Rupal Shekhawat,  Shinata Chauhan, Pragnya Ayyagari, and Gargee Nandy. The night of the finale also marked 20 years since Neha Dhupia's crowning of the prestigious Femina Miss India. The actor said, "It's almost like reliving every moment of my journey with these young glamorous girls who are so full of enthusiasm and capability to take on the world with power and elegance. Certainly, there are challenges with the digital process in the wake of the pandemic, however, I'm confident it will be as exciting and worthwhile irrespective of the layout."  Former winner Manasa Varanasi, passed down the crown to Sini Shetty, as she emerged the winner of the contest
Here are 10 things to know about Sini Shetty, Miss India 2022: 
Sini Shetty hails from Karnataka and is a 21-year-old who was born in Mumbai, and has also won the Miss Talent award at Miss India 2922 sub contests.
Sini Shetty holds a bachelor's degree in accounting and finance and is currently pursuing a Chartered Financial Analyst (CFA) career.
Sini Shetty has previously worked in a marketing firm, and she was seen defining her personality as "Industrious, tenacious, empathetic and a hustler." While talking about her inspiration and what got her into competing in Miss India, Sini Shetty revealed that Priyanka Chopra has been her driving force. "Miss World 2000 Priyanka Chopra, when you look up to a person some of their words get stuck by you. The aspiration value increases, I remember hearing an interview of hers where she stated, 'Don't try to squeeze into a glass slipper. Instead, shatter the glass ceiling.' I have been a fan ever since, " she said.
Sini Shetty's family and friends have been her backbone of support throughout her life and have reportedly supported her academic and creative choices.
Sini Shetty is a trained Bharatanatyam dancer, training since the age of four and had her Arangetram at the age of 14.
Talking about her gnome in life Sini Shetty believes that the journey of anything you set out to do in life is the best part and there is no jumping to the end she said, "Know what the achievement means to you, respect it."
Her advice to the youth of the country is that life is all about the moments that take your breath away and not just the times you are breathing and that when you believe in yourself and take every opportunity that comes your way is when you are truly living a meaningful life.
At the crowning event, Sini Shetty dazzled everyone in a silver sequin gown by the Rohitgandhirahulkhanna, accessorised by Shobha Shringar.
The official account of Femina announced Sini Shetty's win announcing, "World - here she comes! Sini Shetty has conquered our stage and taken over our hearts with her magnetism, charm, endurance, and beauty! We're so proud and can't wait to see her represent India on the Miss World stage!  Please give it up for Femina Miss India World 2022, Sini Shetty."
---
Suggested Reading:Note To Society: Career-Oriented Women Don't Make For "Bad Wives"