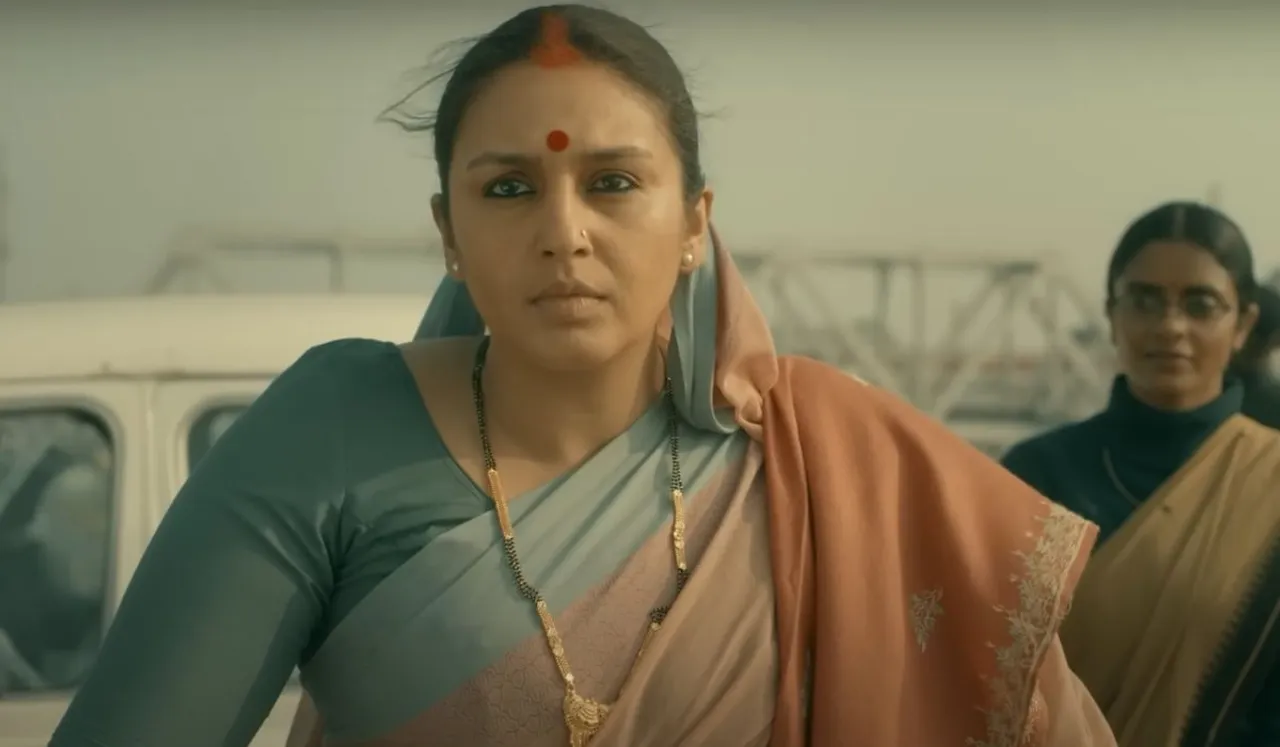 Actor Huma Qureshi will soon return as Rani Bharti on screens. Her popular web series, Maharani, was renewed for a new season, which is going to be released soon. The makers recently released a trailer for the second season, which gave glimpses of the upcoming season's plot along with the release schedule. Read on to find out.
In the trailer, a series of incidents that lead to political disturbances take place in the state one after another. The death of a beauty pageant competitor has also horrified the state. The trailer also showed the commotion that followed calls for Rani Bharti's resignation. Rani, the character played by Qureshi, also encounters opposition when Amit Sial's Naveen Kumar tries a novel political strategy.
As the trailer continues, viewers see a furious Rani standing on a bridge, tearing up papers. She continues, "Citizens, leaders, and state authorities will see how I deal with all these goons." She stated at her campaign rallies, "This is New Bihar, This is Rani Bharti's Bihar."
She remarked at the trailer's ending, "Traditions are designed to be shattered at some point. I'm infamous for breaking them." The trailer ends with her drinking tea and being lost in her thoughts. Watch the trailer ">here.
She is expected to rule in season 2 and provide the people of her state with an honest and open administration. After her husband, Bheema Bharti (Sohum Shahhad) a stroke in season one, Rani Bharti took on the responsibilities of the chief minister. The focus of the show was how the politically illiterate Rani Bharti came to become more conscious of her circumstances.
---
Suggested Reading: Tanushree Dutta Robbed Of Work: Women Continue To Pay Price For Speaking Up
---
The show also stars Sohum Shah, Amit Sial, Vineet Kumar, Inaamulhaq, Dibyendu Bhattachary, Kani Kasturi, Anuja Sathe, Pramod Pathak, Vineet Kumar, and Ravindra Gautam. Kangra Talkies produced the show, and Ravindra Gautam served as the director. The show's authors and showrunners are Nandan Singh and Subhash Kapoor.
Maharani 2 Release Time:
The release date for this crime drama was also disclosed in the trailer. Maharani 2 is now all set to be released on August 22. The series will be released on the OTT platform, Sony LIV. Though an official statement regarding the series's OTT release time is still pending, reports suggest that the series will start streaming around 12 am (IST).