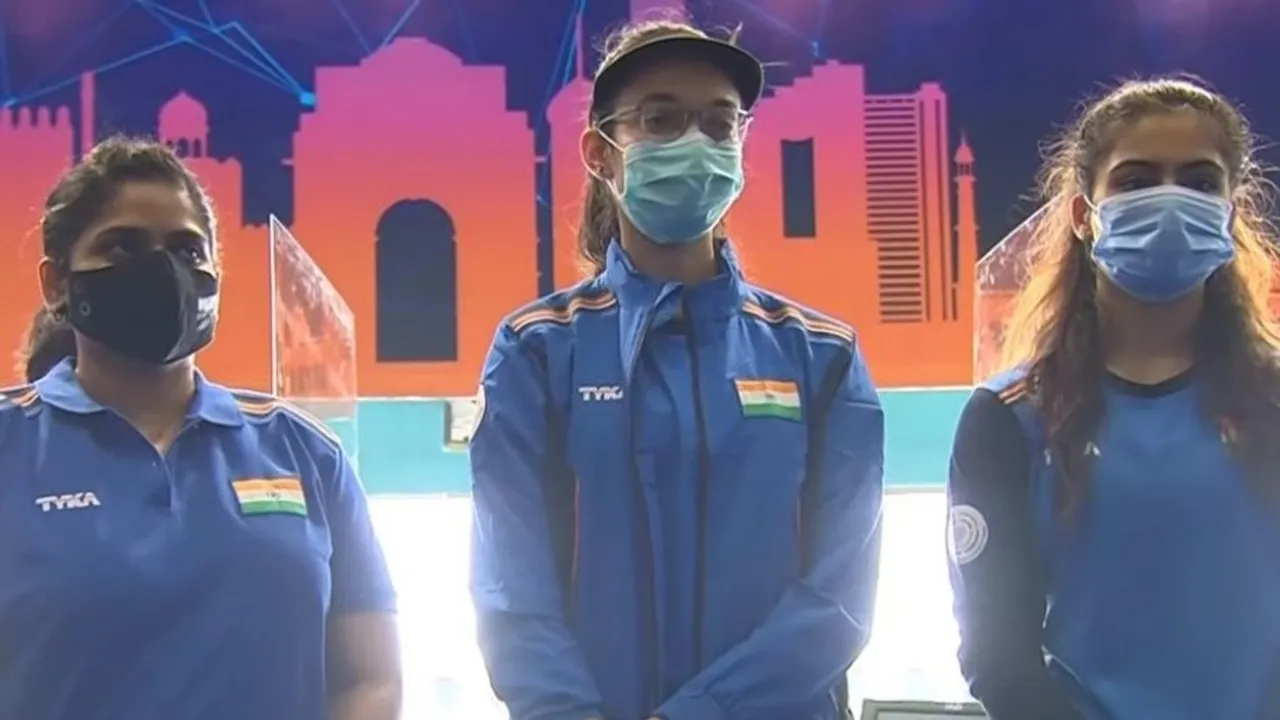 Chinki Yadav at ISSF World Cup: Chinki Yadav silenced the experienced Asian Games champion Rahi Sarnobat and Manu Bhaker to win gold on Wednesday in the women's 25m pistol event of the ISSF World Cup in Delhi. Tokyo 2020 Olympics quota holder, 23-year-old Yadav won over Sarnobat in a shoot-off after their scores were tied at 32. She took India's gold tally to nine.
While Sarnobat settled for the silver Manu Bhaker secured the bronze medal, finishing with 28 points.
It's a clean sweep for India as it wins all three medals in Women's 25m Pistol category. 🇮🇳🇮🇳🇮🇳#TOPSAthletes @ChinkiYadav4 takes 🥇, @SarnobatRahi takes 🥈 & @realmanubhaker takes 🥉.
Many Congratulations!!! 👏👏👏 pic.twitter.com/nBx5H1BQ4a

— SAIMedia (@Media_SAI) March 24, 2021
All three medal holders have already bagged their quotas for the Tokyo Olympics, slated to be held from July 23 this year.
1-2-3 for #India in the Women's 25M Pistol!!! Chinky Yadav wins GOLD medal 🥇 Rahi Sarnobat Silver medal 🥈 and Manu Bhaker Bronze medal 🥉 at the @ISSF_Shooting #WorldCup #NewDelhi 2021. Many congratulations!!! #ISSFWorldCup Go India 🇮🇳

— NRAI (@OfficialNRAI) March 24, 2021
Daughter of an electrician, Yadav hails from Bhopal. She had scored a total of 588 after shooting 296 in the finals and had secured the Olympic quota for Indians in shooting at the Asian Shooting Championship in Doha in 2019.
Quota No. 24. Congratulation @ChinkiYadav4 for securing the Olympic berth for India in women's 25m pistol event. This is India's 11th quota in shooting.@RaninderSingh @PMOIndia @AmitShah @KirenRijiju @yashodhararaje @slthaosen @sthaosen @DelhiDsra @realmanubhaker @MansherSingh7 pic.twitter.com/6dSvAOdtw2

— Jaspal Rana (@jaspalrana2806) November 8, 2019
Past achievements
Yadav in 2017 clinched team bronze in junior world championship. The same year she also won a gold medal in the national selection trials along with a silver medal in the national championship. In 2019, Yadav won the 25m pistol gold medal in the national selection trials and team silver in the national shooting championship. The pistol shooter topped the race while two other female shooters from MP also won medals in the 19th Surendra Singh Memorial Shooting Championship in Delhi.
Recalling the day when she had joined the shooting academy in 2012, Yadav's father Mehtab Singh Yadav had said, "As my home is inside the stadium Chinki used to see others playing different games. She wanted to join summer camp," TOI reported. "I didn't know that decision would result in the making of a star in my family," he had added.
Her father admitted that the young shooter's inspiring performance encouraged him to take his younger son and Yadav's brother to the academy as well, and now he is "a promising shooter of the academy," he had added.
Feature Image Credit: SAIMedia/Twitter