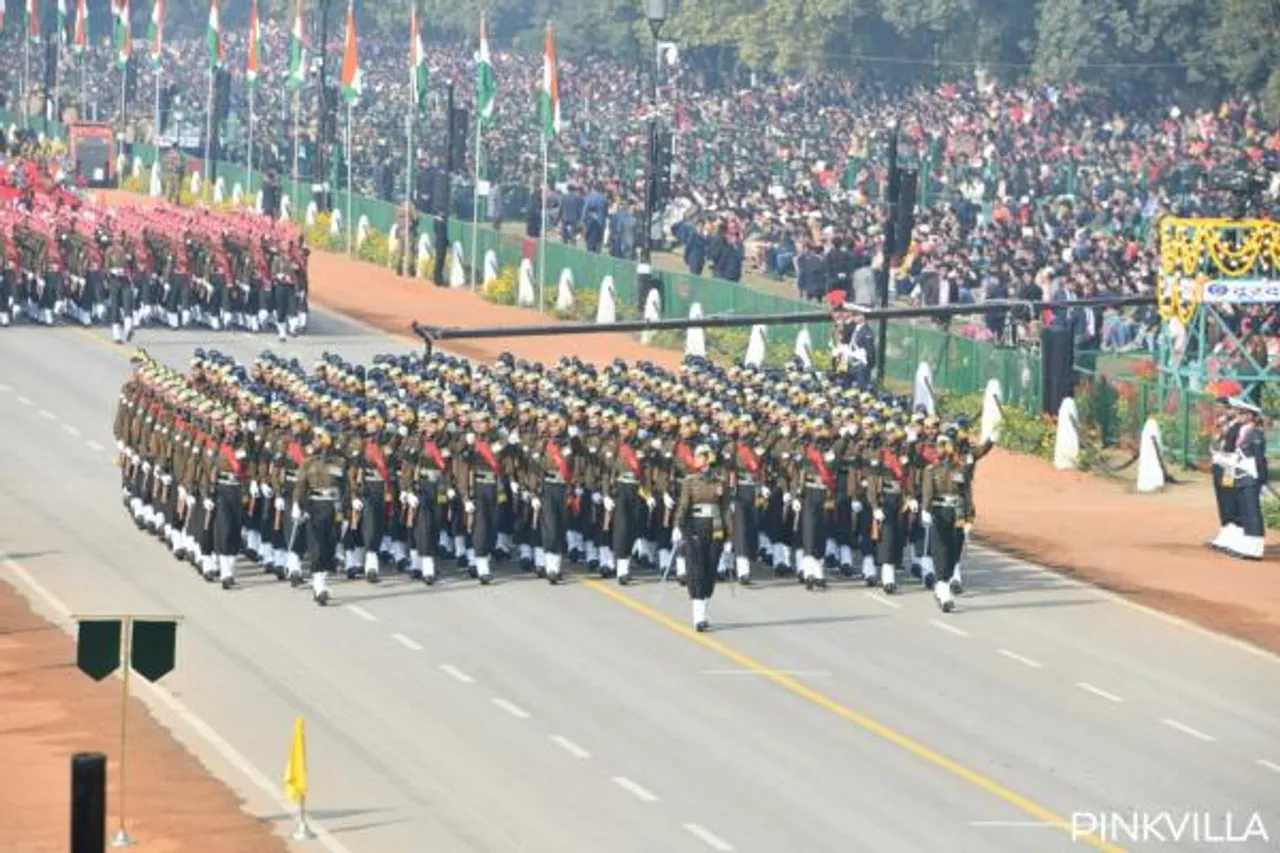 On January 26 this year, India will celebrate the day our Constitution came into effect 71 years ago, which turned our nation into a republic. This important day has always been celebrated with vigour and pride across the country, especially the parade at Rajpath. The parade held is one of the most vibrant and magnificent festivities marking the celebrations of the day.
Starting with the unfurling with the Indian flag by the President, it comprises of marching by several military regiments and tableaux from various states and UTs. Furthermore, it also displays various other performances by students and artists. It ends with a beating retreat ceremony by the three wings of Indian Armed Forces.
Although the COVID-19 pandemic does restrict the magnitude of the celebrations this year, we would still get to witness an impressive republic day parade amidst restrictions.
Here's everything to keep you updated about the upcoming republic day parade on January 26:
No Chief Guest This Republic Day
After UK's Prime Minister Boris Johnson owing to emergence of the new virus variant his country is grappling with, the event reportedly have no Chief Guest this year. This will be the first time in 55 years that republic day celebrations will not have a chief guest. Earlier, there were reports that the Indian-origin President of Suriname Chan Santokhi would replace the Prime Minister of UK as the Chief Guest.
An official reportedly stated, "We did not want to put any foreign dignitary in an awkward situation, as a last-minute acceptance of India's invitation could be potentially embarrassing for the invitee back home as the head of state would be seen as a replacement."
Contingent Of Bangladesh Armed Forces To Join The Parade
A strength of 122 personnel of the Bangladesh Armed Forces has departed for India in an IAF C-17 aircraft specially sent for the purpose. The contingent of BAF will proudly march in the parade to commemorate the legacy and cooperation between the two countries during Bangladesh Liberation War in 1971, as 2021 marks 50 years of the country's struggle for independence.
After France and UAE, Bangladesh will be the third country that has been invited to participate in the Republic Day parade. The personnel mostly comprises of 1, 2, 3, 4, 8, 9, 10 and 11 East Bengal Regiments and 1,2 and 3 Field Artillery Regiments. These regiments have earned exemplary honour for fighting in the 1971 Liberation War.
321 Students, 80 Folk Artists In Cultural Programme
According to reports, 321 school students from four schools in Delhi and folk artists from Eastern Zonal Cultural Centre, Kolkata will take part in the cultural programme during the Republic Day parade. The number of participating children and folk artists have been cut down to 400 this time due to COVID-19 protocols of limited people. This is 200 persons less, compared to more than 600 recorded last year.
The children will perform on themes based on 'Vision for a Self Reliant India' and 'Hum Fit Toh India Fit' inspired by the Fit India Movement as well as other forms of traditional folk dances. Meanwhile, the folk artists will present the folk dance 'Bajasal' from Kalahandi, Odisha.
'16 Bihar' Battalion Soldiers Martyred In Galwan Valley Clash To Be Honoured
At least five soldiers who were martyred while blocking the aggression of Chinese People Liberation Army (PLA) in Galwan Valley in June 2020 will be posthumously honoured with gallantry medals. According the Hindustan Times, the Defence Ministry and Indian Army haven't disclosed the number of medals. However, according to their sources, at least two officers and three troopers will be honoured.
Smaller Contingents, Less Spectators, Shorter Distance Of Parade, More Tableaux
Due to COVID-19 restrictions and social distancing protocols, there will be fewer people attending and participating in the celebrations this year. Only 25,000 attendees will be seated along the ceremonial boulevard instead of the usual number of 115 thousand people. Moreover, entry will not be allowed to children below the age of 15.
Indian Army will have six contingents in the parade. Furthermore, each contingent will have 96 soldiers instead of standard 144 soldiers. That is the reason why the contingents will be rectangular in shape this time, not square. Indian Air Force will present a band, a marching contingent of 94 personnel and a tableau. Similarly, Indian Navy will also have a band, a marching contingent of 96 and a tableau.
Moreover, NSG commandos will march with a distance of more than 1.5 metres from each other due to social distancing. Earlier, they used to march down the parade from shoulder to shoulder.
For the first time in the history of Republic Day celebrations, the parade won't culminate at the Red Fort. It will start from Vijay Chowk and end at the National Stadium. The distance of the parade has been cut down to half, i.e. from 8.2 kilometres to 3.3 kilometres.
Nonetheless, the parade will have 32 tableaux this year instead of 22-25.
Also Read: The First Woman To Lead A Contingent On Republic Day: Lt. Bhavana Kasturi