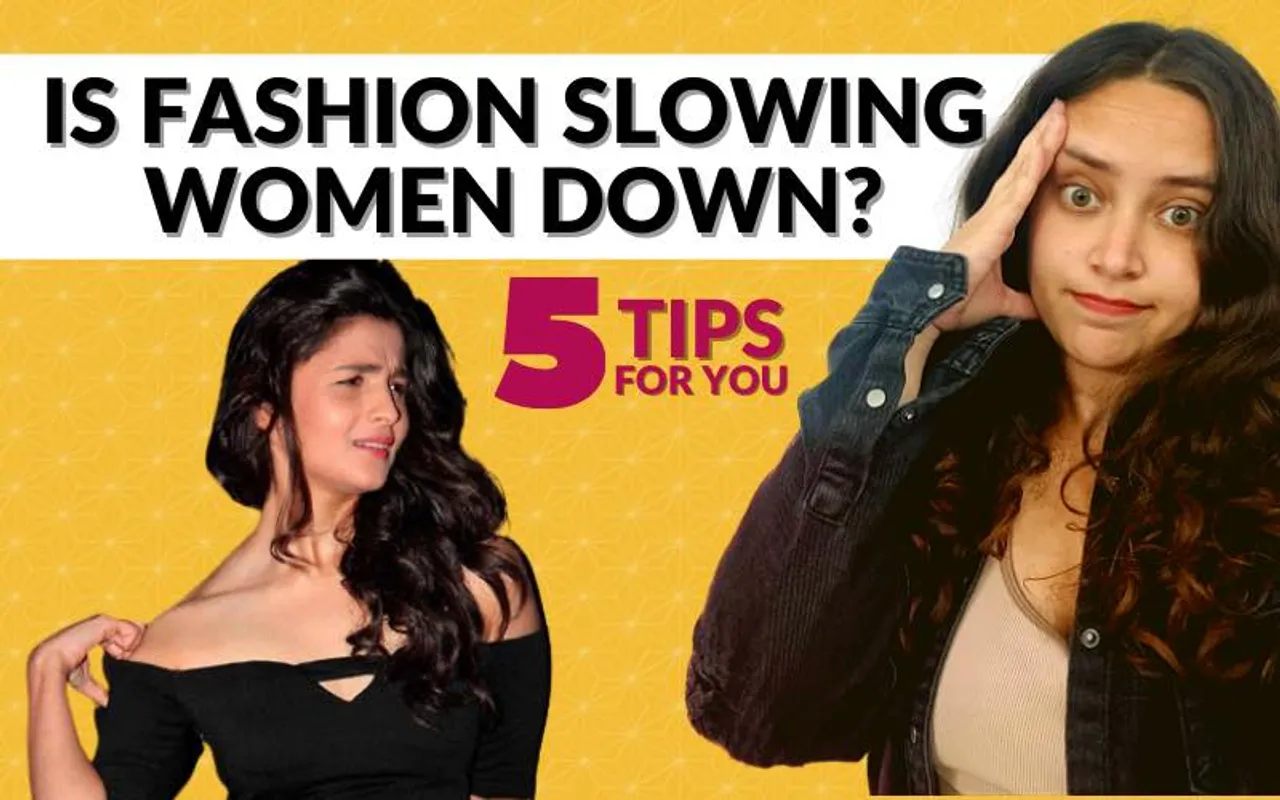 Women's fashion is so much fun! It's awesome and amazing and we have so many things to choose from but it is so impractical. Many of us are guilty of buying tight clothes, jeans that are too uncomfortable, bras that are pretty but super pokey, killing our feet with heels, wearing off shoulder top that never stay where they're supposed to so you have to keep your hands like this at all times. 
It's like mein udna chahti hu, daudna chahti hu- But aaj thode kapde uncomfortable pehne hai maine so I'll pass. Plus mera bag kaha rakhu mein fir?
Most of the women's clothes do not have pockets. Christian Dior cemented the sexism of pockets in 1954 by stating, "Men have pockets to keep things in, women for decoration."
See, when it comes down to it, fashion is about making money, and accessories are a huge revenue generator for fashion with high margins and high resale value. Valued at 8 billion dollars, the purse industry isn't about to give women pockets and loose their highly profitable handbag business.
And then there are heels. When asked what men find attractive about a woman in high heels, the French shoe designer Christian Louboutin, speaking to fashion photographer Garance Doré in his Parisian apartment in 2013, replied that it was the fact that the heels slowed the woman down, giving the man more time to look at her. Louboutin said nothing about aesthetics, only speed.
A woman in motion, outside of male control, has long been viewed as a problem. What better way to tame these fleeing women than to literally root them to the soil?
So is fashion slowing women down? Do you find yourself buying uncomfortable clothes after uncomfortable clothes? And then wondering that I have nothing comfy to wear.
Why don't women pick their comfort?
First of all choice kaha hai. Jo kapde bana re hai unka main aim functional kapde banana nahi but to make things that accentuate female body parts. Then after this There's a lot of pressure on women to conform to beauty standards. That is in turn impacted directly by the male gaze. Toh islie many women value fashion over comfort.
Sometimes it's not social pressure, but just official code. For eg, in office spaces, Western formals means body-hugging pantsuits or pencil skirts paired with uncomfortable sandals/heels. It's ideal for men to wear relaxed shirts and suits that don't hug their chests or thighs.
&t=54s
So, today I will share with you 5 practical things women should consider before buying clothes-
Purpose: Where do you want to wear it? At least wear comfortable clothes when you can
Women have to dress in a certain way to be likeable in the outside world. But they also have to mind the length of their clothes and compromise with comfort when they are at home. Many women are not allowed to wear shorts at home, or dress in a loose t-shirt and pyjama. They are said that it is not decent and what will men or people visiting us will think? They are always expected to be presently, whether at home or outside. It is not only important for women to wear comfortable clothes at home but outside too.
Choose comfort over stereotypes
Women's dressing sense is often guided by social stereotypes of what makes a woman look beautiful and presentable. It is so deeply ingrained that it becomes an important consideration to accept women in social gatherings or even for a job.
But it is high time dear women to choose your comfort over the stereotypes, at least in what you wear. Ditch that lehenga if it makes you trip, uncomfortable, throw away those heels wearing which you fell down while making an important point in a meeting, throw away that wired bra that gave you scars to distract your attention from excelling. Make sure your clothes have pockets. And no need to carry a purse if you don't want to.
Pull on whatever makes you feel comfortable, breathe freely, and even have proper meal. Lastly, wear whatever you feel like without conforming to stereotypes.
Don't be carried away by marketing strategies that say certain clothes are for men only.
Often when you walk in a mall, you see different sections for men and women. And often the ones in the men's sections are more attractive and comfortable than those in the female section. Don't hesitate, just grab those pair of jeans that makes you feel comfortable, irrespective of which gender it belongs. Because seriously, there are no gender-specific clothes.
Make your own fashion definition- bride in pantsuit
Often, women do not wear certain dresses because that's not what the trend is. Do not wear jackets over lehenga or saree on a winter day because it is odd. Do not wear sneakers on saree because that's not how it is done. Pierce ears because it is important for women's fashion even if piercing pains. They also want to pierce parts apart from ear/nose, but that's not how "good" women are. They don't want to pierce at all, but can a woman live without piercing.
Dear women make your own fashion trends. Wear whatever you feel comfortable in. If you don't want to pierce, don't. And if you like to wear accessories, you can now do so without piercing. Don't carry the purse, backpack and wallets are not "masculine"
It is not only those fitting skirts that define you as professional. You can now wear pants or kurta on professional events. All that matters is your confidence, and talent for which you are a professional
Check price. And buy only if it is worth it.
Often, bras, crop tops cost so much. For such a price, man can easily afford a t-shirt and jeans and get going. I think the unreasonably high price also has a patriarchal undertone. Prices are high so that women cannot afford it on their salary which even today is leas than men. Prices are high so that they need a man to pay her bills.
So dear women, pay for your clothes wisely. If a dress is worth the cost (based on unique design, its cloth material etc) only then pay for them. But before that, think if you really need them for your happiness or for that of the society.