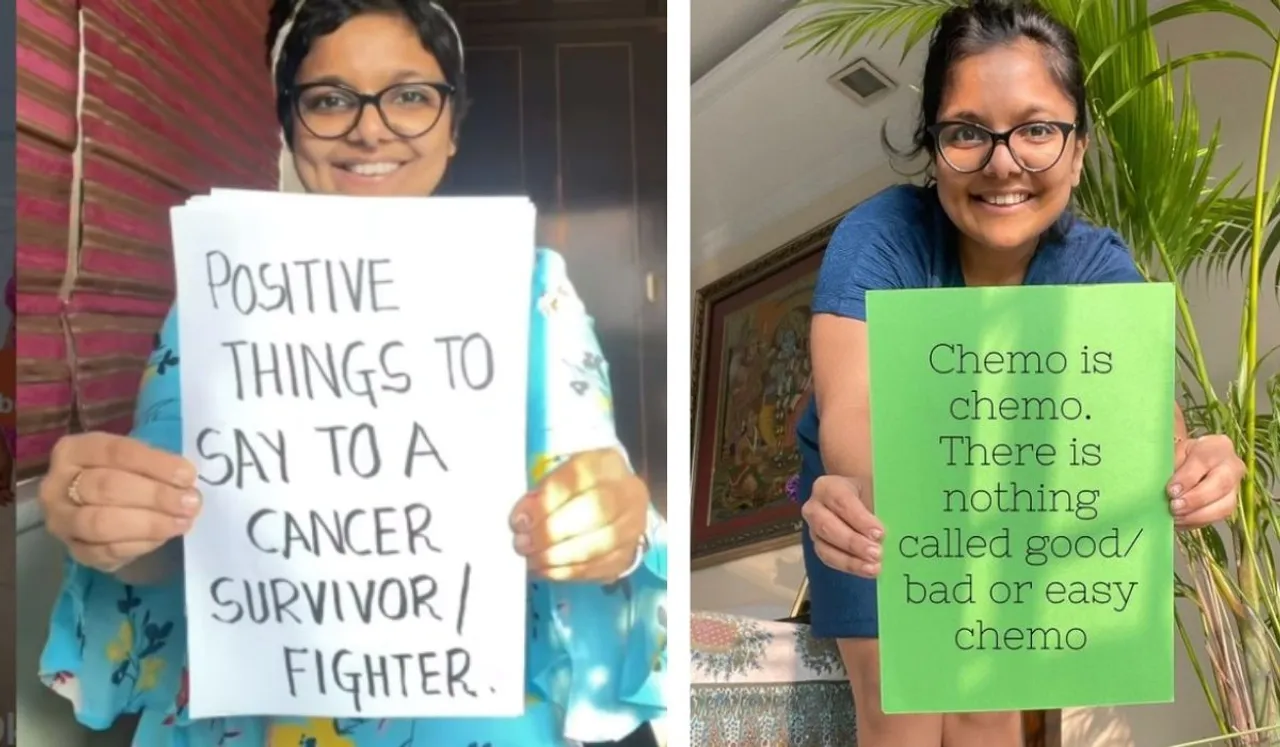 Chemotherapy is a treatment that uses chemicals to kill cancer cells. It usually acts by preventing cancer cells from growing, dividing, or proliferating. Unfortunately, these treatments also target the body's other rapidly growing cells, including the hair roots. However, sometimes people unknowingly or knowingly mock cancer survivors for their bald appearance, especially women. Swati Garg, a designer who was diagnosed with cancer in 2020, lost her hair due to chemotherapy, but she determined that she would fight through it and emerge stronger.
She finished all of her chemo sessions in March 2021 and was declared cancer-free. Swati Garg spoke to SheThePeople about her journey and the things people said to her that made her feel good.
"In June 2020, I tested positive for COVID. When I was admitted to the hospital, the doctor detected a lump in my breast. A month later, after I tested negative, I visited my gynaecologist. He suggested that I undergo an operation to remove the lump. After the surgery, the doctor finally broke the news: "You have breast cancer," he said. I was shattered!
I cried buckets. I was not ready for this–I mean, I was only 29! When my parents found out, they howled and asked the doctor, "Meri bachchi bach toh jayegi na?"; our lives had turned upside down.
After sulking for weeks, one day, I just pulled myself out and thought, "What has happened has happened." Now, I'm going to fight this and come out of it stronger. ' With that, I began chemotherapy. I'd walk into my sessions wearing my best dress and fanciest headgear; this would keep my spirits high throughout the day. I channelled all my energy into doing things I love–painting, binge watching, playing board games.
But it was easier said than done. On most days, I'd overeat; two weeks into chemotherapy, I started losing my hair. But without making a big deal out of it, I booked myself a haircut appointment and shaved my head completely! It was so liberating. I'd flaunt my bald head and even motivate others to do so.
In March 2021, I completed all my chemo sessions and was finally declared cancer free! To celebrate, I went on a trip to Goa with my family. It felt as if I had been reborn and I was determined to live every moment of my new life to the fullest.
---
---
I started talking about my journey online using the hashtag #warriormoon. I wanted to motivate people to get self-assessed and not dread the BIG C. A couple of weeks later, I even joined a dating app to understand how men react to a woman who beat cancer.
Most of them were curious to know more. One of the guys I chatted with told me, 'My relative has also been through it. I know it's not easy. You are very brave! "; It made me feel good about myself. I am back at work and enjoying life. The fear of remission is always there, but I have chosen to focus on my blessings. I appreciate and value the small things in life and don't take anything for granted. "
Feature Image Credit: Swati Garg/ Instagram