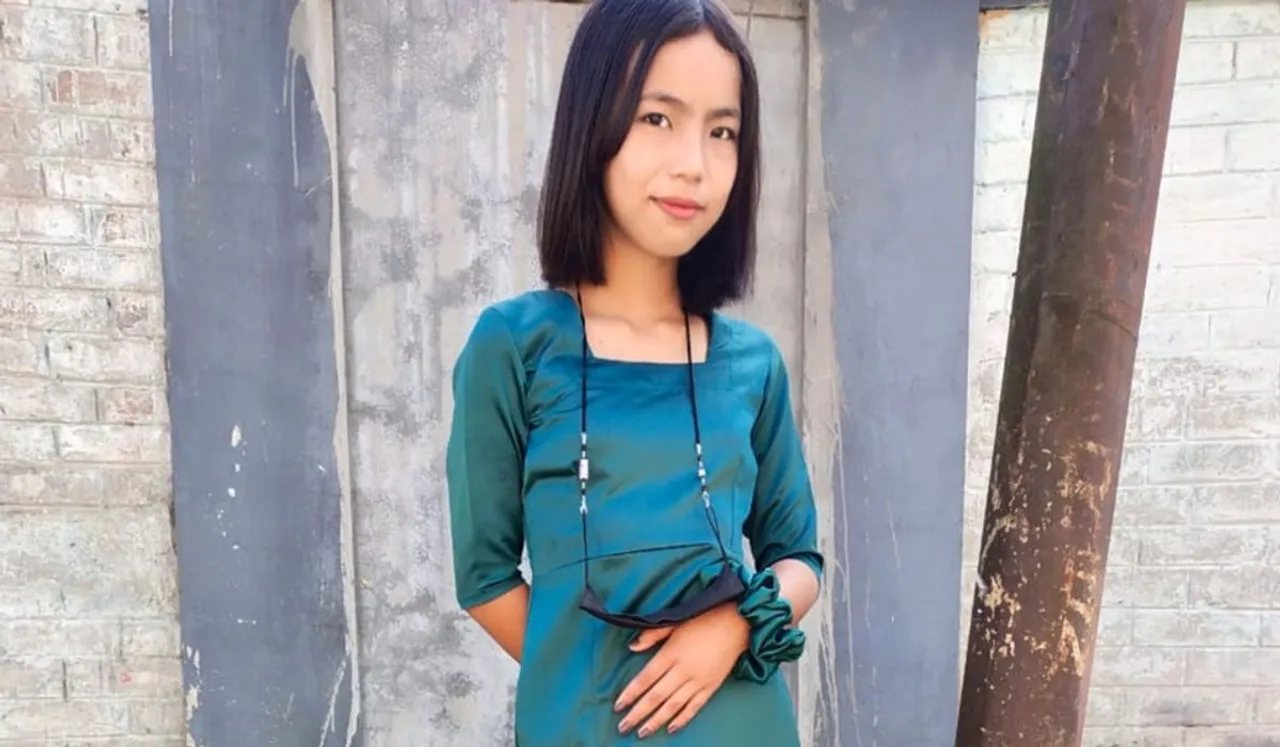 A teen teaches herself to play the drums, encourages other girls to hone their innate talents and nurtures future dreams for her village in Nagaland that is shedding patriarchy.
National Girl Child Day: Young Girl Drummer In Nagaland
It is easy to put labels on someone from a rural background, a young girl at that. We still live in a society that marks male and female domains even for recreational pursuits.
But Kajenkala of Unger village in Nagaland is breaking certain stereotypes by following her passion of playing the drums.
And it is many thanks to coming from a village that is breaking patriarchy norms.
Nestled in the Langpangkong Hill range not too far from the Mokokchung district's headquarters in Nagaland is Unger village, a quaint, predominantly Christian settlement.
While patriarchy is a norm, Unger is different.
Like all villages in Nagaland, Unger is under the administration of Kosasanger Village Council. The village council (VC) is an elected body headed by a chairperson and representatives of the village clan, or khel, usually the male patriarch.
Unger village breaks the norm
A typical Naga village has its unique feature and structure guarded by its unwritten customary laws that have become generations-old traditions. These regulate their day-to-day life and differ from village to village and from tribe to tribe.
While patriarchy is generally accepted as a norm owing to the stringent customary laws, and there is still no representation and participation of women in the village council, Unger is different.
Unger is recognised as a village where girls and women enjoy equal status in many aspects.
Women are equally represented in the subordinate wings, like on the village health committee, education board and water & sanitation committee.
Women are vocal in raising issues and the VC is supportive and addresses them  to a certain extent.
While this helps young girls such as Kajenkala follow their personal dreams, it also motivates them to nurture dreams for their village.
Self-taught drummer girl
Kajenkala is the youngest of the three daughters of Temsunungla and her husband Alinungsang, both cultivators.
She is fortunate to be raised by open-minded parents with a positive outlook towards society.
Her family has always been supportive of her life's ambition and decisions. Her mother is a member of a self-help group, under the Nagaland State Rural Livelihoods Mission (NSRLM), which emphasises gender equality, which could be one reason for her progressive nature.
"My mother, father and my two older sisters are my counsel and guide," says the 13-year-old Kajenkala.
Being the youngest, she tends to seek attention from her parents and siblings, which she duly gets.
Kajenkala is a bold and outspoken girl who has no qualms in mentioning when she got her first menstrual periods this year. She did not feel awkward at all since her mother had already educated her on ">menstrual cycles.
But what she loves the most is playing the drums – which she does with ease.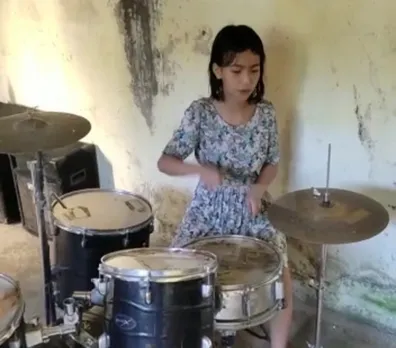 She is dauntless in continuing to upgrade her innate skills and encourages other young girls to do the same. Mostly self-taught, she takes to the beat-up drum, like she was born with a pair of drumsticks in her hands.
Dreams for herself and her village 
Apart from playing the drums, she loves to sing and dance and is proud of her talent, always ready to perform for relatives and friends.
She also hopes to take to the skies in the aviation sector as she wishes to explore and learn about different cultures.
She wants to contribute towards the growth and development of her village. She wishes for sufficient safe drinking water in each home, especially for the elderly.
But her most ardent desire is to set up good educational institutions later, to enable the younger generations to get basic quality education in their own village.
Her desire stems from her personal experience, which is a growing trend in her village.
When education means a move
The village has two government schools – a high school and primary school. For those wishing to pursue higher education, the option is to go to nearby towns, stay with relatives or in rented apartments.
Most parents opt to send their children to private institutions in neighbouring towns, the district headquarters or even the state capital Kohima or the commercial hub of Dimapur. Their decision depends on the presence of relatives in those towns.
Some parents are compelled to shift base and stay in rented houses to take care of their school-going children, returning to the village only for the holidays. The economy is adversely affected as they have to spend more money while their source of income is cut off during those schooling months.
Kajenkala studied in her village only till her kindergarten. Then she moved to nearby Changtongya town. And like most students from her village, she then relocated to Mokokchung town to study in a private institution for her higher education.
Having had to leave her own parents to study in town, she wishes to focus on this aspect so that children can receive good education while staying with their parents in the village during the most formative years of their lives.
This story first appeared on Village Square, and is part of a series in the run-up to National Girl Child  Day, Jan 24, 2023, to highlight inspiring stories about the girls of rural India.
---
Suggested Reading: National Girl Child Day 2023: Young Girl Fights The Devadasi Tradition