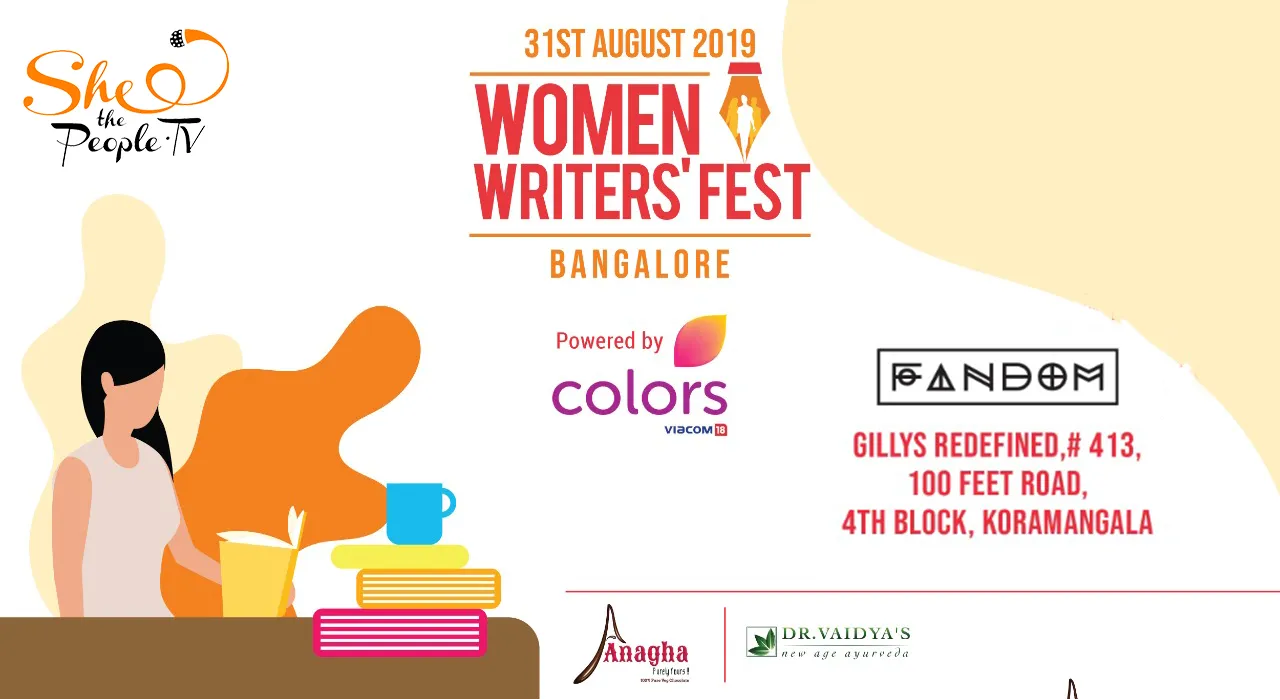 Women Writers Fest Bangalore 2019, by SheThePeople.TV is a day-long festival that puts the spotlight on authors, writers, bloggers, and editors, featuring firebrand panelists from across genres. Throughout the festival, you'll be celebrating female creativity and artistic achievements while discovering some of the best contemporary women authors around in India.
Women Writers Fest Bangalore 2019 on 31st August 2019 | 10:00 am
Fandom At Gilly's Redefined 1st floor of Gillys redefined,# 413, 100 Feet Road, 4th Block, Koramangala Bangalore
Learn about getting published, marketing your book, the community building, feminist writing, fiction, and non-fiction narratives, and more. The fest will provide a forum for women writers from varied fields to come together and discuss issues that are important to the cultural and social fabric of the city of Bengaluru. The diverse range of participants in each panel will make for rich discussions on the city's cultural heritage, the city influencing fiction, activism in the city, the feminine voice in fiction, spoken word performances and more, and is sure to inspire change.
Authors joining in for this fab festival are Padma Shri Shashi Deshpande, Shaili Chopra, Vasanthi Hariprakash, Anita Mithra, Kirtana Kumar, Aruna Nambiar, Devi Yashodharan, Sajitha Nair, Preeti Shenoy, Shinie Antony, Mariyam Saigal, Harini Nagendra, Seema Mundoli, Kiran Manral and more.
What all can be expected at the Women Writers Fest Bangalore 2019

-Fireside conversation with Padma Shri Shashi Deshpande on her autobiography 'Listen To Me.

-Challenges Women Writers face.

-The 'Feminine' Emotion in Fiction

-Spoken Word on Namma Bengaluru
Join The SheThePeople BOOK CLUB Here
SheThePeople.TV is India's biggest storytelling platform for women and inspires new dialogue, exchanges leadership ideas, fosters networking and reinforces the ability of women to contribute to growth. Founder Shaili Chopra says, "We need to celebrate writing across genres, way beyond literature. We have women ahead in screenwriting, short stories, business and entrepreneurship, fiction, environment, some fantastic columnists and more. As part of our effort to do more with writers across India, this is a first of a kind festival that promises to ignite rising minds"