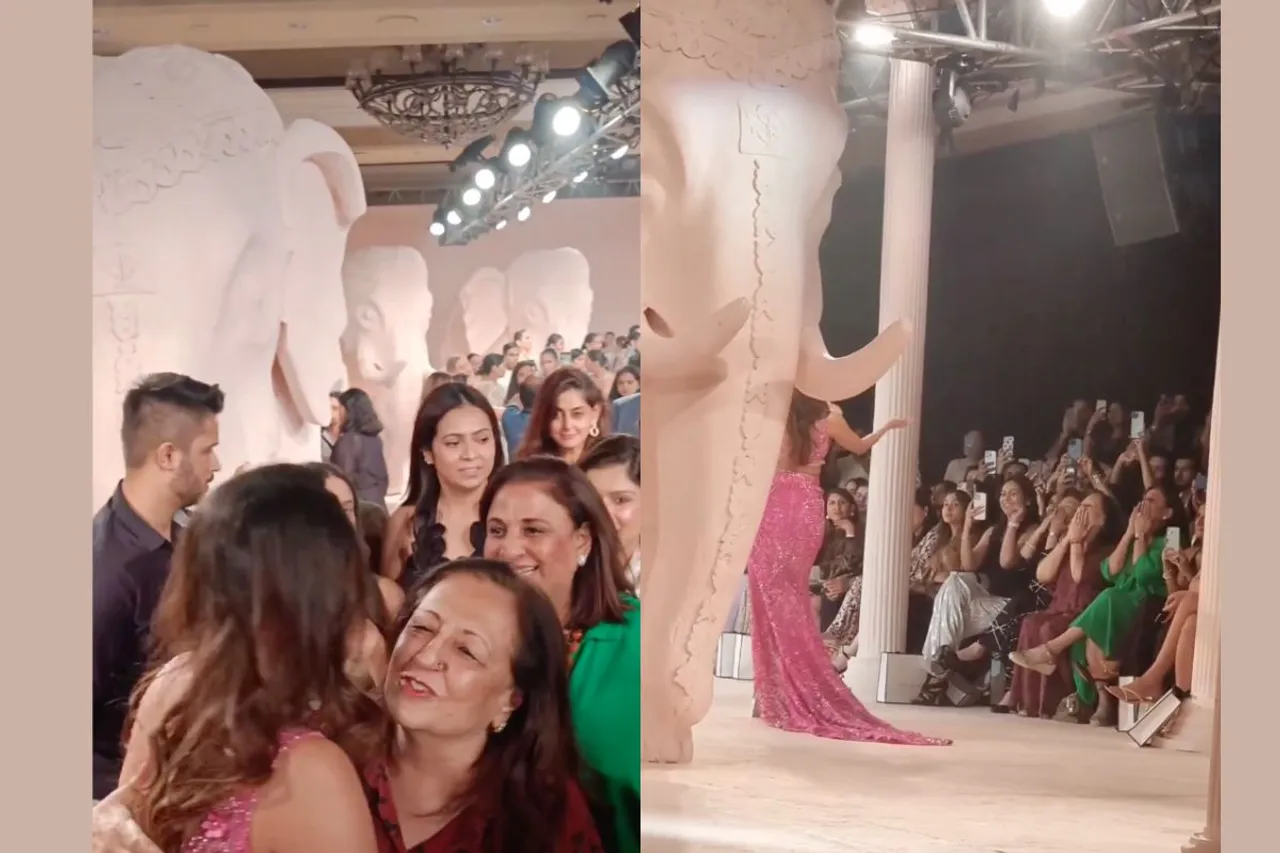 A woman is a woman's enemy, the notion is quite famous, but is it really true? Well, Indian daily soap tried their best to portray it, by positioning female characters against each other. The most popular storyline being the mother-in-law playing a negative character and the daughter-in-law a "sanskari woman" or vice versa. This is what entertainment has fed into our minds over time. However, when actor Kiara Advani, during her ramp walk, gave a flying kiss to her mother-in-law, she set a new narrative, giving us major mother-in-law (MIL) and daughter-in-law (DIL) goals.
Kiara Advani Gives Flying Kiss To Mother In law
Recently, Advani opened the 16th edition of India Couture Week in Delhi. During the ramp walk for Falguni And Shane Peacock's show, Advani spotted her mother-in-law in the audience, gave her a flying kiss, and made a heart sign. Advani shared an adorable moment with Sidharth Malhotra's mother at the event, in the middle of her work.
If every woman shared a bond like this with their in-laws, life could be so easy for all of us. The uncertainty around bonds with in-laws is considered one of the factors that contribute to people fearing marriage. A girl is asked to behave "well" from childhood or it will get difficult at her in-laws' place. One might have heard 'sasural jayegi toh samjhega' (having a good life, you will get to know struggles at in-laws' place), 'waha maa nahi milegi' (Won't have a mother to bear your tantrums), 'saas seedha kar degi' (Mother-in-law will teach you the lesson).
Why have families always used these statements, especially mothers? Because when most mothers first entered their in-laws' homes, it was difficult to cope, at least earlier. They accepted what was, and that is how it will be for their daughters, and prepping them well in advance was the only way out. Instead of telling their daughters to be themselves and create an emotional bond with their in-laws, they offered a repetitive narrative.
Women are told that, after marriage, their life changes, a hint to change themselves to cope with married life and everything that comes along with it. What if, like Advani, all women get to remain the same, continue their work life, and have a create bond with their mothers-in-law? I get it, Advani is an actor, she comes from an open-minded background, and for her, this might be easy. But that doesn't mean a common woman can't have such a lovely bond with her mother-in-law. We get to hear mother-in-law is not supportive of working daughter-in-law, or MIL gets DIL engrossed in household chores. This could so much change if both women build an understanding, and explain to each other their thought process. Instead of making critical comments, can't DIL openly express her thoughts to MIL? Can MIL be supportive of her DIL and root for things she couldn't do? I believe conversations make it easier to strengthen this bond. 
Besides, can DIL treat her MIL just like a mother - throwing tantrums, caring, being stubborn, and at the same time purchasing gifts just like her own daughter? On the other hand, can MIL be the mother to her DIL- loving unconditionally, nagging, scolding, comforting, and a friend? I know for many this feels like utopia. However, with changing times, it is not that hard to achieve this bond and set major MIL-DIL goals. It is not all filmy, it can be a reality for many, and it is already a reality for some. All one needs to do is accept the person, and genuinely show the same amount of compassion as it is for a mother or daughter. In return, one will receive the same. 
A home having strong female bonds and relationships is hard to break. It also becomes a safe place for women. A woman feels empowered and less stressed about household things, which gives her room to do other things. Can we have healthy relationships with our mother-in-law and vice versa, and Normalise the bond without making it all vamp-like, giving all komolika vibes?
---
Suggested reading: World Needs More Women Policymakers: Shailja Chandra, Educator And Sustainability Expert