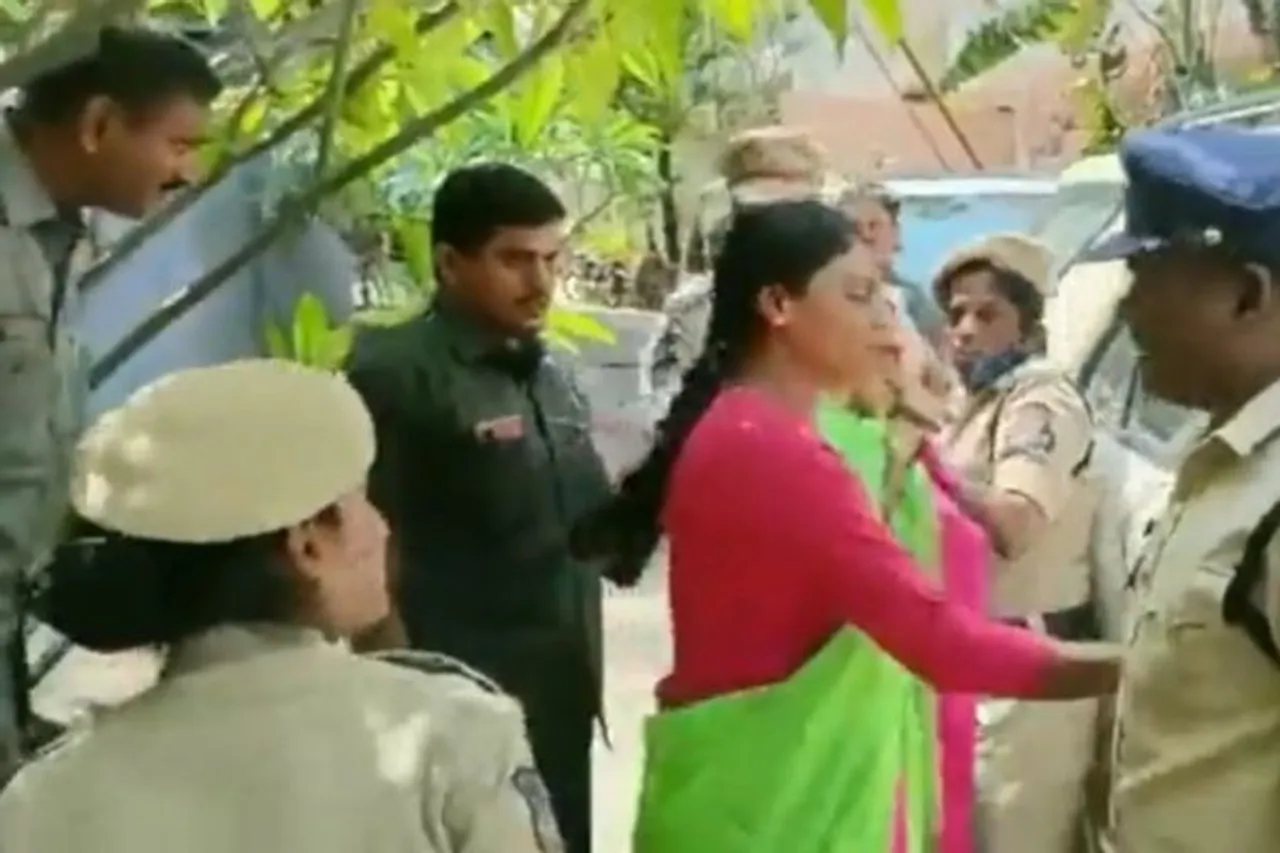 The leader of Yuvajana Sramika Rythu Telangana Party (YSRTP) and the sister of Andhra Pradesh Chief Minister Jagmohan Reddy, YS Sharmila was seen getting into a scuffle with the police while she attempted to leave for the SIT office to discuss the TSPSC paper leak matter.
Telangana State Public Service Commission (TSPSC) cancelled the Assistant Engineer exams in March 2023 due to reports of a paper leak. An SIT team was formed to investigate the matter which questioned around 150 related to the case including the top scorers in the exam.
YSRTP chief YS Sharmila tried to visit the SIT office regarding the paper leak case but as she was leaving her residence, she was stopped by the police personnel. The politician tried to make her way past them and in doing so she slapped and hit some of the officers. The video of the entire incident shows her mishandling the police officers and is now viral.
---
Suggested Reading: Viral Video: 70-Year-Old Woman Walks Barefoot To Bank To Collect Pension
---
YS Sharmila Detained For Manhandling Police
In the video, YS Sharmila can be seen marching towards her car when the police officers block the car's door. She charges towards the police officer blocking her way and trying to hit him. Two female officers can be seen subduing her from behind but she slaps them and continues to manhandle other officers while she yells, "Who are you?" in the video.
The police reportedly managed to prevent her from leaving for the SIT office and detained her. They took her to the Jubilee Hills Police station for manhandling police personnel.
YS Sharmila has been leading protests against the paper leak matter demanding justice in front of SIT office. The police were trying to stop her from approaching the SIT office for yet another protest.
Meanwhile, YS Sharmila's mother YS Vijayamma visited her daughter at the police station and was caught manhandling the police as well on camera. She was seen pushing police officers to meet her daughter.
Last week, SIT released a 250-page long report which included the names of P Praveen Kumar, the personal assistant of TSPSC secretary Anitha Ramchandran and a network expert at TSPSC named A Rajasekhar Reddy. The SIT also summoned some politicians including BJP's Bandi Sanjay and revealed that the deal to leak paper was done for an exchange of about 40 lakhs rupees.