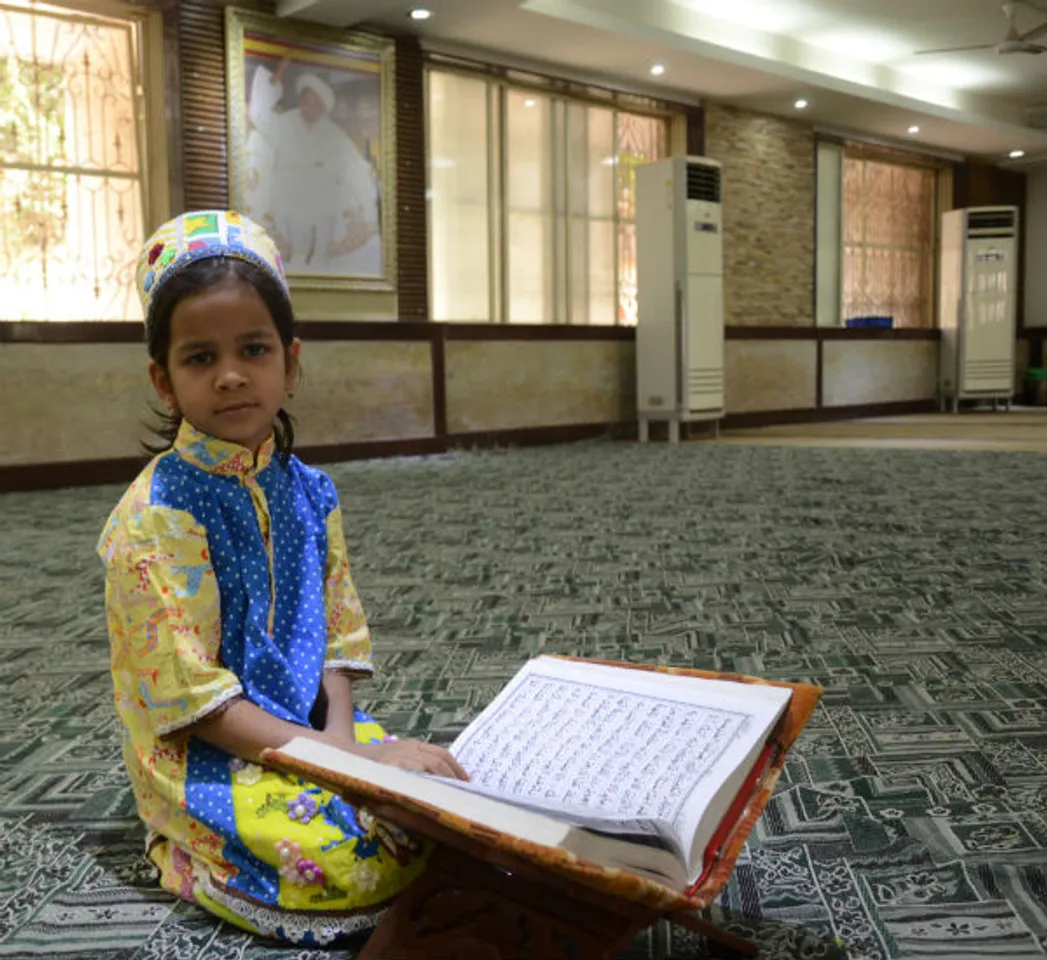 Bengaluru-based Ruqaiyah Mufaddal Khandwal (6) is a walking, talking encyclopaedia on the Holy Quran and can give any adult competition in reciting all of its 30 chapters and 604 pages.
Ruqaiyah from Bengaluru is the youngest from her community of Dawoodi Bohras to become a Hafiz.
You heard that right! Six-year-old Ruqaiyah has a memory so sharp that she can recite the Quran. With her extraordinary feat, she has managed to register her name as the youngest in her community of Dawoodi Bohras across the world to have achieved this.
Also Read: At 9 years Anvitha Vijay is an app developer and star at Apple's WWDC
This year, 876 Bohra community members have earned the title of hafiz.
In recognition of Ruqaiyah's achievement, the Bohra community's spiritual leader Syedna Mufaddal Saifuddin felicitated her at the Aljamea-tus-Saifiyah, an educational institute run by the community in Surat, on April 13.
While answering the question as to how could she manage to by heart an entire book at a little age, her father Mufaddal Khandwal said, "It is difficult to make children of such age sit . She used to recite two-three lines a day, initially. It increased to half a page and one page, gradually. With time, she was able to sit and recite the Quran for seven to eight hours a day and completed in three years," Bangalore Mirror reported.
You May Also Like: Meet the memory wiz: Vyshnavi Yarlagadda
Originally from Rajasthan, Ruqaiyah's family has lived in Bengaluru for the last 12 years. Mufaddal works as an IT consultant in the city. Her mother Khadijah too is a hafiz, so is her elder sister Husaina (8).
Like her sibling, Ruqaiyah was drawn to the Quran at an early age, and started reciting mostly through watching her elder sister. Since Khadijah is a hafiz too, she trains her daughters in excelling memory techniques.
"Reciting the Quran will help her increase her concentration and attention. It will, in turn, help her achieve her goals in life," said her father.
Feature Image Credit: Bangalore Mirror
READ: She can name 165 rivers in a minute: Meghali Swain is a child prodigy