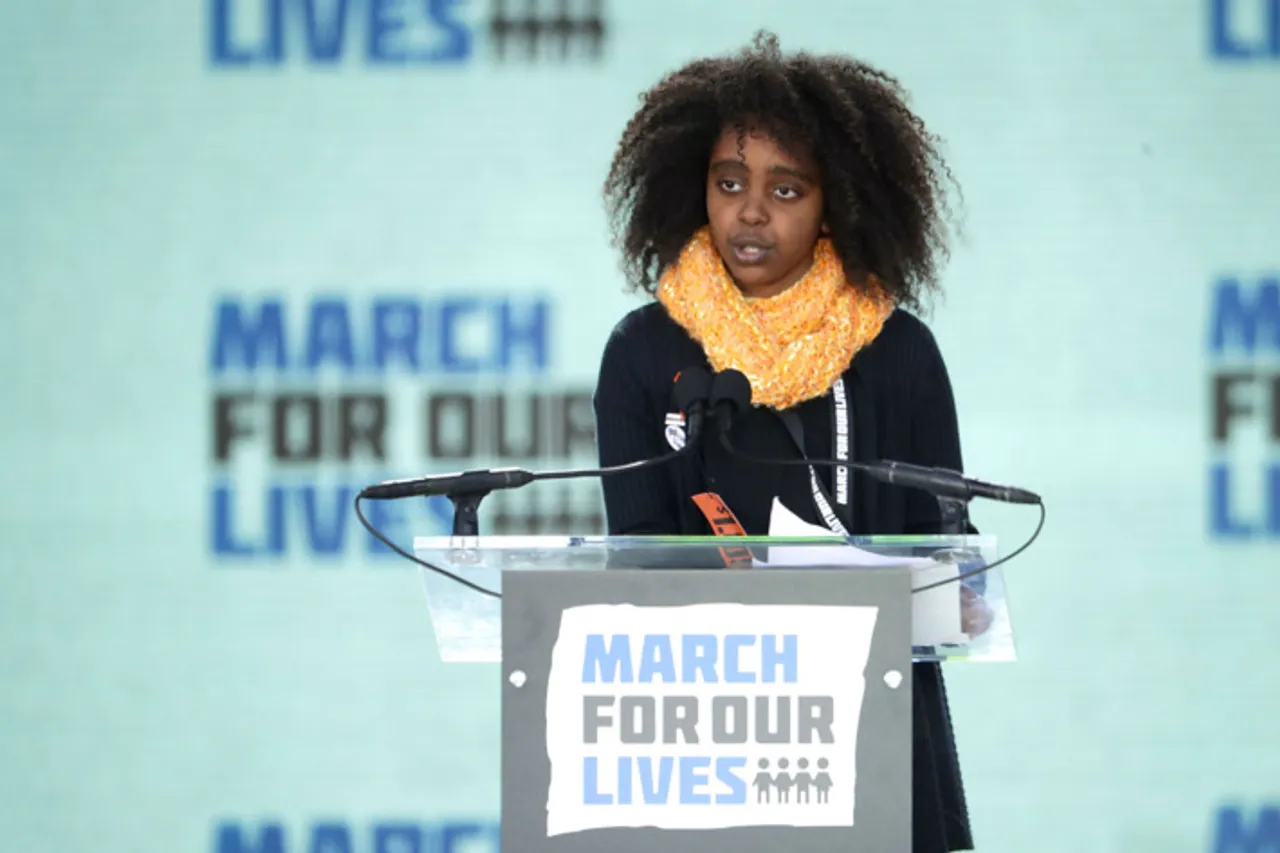 "There shouldn't be a age limit for being aware"
Naomi Wadler, the young activist from Virginia, United States of America, has risen as a strong voice against gun violence in the country. She is truly an inspiration for everyone. Wadler has given several speeches, and has interviewed many people, so as to transfer a message to everyone around.
It all started for her, when she along with her friend Anderson, organised a walkout at their school. This was in respect of the victims of gun violence. After organising this walkout, she gave a speech at the "March for our lives protest in Washington".
"I am here today to acknowledge and represent the African American girls whose stories don't make the front page of every national newspaper, whose stories don't lead on the evening news. I represent the African American women who are victims of gun violence, who are simply statistics instead of vibrant, beautiful girls full of potential."
She put across her message, powerfully and with full of conviction. At an age, where most children are busy studying and having fun in school, this 11 year old, decided that she had had enough of gun violence, enough of black women being shot, enough of victims just being statistics. She was the second youngest speaker at the March for our lives protest. The youngest was Martin Luther King Jr's granddaughter – Yolanda Renee King
Her speech went viral on social media, and she had caused the ripple effect. More black girls shared their stories, more people got inspired. She got called on The Ellen DeGeneres Show, and she interviewed Serena Williams and Jameela Jamil.
Having faced racism and gender stereotypes in her own life, she was able to draw from her own experience and be an inspiration for every African American, who was denied equality, who was witness to gun violence, and to those who have lost family and friends to gun violence.
Naomi has proved that there is no age limit to create a change, to cause a revolution, to inspire and lastly to send across a message. This young student activist has shown how powerful every voice is, how much it matters. She has managed to give the victims of the gun violence the voice they deserve. She has shown people what it means to speak up for what is right.
She is truly an inspiration to the world. Naomi has defied all the odds and has proven to the world that there is no age one needs to be to cause a change. This girl has shown the world what being an activist really is. Not shying away from the public and speaking about what you truly believe in. Being yourself and not giving up. This girl has inspired thousands of others to get the courage to raise a voice. And she is not slowing down!
"We might still be in elementary school, but we know. We know that life is not equal for everyone and we know what is right and wrong."
Picture Credit: The Cut
Read also: March For Our Lives Activist Naomi Wadler Delivers Powerful Speech
Kavya Shah is an intern at SheThePeople.Tv