There's a new trend in food storytelling -- doodles. These bright and creative sketches of our favourite recipes done by blogger, 'Doodlenomics,' make us drool. Yasra Khoker started sketching for fun after moving to Jaipur from the UAE, she tells SheThePeople.TV.
At first, Yasra would walk around Jaipur, sketching things she saw, using her drawings as a way to learn about the city.
She started sketching food four years ago. She was back home in the UAE when she saw her niece and nephew recreating the leaflets that food delivery places drop off by making sketches. That was when she got the idea of drawing food.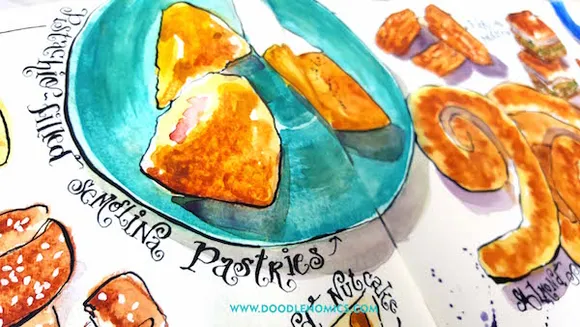 Source: Doodlenomics
Soon, she was live sketching for people. After that her work started getting recognised. Today, she has self published a sketch book which has been very well received. Yasra now does art work on commission.
Thank you so much for this beautiful piece of #foodart @doodlenomics ♥️♥️♥️ pic.twitter.com/m7miqF60mj

— Deeba Rajpal 🎂🧁🥯🍰 (@vindee) October 29, 2017
Yasra says that she is surprised with people's reaction to the art. She doesn't use social media that often, and is happy with the response her blog and Twitter handle have received.
So what inspires her?
Yasra watches lots of movies about food, reads a lot, buys cookbooks, watches food documentaries and of course, cooks.
Now, she is also illustrating recipes and book covers for journalists and cooks, including Rana Safvi.
Rahat e Jaan Chutney was favorite of Bahadur Shah Zafar
I copy recipe from an old cookbook book@doodlenomics illustrates it. Gives it life pic.twitter.com/CYcKCDSCiR

— Rana Safvi رعنا राना (@iamrana) October 29, 2017
When she isn't doodling Yasra is an interior designer an an art critic. Did we mention that she writes about food too? Here's a short excerpt from her blog, where she writes about breakfast food.
"Few things are more pleasurable than hotel breakfasts. Who doesn't love elaborate spreads of  baked goods, eggs and cold cuts, chicken and vegetables dressed in ways one only sees in beautifully illustrated volumes of the 1001 Arabian Nights? What a splendid start to the day! What I actually love about these busy spreads is that their variety replicates the random jumbles in the way my mind works. Too many things going on and I'd like to have a bit of everything," she writes. 
Yum!
Also Read: Padma Lakshmi on Food Writing And Feminism
Picture Credit: Doodlenomics