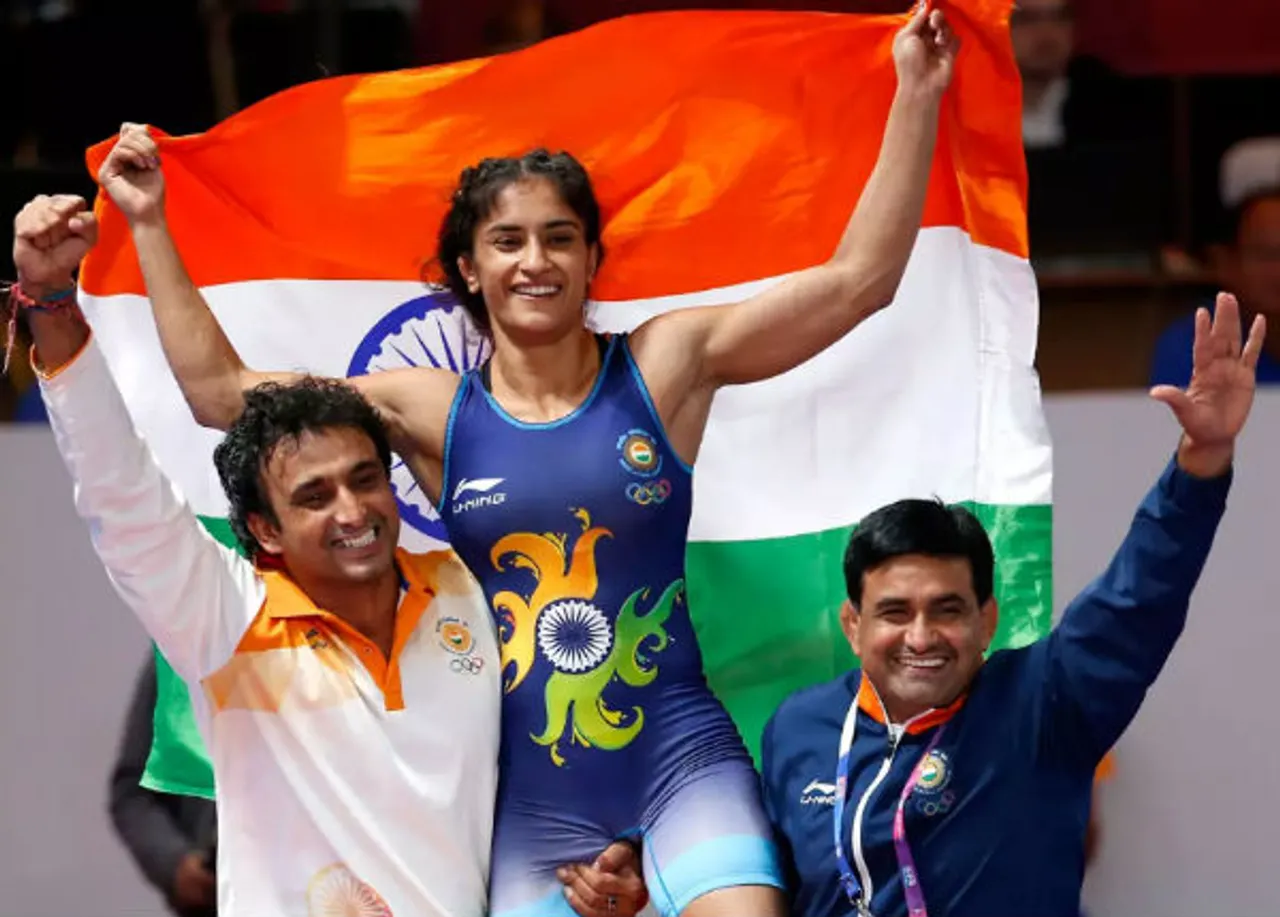 During the Grand Prix of Spain, Asian Games champion Vinesh Phogat had her game face on from the very beginning, as a result the dominant wrestler won her first gold medal after shifting to 53kg category while another star Divya Kakran claimed the top honours in the 68kg category at the Grand Prix of Spain.
India's gold medallist in the Asiad and Commonwealth Games,Vinesh, who is one of India's medal hopefuls at the 2020 Tokyo Games, was competing only in her third tournament in the new category.
In the eight-wrestler 53kg draw, Vinesh defeated Peru's Justina Benites and Russia's Nina Minkenova before silencing Dutch rival Jessica Blaszka in the final. Gold medal winner at the Jakarta Asian Games, Vinesh earned every single point against Justina and Nina but Jessica did take six points from the Indian in the final.
Great feeling to finish off with a Gold medal here in #Madrid at the #GranPremioDeEspaña! Good solid day of wrestling under my belt! Now onto the next one 💪🙏 pic.twitter.com/pnRP6FYxJY

— Vinesh Phogat (@Phogat_Vinesh) July 7, 2019
Before participating in this competition Vinesh had bagged Asian Championship and Dan Kolov bronze and silver respectively in the 53kg category. Also Asian Games bronze medallist Divya, who lost just four points in her campaign, stood on top after the tournament. She beat Poland's Agnieszka Wieszczek-Kordus in the final. Meanwhile, World Championship bronze medallist Pooja Dhanda (57kg) settled for silver after losing the title clash to Russia's Veronika Chumikova.
Congratuklations to our wrestlers #VineshPhogat and #DivyaKakran on winning #Gold Medal in 53 Kg category and 68 kg category respectively in #Madrid at the #GrandPrix of Spain..Well done!@Phogat_Vinesh @DivyaWrestler pic.twitter.com/8F1rjYFs2L

— Lokesh Sharma (@_lokeshsharma) July 7, 2019
In 2019, the star wrestler from the famous Phogat family bagged silver at the Dan Kolov-Nikola Petrov. The year 2018 too was the young wrestler's year. She clinched the gold medal in the 50 kg freestyle at the Asian Games in Jakarta and become the first Indian woman wrestler to do so. Avenging a heart-breaking loss at the Olympics two years ago, she also won gold at the 2018 Gold Coast Commonwealth Games, silver in the 2018 Asian Championships in Bishkek.
READ: Navjot Kaur – First Indian Woman Wrestler To Clinch Asian Gold
Before heading off to the Asian Games, she has bagged gold at the Spanish Grand Prix in Madrid this July. Vinesh won the gold medal in the women's freestyle 53 kg category and dominated the stage, conceding just one point in five bouts.
Picture credit: TOI