SheThePeople.TV is bringing the Women Writers Fest to Mumbai. In partnership with Goethe Institut, empowered by Colors TV the focus is on new form writing.
Have You Registered Yet? It's Free.
The Women Writers' Festival Mumbai 2017 will reflect on women's writing across genres – with special spotlight on long form, short form, publishing, script writing and much more. It will bring together both fiction and non fiction writers, and celebrate women's writing.
March 17th, Friday
2pm
Orange is not the only fruit: How the discourse around gender and sexuality is changing in our writing
Laxmi Tripathi
Kankana Basu
Harrish Iyer
Vinta Nanda
Deborah Grey
Moderator: Harini Calamur
***
3pm
Can Fashion and feminism be linked?
Amena Azeez
Shalini Mehta
Preeta Sukhtankar
Moderator: Anjali Kirpalani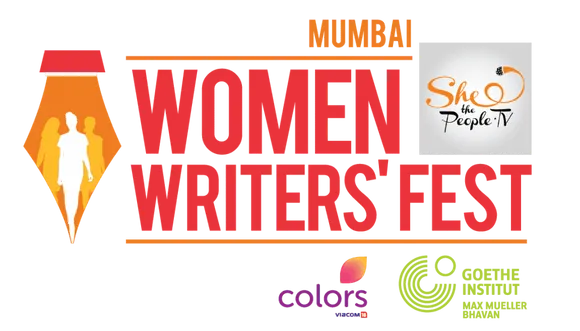 4 pm
A Room of Her Own: Financial independence and why every woman needs to work towards it
Abha Bakaya
Meghna Pant
Aastha Atray Banan
Moderator: Naomi Datta
***
5pm
Bossy pants: Women bosses and the boxes they must break
Devita Saraf
Sudha Menon
Tista Sen
Amrita Chowdhury
Moderator: Meghna Pant
 ***
5.45 to 6.15
Poetry reading: Daughters of Eve: The Female influence in writing poetry
Punam Chadha Joseph
Harnidh Kaur
Moderator: Tahani Aziz
 ***
March 18th, Saturday
11 am
Eat, Pray, Love: Why Women must put themselves first.
Dr Aparna Santhanam
Tanuja Sodhi
Seema Hingorrany
Neelam Kumar.
Moderator: Tara Khandelwal
***
12 pm
Fear of Flying: Acknowledging the sexual being within
Sanjana Chowhan
Sonali Kokra
Tanveer Bookvala
Sapna Moti Bhavnani
Moderator: Kiran Manral
(Lunch break)
2 pm
Women in food: Farm to Fork Movement
Gauri Devidayal
Rushina Mushaw Ghildiyal
Roshni Bajaj Sanghvi
Saee Koranne Khandekar
Moderator: Mini Ribeiro
 ***
3pm
Sex and the City: How has social media redefined the way we approach relationships.
Shoma Narayanan
Nidhie Sharma
Amrita Chowdhury
Karishma Attari
Gayatri Jayaraman
Moderator: Anjali Kirpalani
 ***
4 pm
Are funny women only meant to talk feminism?
Tracy D Souza
Supriya Joshi
Shruti Seth
Moderator: Shaili Chopra
***
5 pm
Guilt in the age of hyper-parenting
Gopika Kapoor
Lina Ashar
Karla Bookman
Divya Dutta
Moderator: Mansi Zaveri
***
5.45 pm
A conversation with debutante author Zuni Chopra on her book The House That Spoke
Workshops
·         Neil D'Silva and Sonia Rao Writing and Publishing Workshop. March 17th 1 pm.
·         Books on Toast present Stories on Toast  Open Mic 1 pm to 2 pm,  March 18th
SheThePeople.TV is India's biggest storytelling platform for women and inspires new dialogue, exchanges leadership ideas, fosters networking and reinforces the ability of women to contribute to growth. Founder Shaili Chopra says, "We need to celebrate writing across genres, way beyond literature. We have women ahead in screen writing, short stories, business and entrepreneurship, fiction, environment, some fantastic columnists and more. As part our effort to do more with writers across India, this is a first of a kind festival that promises to ignite rising minds"