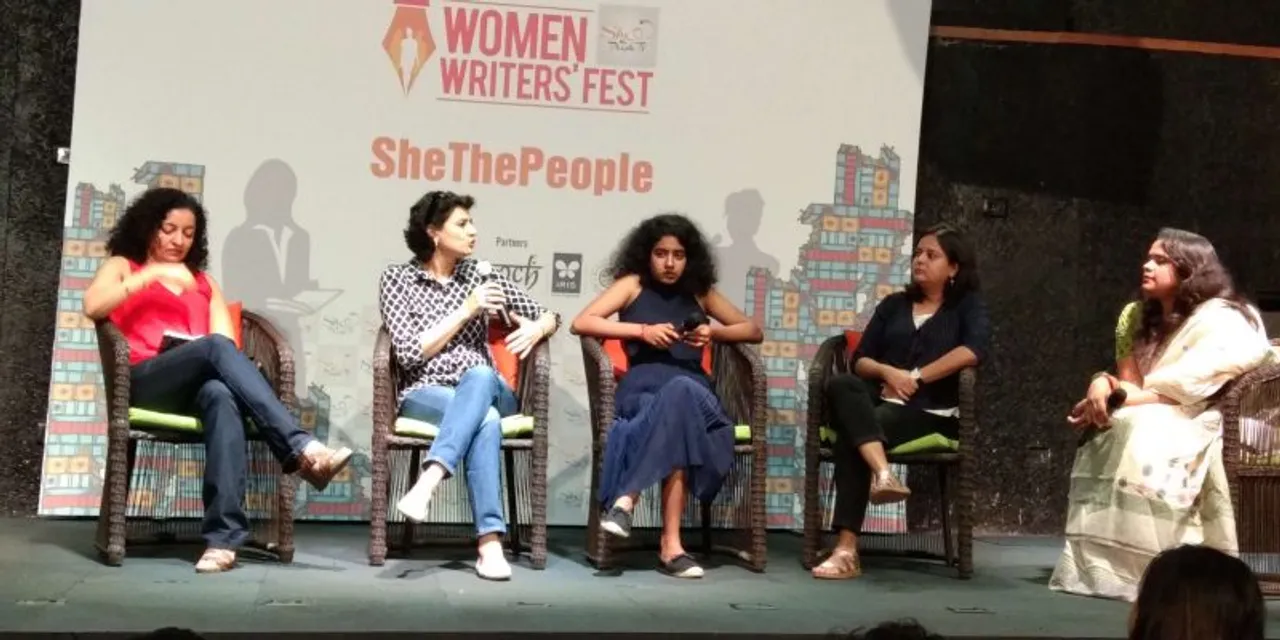 The first panel, of #WomenWritersFest, on "Chronicling strong women: Gender and narrative" dived deep into the ideas of perception and portrayals of how a strong woman should be.
The panel was moderated by Sandhya Menon, a freelance writer and editor. The four speakers comprised of Shrabonti Bagchi, features writer and editor at Mint, Shaili Chopra, Founder of SheThePeople.TV and author, Varsha Adusumilli, author of Wonder Girls - a book that chronicles the success stories of millennials and Priya Ramani, editor and columnist.
https://www.facebook.com/SheThePeoplePage/videos/242958739697826/
What defines a strong woman?
Sandhya kickstarted the session speaking about how we constantly speak to achievers and about achievers; in fact we need to now start speaking about the ordinary women who are achievers in their own right.
Priya Ramani mentioned what appealed to her as the most appropriate definition of a heroine. "She's a woman who challenges the status-quo, believes in emerging out fearless and is a rule breaker. Fearlessness not only makes one strong but also helps march forward and do what it takes," she said.
Everyday Feminism
Shaili Chopra gave away her idea of everyday feminism which, in every which way, brings out the vulnerability of women in daily lives enabling them to overcome weakness and gather strength. "Fierce, Fearless And Firebrand is what SheThePeople.TV vouches for. Women need a platform where their stories can be narrated and heard loud and clear. With STP we believe in doing that and more," she reflected.
Who is a strong woman ? What makes her strong? And why weak and vulnerable are also definitions of strength - brilliant conversations @TheRestlessQuil @priyaramani Varsha @Shrabonti @shailichopra - Watch here https://t.co/DlaBnPixwq #WomenWritersFest #bangalore pic.twitter.com/tJTVrD76xT

— SheThePeople (@SheThePeopleTV) September 1, 2018
The moderator crucially brought up the fact that there's also a great deal of strength in quietness. The panel, discussing on the same, highlighted how several women possess immense strength by holding up a great deal of experiences inside them.
"Our idea of a strong woman is only limited to a few roles. We need to rise above that," Akeli Awara Azaad
Shrabonti Bagchi stated that while talking about chronicling women, we need to enable them to their own stories. "When it comes to writing about women, we as editors cannot sit and choose all the time as to which story we need to tell further. We must empower women to be able enough in narrating their own stories and digital media is one great platform to do so," she added.
Everyday feminism
Varsha Adusumilli gave away some facts and research pointing out how, with just there's 27% of women in the workforce, we are one of the worst performing nations.
Varsha's book Wonder girls is based on regular girls. "Girls are getting educated but they aren't really pursuing careers of passion. There needs to be more encouragement for the 20-year-olds enabling them to pursue careers of their choice. Sadly, this isn't the case in many areas," she elaborated.
The panel went on to discuss about portrayal of women on Indian television. They emphasised how women, in shows, are portrayed in a manner that takes down the whole idea of feminism.
When we talk about chronicling a woman, we need to focus on chronicling a man because there's also a stereotype attached there.
Varsha rightly points out how men too need to be included in women's uplift. "Men can derive a lot of value from women's struggles and voices," she adds.
Priya points out the changing times when it comes to acknowledging women, especially in sports. "There were times when we were hardly aware of the Indian women athletes and sports personalities. Now we see so many names and most importantly, we recognise them," she said.
Sandhya stated how historically women have always been rule breakers. Now, however, there's greater audience for their stories.
The panel also engaged in talking about how several women choose many to remain patriarchal because they are completely fine with its working.
Shrabonti believes there can never be a prescriptive idea to inspire people around. "We need to create a climate of openness to talk about various things; that's who women will be able to share, empower and inspire one another," she elaborated.
The audience engaged in an interesting discussion highlighting the importance of how there's a need to empower girls and women in a way that makes every story, at every level, significantly heard. Every story lends itself to different elements and inspires.
The panel brought forward great insights about feminism, strength and vulnerability defining women, empowerment and narrative. They vouched for the idea of women talking in their own voice and being in charge of their own stories because nothing is more impactful than a woman being able to speak out and bring her story forward.
Inputs: Bhawana