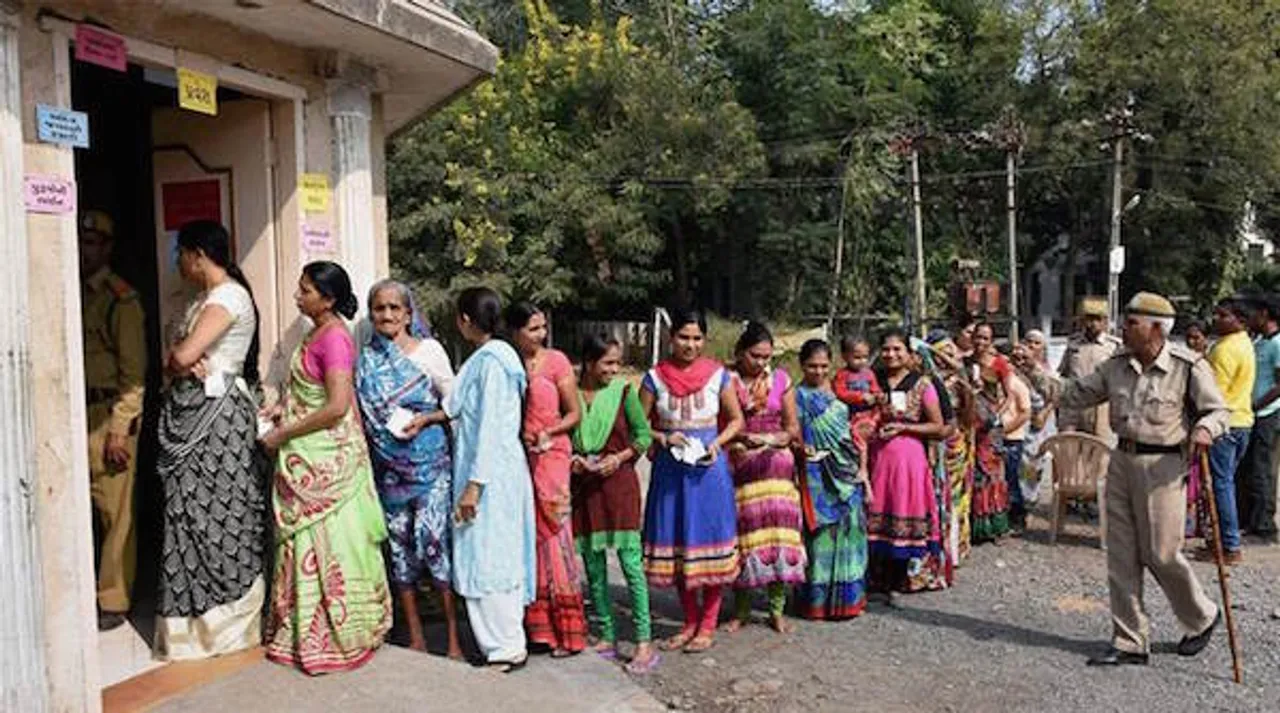 The trend of women voters registering to vote in larger numbers than men and voting more than men voters continues in the Phase I and Phase II of Lok Sabha elections as well. According to the Election Commission's data, analysed by Data Intelligence Unit (DIU), a data wing of India Today, 68.53% women polled in comparison to 68.02% men.
Uttarakhand saw the highest gap in the first phase as the state saw 64.45 per cent women's voter turnout in comparison to men limited with 58.77 per cent. Bihar, Odisha, West Bengal, Lakshwadeep, Arunachal Pradesh and Meghalaya are the states that also saw a rise in women voters outnumbering men voters. In these states, women voters surpassed men by 1.21%, 1.27%, 2.18%, 3.02%, 4.56% and 4.67% respectively. First phase had 91 Lok Sabha constituencies out to poll in 18 states and two Union Territories.
While West Bengal recorded a turnout of 81%, Bihar recorded 50 per cent voter turnout in phase one. Bihar recorded voter turnout of 50%, the lowest among the 18 states and two union territories which went to polls on April 11, the Election Commission said. Jammu and Kashmir saw a dip in overall voting as this time the state's two constituencies—Jammu and Baramula—that went to poll in phase one saw a turnout of 54.49 as compared to 57.19 in the 2014 general elections.
ALSO READ: Understanding Women's Representation & Female Voters Pattern
The second phase had 95 constituencies in 12 states and the women voter turnout again outnumbered men as 69.21 per cent women turned out to vote over 69.07 per cent men. Bihar noted the highest difference of 5.96% between women and men voters. Constituencies of states like Manipur, Odisha, West Bengal, Puduchery and Tamil Nadu also saw higher women voter turnout than men by 4.20%, 2.31%,0.84%, 0.83% and 0.34% respectively.
While there are constituencies that went to poll and saw a large number of women turning out to vote, there are still a good number of constituencies in as many as 10 states that went to poll in phase which saw male voters overpowering women voter turnout. Maharashtra saw the highest difference as Men voters exceeded women voters by 3. 31%. Then come Jammu and Kashmir (2.51%), Chhattisgarh (2. 10%), Mizoram (0.87%), Nagaland (0.75%), Sikkim (0.61%), Uttar Pradesh (0.50%), Tripura (0.41%), Telangana (0.36%).
68.53% women polled in comparison to 68.02% men. Numbers show that in the first phase, women voters beat men by half a per cent while in the second phase women exceeded 0.14 per cent in turnout over men.
In Phase II Assam, Uttar Pradesh, Jammu and Kashmir, Chhattisgarh and Maharashtra again saw a higher men voter turnout than women with an addition of Karnataka.
While women voters are consistently showing a rise in electorate and turning out to vote in large numbers, representation of women in parliament still needs a lot of improvement. Parties need to give more tickets to women candidates as they go on to give significant space to women in their manifestos.