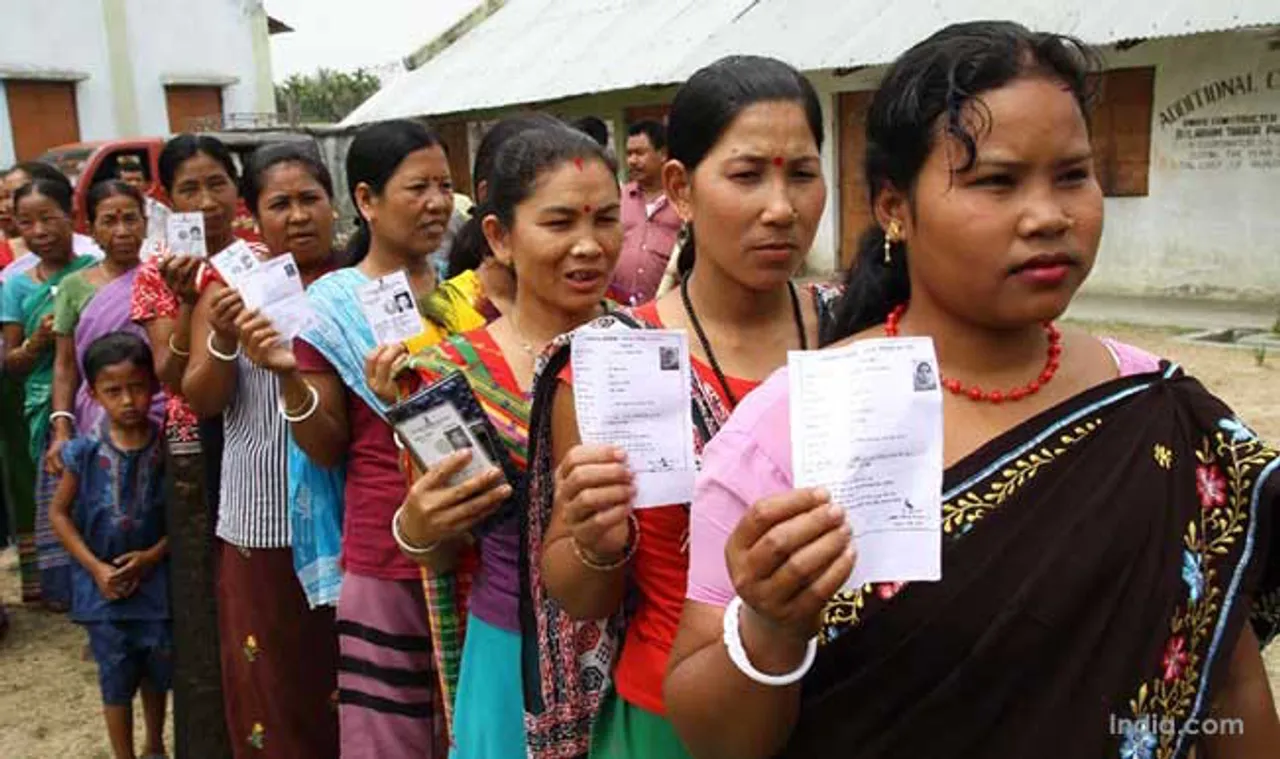 A village with around 2,100 voters in Dhrafa village of the Jamnagar district in Gujarat held a boycott after their women-only polling booth was converted into a general one. Not a single village resident turned up to cast their ballot until voting closed.
There are around 1,200 male voters and 900 female voters in the village. The Election Commission set up a polling booth in Taluka Shala and Kanya Shala, the two government primary schools in the village.
Bharatiya Janta Party member and resident of Dhrafa, Brijrasinh Jadeja said that the village "believes in ojal pratha (women keeping their faces veiled and not mixing with the opposite gender in public)".
---
Suggested Reading: Gujarat Assembly Polls: 100-Year-Old Casts Her Vote In First Phase
---
Women-Only Polling Booth's Conversion Causes Boycott
Jadega added that there used to be a polling booth exclusively for women in the village, however, the Election Commission converted the women-only polling booth into a general booth for the election. He said, "villagers held a meeting on November 25 and decided to boycott the polling".
Collector and District Electoral Officer (DEO) of Jamnagar, Sourabh Pardhi, sent an officer to persuade the villagers to cast their ballot. But, the villagers refused and no one turned up until voting closed.
The village sarpanch Dhramendrasinh Jadeja said that the village only got to know that the usual practice of having a women-only booth at the Kanya Shala (girls' school) had been altered.
Jadeja said, "We told the sub-divisional magistrate and mamlatdar that women of our village won't stand in queues alongside men and submitted a memorandum."
The Election Commission (EC) did not grant the Dhrafa village their request.
BJP member Brijrasinh Jadeja said that the villagers are ready to exercise their right to vote if the Election Commission set up a women-only booth separately.
According to DEO Pardhi, the electoral rolls for the two polling booths were not separate on the basis of gender. He added that the women's only booth used was mentioned against the names of the female voters.
Pardhi said, "Generally, this is not done, but there was such a tradition in this village. This time round, the EC objected to it." He added that another proposal was submitted to the EC, but the Chief Electoral Officer of Gujarat rejected it.