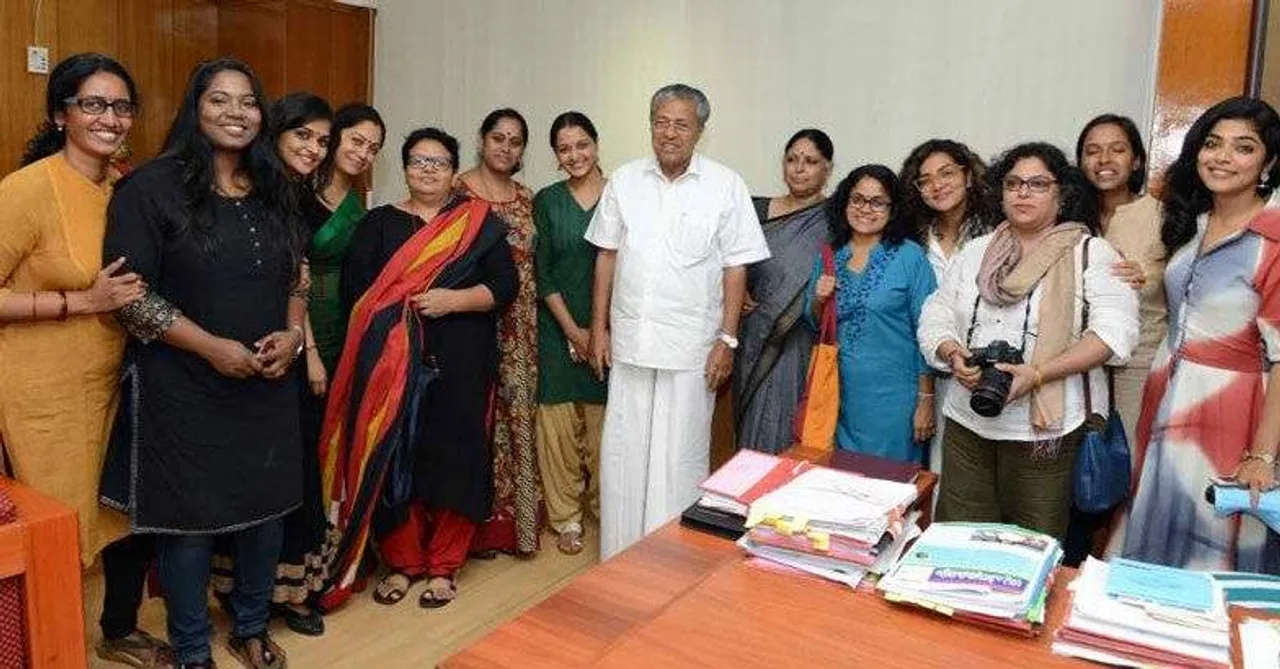 The film industry suffers from great amount of gender inequality where women are concerned such as pay gap, stereotyping etc. To counter these issues and empower women, the Malayalam Film Industry has launched a women's collective called 'Women's Collective in Cinema'.
There are a total 16 core members in the collective, including founding members Beena Paul, Manju Warrier, Rima Kallingal, Parvathy and Anjali Menon. The founding members met Kerala CM Pinarayi Vijayan and submitted a memorandum to begin the process.
"Her"story begins! #whatagreatstart
With @CMOKerala#historymade
Women in Cinema Collective !!! pic.twitter.com/yvljwGnOIV

— WCC (@WCC_Cinema) May 18, 2017
Their major claim is to get a safe working environment. The CM said that the committee will look into the problems faced by women in the industry and will also recommend actions to be taken against any undignified act against them.
Women in Cinema Collective have raised concern about the problems women face in the film industry. 1/3 @WCC_Cinema pic.twitter.com/i9toRtgQsd

— CMO Kerala (@CMOKerala) May 18, 2017
The women have firmly demanded grievance redressal cells at film units under the Sexual Harassment of Women at Work Place Act.
"The incident, where one of our colleagues was sexually assaulted in Kochi, triggered the urge to start this organisation. We were disappointed by the way organisations in our industry dealt with the matter," said actress Rima Kallingal to News 18.
ALSO READ: Wardrobe Malfunctions & Headlines: Will this marriage of creepy content and our voyeurism end?
Rima also observed that the film industry is completely different from other professions where women have fixed policies and workspace. They are not even allowed maternity leaves as in other industries.
Women in Malayalam cinema form collective to demand end to gender inequality https://t.co/XDh4hWpzMe v @thenewsminute cc: @rebeccaunwomen

— UN Women India (@unwomenindia) May 19, 2017
"When a film starts, several people come together to make it a success, many groups are formed, so let there also be a committee or at least a panel to look into these issues faced by women. Sexual harassment is a reality in the film industry and we need to tackle this issue. A safer environment should be provided for women," Rima said.
The collective has not been constituted just for female actors but also for women working in every profession in the industry like make-up artists, technicians, camerawomen etc. It will also monitor women's roles in films and how female characters are being shown as in Malayalam films a lot of sexism is portrayed onscreen.
The Kerala CM is promoting this effort on social media as well, as he put up a post on Facebook stating that women are even refused basic human rights in the film industry. Film sets are never equipped keeping women in mind. Hence, their needs are compromised occasionally.
The collective has requested a background check of all those appointed during film shoots.
Picture credit- Onmanorama