There is no idea as addictive as learning. And at the Boost Your Business edition of Indore, we did just that. Women from all walks of life, pursuing big and small businesses got together to discuss the future of social media for their brand building. Presented by SheThePeople.TV, Facebook and FICCI FLO-Indore Chapter, this was an empowering session for current and aspiring entrepreneurs alike.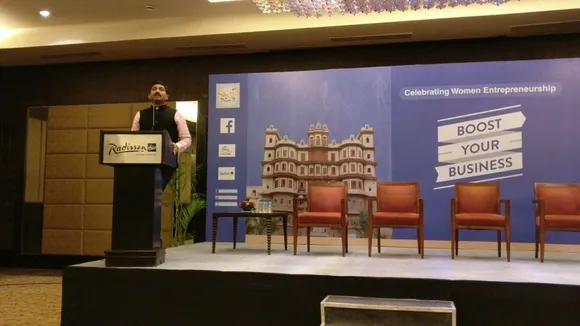 Parikipandla Narahari at Boost Your Business, Indore
A keynote address from the Chief Guest, Parikipandla Narahari, District Magistrate and Collector of Indore kicked off the meeting. He put the spotlight on the issues the government was involved in to provide for a better environment for women entrepreneurs. He spoke about how women from Indore have always had an entrepreneurial spirit and how they now have all the support they need to make their dreams come true. Many of these were present at the event including Mamta Bakliwal of Empower Integrated solutions, Viha Pandya of Kidditos and Payal Kothari of  Veruschka.
Meghna Wadhwani, Chairperson, FICCI FLO-Indore Chapter talked about the ongoing dialogue on women entrepreneurship at the various fora in the city that champion women go-getters from Indore.
Rajat Arora of Facebook conducted a thorough workshop on the new initiatives from Facebook that could help women promote their businesses online. These included new features on Facebook business pages. He ended his session by encouraging women to logon here for tips and strategies on maximizing Facebook for business. He said, "Our Boost Your Business program is an initiative to enhance the knowledge, skills and technology of different women entrepreneurs who are running SMEs from different cities. Facebook provides a platform to these SMEs for exploring various dimensions by optimum utilisation of social media."
Tara Bedi from Instagram took the audience through using Instagram for brand creation. She spoke about how simple practices such as a unique voice and acknowledging comments on Instagram posts can help a brand grow followers and thus their reach. She took the audience through an example of an upcoming international brand that has managed to attract followers through the use of innovative posts on instagram, one of the fast growing social media platforms. Late 2016, it had over 600 million users.
So what are the experiences of women entrepreneurs? Are there common challenges? How does success feed off inspiration? SheThePeople's Anjali Kirpalani moderated a conversation with Mamta Bakliwal, Cofounder and CTO, Empower Integrated solutions, Viha Pandya, Founder, Kidditos and Payal Kothari, Founder, Veruschka.
When women hear real stories on how entrepreneurs used social media to gain customers and establish their brands, it further reinforces their drive. Payal Kothari spoke about how her brand - which was started when social media was not as influential as it is today - has grown through word-of-mouth marketing. Having that as a spring board, Payal is now cementing the brand's digital presence.
Viha spoke about how she has established her business with just the use of a Facebook page and nothing else. Mamta spoke about how digital would redefine the future. An early adopter, she has seen her company grow by leaps and bounds through a powerful digital presence.
Boosting your business or personal brand has never been easier. So what are you waiting for? Read more such stories from Chandigarh, Pune, Lucknow, Delhi and Ahmedabad.