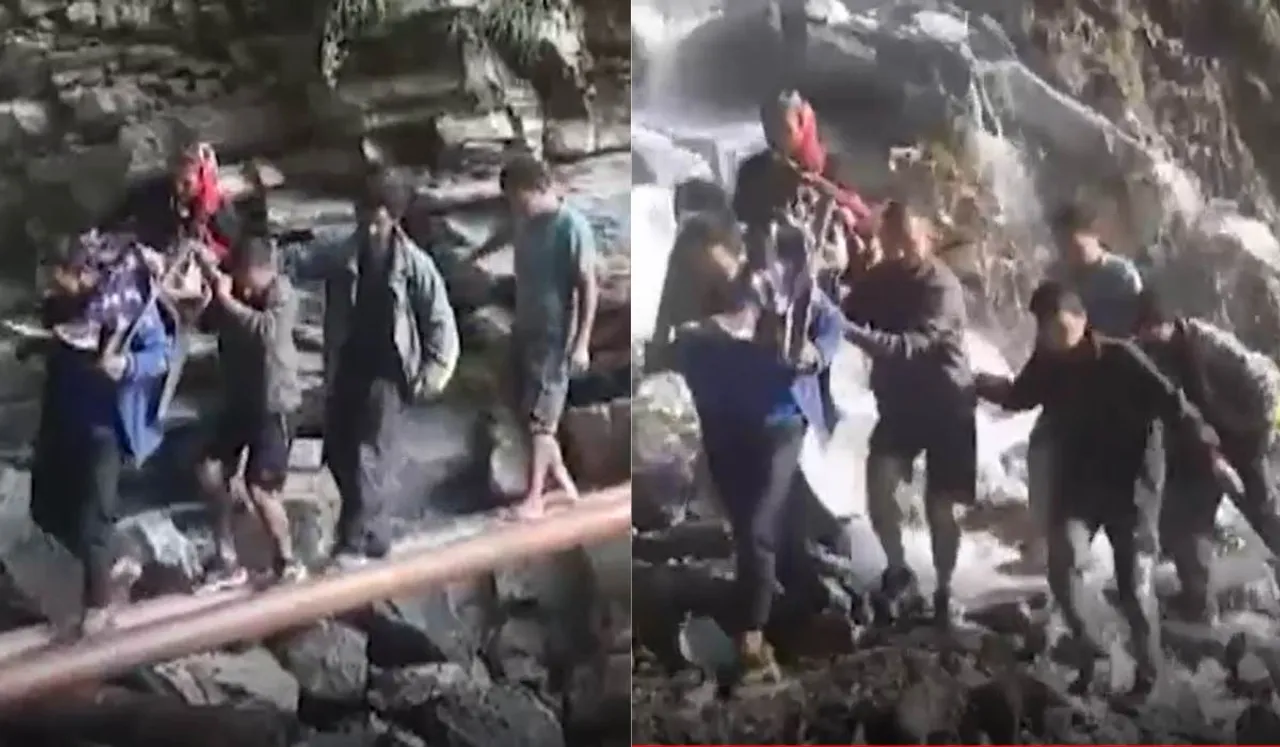 A video was captured of men of the Ban village in Chamoli carrying a pregnant woman in labour on their shoulders as their access to the only primary healthcare was restricted after rains washed away the Badrinath National Highway. 
Both the woman and her baby are safe and healthy. 
Woman Carried On Chair To Healthcare
During times of natural calamities, inadequate and far-off basic healthcare facilities become more remote to access especially for women. 
In a similar case, heavy rainfall and landslides caused disastrous havoc in the already fragile area of the Chamoli district near Dehradun, Uttarakhand has made things more difficult for the residents villagers as the rains have washed away the Badrinath National Highway which was their only access to the primary healthcare center. 
As the roads became inaccessible, a 29-year-old pregnant woman, Kiran Devi, going through contractions, is seen in the video carried by men in a plastic chair hoisted up on their shoulders crossing rivers balancing on pipes and wood logs, and narrow ravines and debris amidst the havoc of rains and disastorous landslides. 
As it had been raining heavily for two days continuously in the village, their only access to the primary healthcare that was 30 km away from Deval village was washed away by the rains. 
Thankfully the woman reached the hospital safely and the mother gave birth to a healthy boy at midnight. Both mother and her newborn son are doing well, according to Chief Medical Officer Dr Rajeev Sharma from Chamoli. An Asha worker along has been assigned to constantly take care of them. 
The locals say there has been no havoc as severe as this one in the last 55 years in the village. When a local resident was asked about surviving these disastrous living conditions, he said, "What choice do we have?"
---
Suggested Reading: Cyclone Biparjoy: Video Of Woman Cop Carrying 4-Day-Old Infant To Safety Wins Hearts