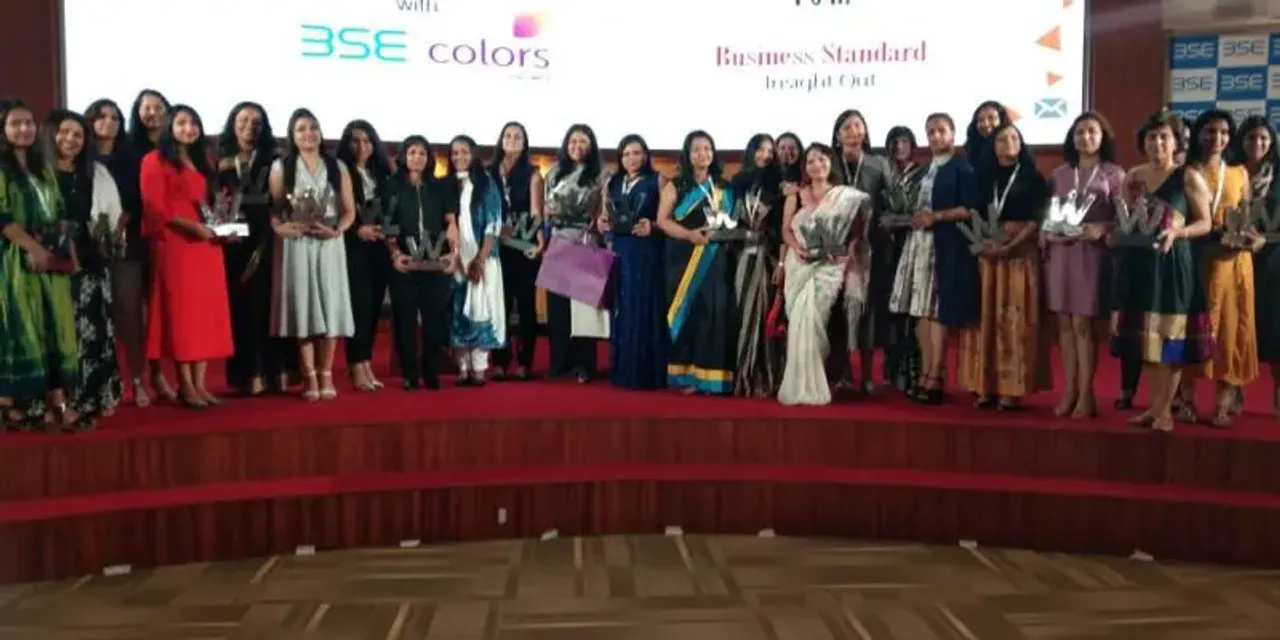 Great energy, self made stories, and tremendous support for one another - meet the unstoppable winners of the Digital Women Awards held on November 18 at the prestigious Bombay Stock Exchange. It's the first such women's initiative to be held at the country's biggest symbol of capitalism, the Dalal Street. The famous and historic Rotunda hall resonated with talent and ideas breaking new ground in the world of digital.
The summit's highlights included timely and meaningful conversations and it encouraged women to make connections and build their network. We had lightning talks from entrepreneur Devita Saraf and actor turned startup owner Kunal Kapoor.  The event put the spotlight on some great ideas about business through digital. Over the last four years, the awards have seen over 25,000 applications. A credible jury led by Amitabh Kant of Niti Aayog selected the winners. Within a short while #digitalwomenawards was the top trend on Twitter. Digital Women Awards got everyone leaving the room with a great energy and innovative reflection of ideas. 
Congratulations to all the winners at #DigitalWomenAwards pic.twitter.com/xkbqCzyE3r

— SheThePeople (@SheThePeopleTV) November 18, 2018
Here are the winners in their respective categories:
MARKETING
Himani Mishra, Co-Founder - Brand Radiator
Himani is an entrepreneur, who has more than 13 years of experience in Telecom and Digital marketing companies. With Brand Radiator, she has surfaced a thought process conveying that says small cities are home to entrepreneurs too. They are revolutionising digital marketing and making people aware of the same.
Rashi Nair, Co-Founder - Woop
Rashi, with her venture - Women of Opinion, has inspiringly blended business ideas to real social impacts. With WOOP, she has united a community of women powered by technology. The platform helps women get rewards, brands get authentic word of mouth, and the country get additional funds for girl child education.
Prerna Mukharya, Founder - Outline India
Prerna's dive into entrepreneurship started with Outline, a data firm that focuses on impact at the ground level. She aims to make social impact through data collections. Her work has been enabling social change as Outline seeks to build solutions that can have a lasting impact on millions of people.
Pooja Verma and Neha Verma, Founders - Whisskers
Ex-Googlers Pooja and Neha founded Whisskers, a Digital Marketing Agency and Training Company, with a vision to impact the digital space in India and across the world, through efficient services and training in the field.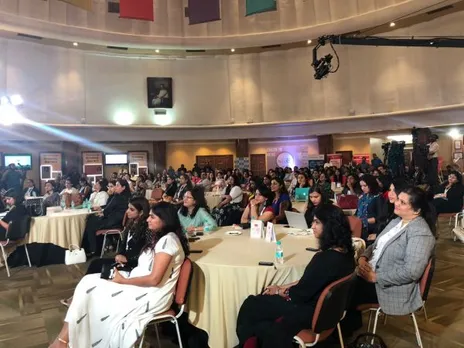 Digital Women Awards 2018
LEADERSHIP
Channan Sawhney, Head of Digital Marketing Consumer - Johnson & Johnson
Channan has served as a marketer for more than a decade now, and has a global experience across markets like US, UK, China, Australia and Canada. With years of experience and a fresh outlook at the same time, she has been enhancing the digital space at the consumer packaged goods manufacturing giant.
Arpita Ganesh, Founder Buttercups
As the CEO of Buttercups – a platform that offers an exclusive online lingerie buying experience, Arpita's philosophy strives to make women comfortable in their own bodies. With Buttercups, Arpita and her team aims to encourage women to love themselves.
Shailja Mittal, C0-Founder - Koala Kabs
Shailja started Koala Kabs with an aim to provide safe transport service for women, kids and the elderly with women taxi drivers in Delhi NCR. Koala Kabs offers advanced surveillance technology making it possible to track the car in real-time at any point during travel on the Koala App.
Hiloni Punatar, Founder – Webshakers
Being a creative thinker and marketing strategist, Hiloni is transforming the way brands communicate and engage with audiences in the digital space. Her entrepreneurial journey is bending creative and technology through Webshakers –  a full-service agency offering end-to-end creative and strategic solutions powered by Artificial Intelligence to the clients.
Geetha Kannan, MD - Anita Borg Institute
Geeta, MD at ABI, is working towards demolishing stereotypes when it comes to the technological space. Anita Borg Institute (ABI) aims to promote the issue of gender-inclusive workforce. ABI, famously known for its Grace Hopper Celebration of Women in Computing, which is the world's largest gathering of women in technology, strives to uplift women in the digital space.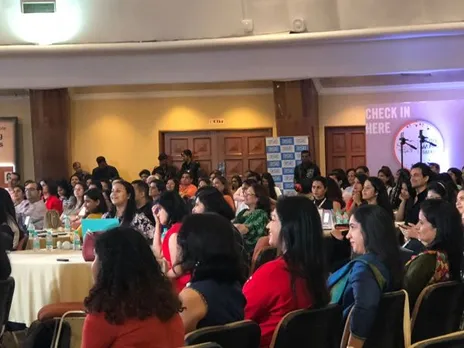 Digital Women Awards 2018
DISRUPTION
Manasi Kulkarni, Director - Innoweave Biocare
Manasi serves as the director of Innoweave. The company tends to work towards building and structuring innovations for affordable healthcare in the country.
Shruti Dandekar, Founder – 13 Woodhouse Road
Shruti is an architect who started quilting a few years back. Her endeavour engages in making quilts and teaches women the same and trains creative women entrepreneurs to convert their passions to profits. In the process of working and blogging, she also works towards helping creative women entrepreneurs start and grow as successful home-based businesses.
Ajaita Shah, Founder - Frontier Markets
Ajaita's vision through her social enterprise aims to uplight the integration of technology. Frontier Markets is a rural marketing, sales and service distribution company which provides access to affordable and quality consumer durables to low-income households in India.
Rajvi Sanghvi, Founder – HobbMob
With the artistic Hobbmob Studio, Rajvi offers a platform for creative enthusiasts to learn, share and grow their passion. As an entrepreneur, she aims to create a dialogue about building up on hobbies and taking them forward.
Shalini Sharma, Founder – Sanshodhan: An E-Waste Exchange Pvt Ltd
As the CEO of E-WasteExchange, Shalini is navigating the agenda of Climate change management, E-Waste management, Resource Efficiency, Circular Economy and SDGs in India.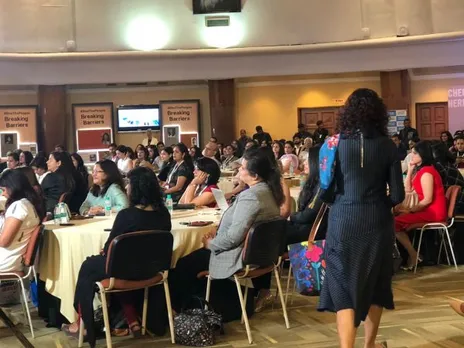 Digital Women Awards 2018
E-COMMERCE
Amy Aribam, Founder – Amaria Fashions
Amy's journey from being a corporate professional to an entrepreneur has been all about growth. Amaria Fashions, with a range that spreads from ethnic wear to mother-daughter specially curated apparels, manages to re-introduce handloom saree as an affordable, fashionable, and easily manageable daily wear.
Harsimran Kaur, Co-Founder - Myfuschia
Dr Harsimran, a practising ophthalmologist, is the face behind Fuchia's creative zone bringing in new products or their designing or packaging. With Myfuchsia, Harsimran has built a brand which is dedicated to natural, handmade skincare products.
Ginny Kohli, Founder – WedWise
As an entrepreneur in the wedding business, Ginny is making a huge impact in terms of perception and planning. WedWise offers consultancy and portfolio management services for various wedding professionals and service providers seeking well curated offline and social media presence.
Reena Chopra, Founder – Magical Holidays
With over two decades of experience in the Travel industry, Reena carries her vast experience and expertise in the Travel Industry. Her travel venture "Magical Holidays Pvt. Ltd" has made its mark in the travel fraternity of being a company of strong repute, catering to travellers across places.
Shabnam Praveen, Director – NexMoney
Shabnam serves as the director at NexMoney, an online portal providing world-class services to its customers. Terming customer delight as the most important purpose of the organisation, NexMoney offers instant recharging process with a hassle-free online experience.
CONTENT CREATION
Nistha Tripathi, Founder - Scholarstrategy
Having worked successfully at the Wall Street and New York Internet startups, she moved back to India to start her own Internet venture. Scholar Strategy is a super selective, high expertise and an applicant friendly mentoring service for MS/MBA/MIS/Ph.D./MFE/MEM applicants.
Sophia Jose, Founder – Soul Cafe Solutions India Pvt Ltd
Sophia, after a decade of playing various roles in the corporate sector, started Soul Cafe, an online platform, which is dedicated to building and nurturing soul relationships.
Kanupriya Agarwal, Founder – Powai Women Networking
Kanupriya's unique entrepreneurial journey features a community of women changemakers in Mumbai. She started Powai Women Networking with an idea to build an effective community where people get their queries resolved, grow their business and most importantly, make friends with like-minded women living nearby.
Yogita Patil, Founder – ManacheTalks
Yogita started ManacheTalks (मनाचेTalks), a Premium Marathi E-Publication to serve as a space for thousands of people to read, write and share important stories.
Krutika Katrat, Co-Founder – OoWomaniya.com
Krutika entered the digital space as an entrepreneur with OoWomaniya, with an aim to build a social enterprise having a larger impact on people's daily lives. The online platform makes space for consultation with gynaecologists, counselling for mental wellness and for information dissemination via SMS and offline letters.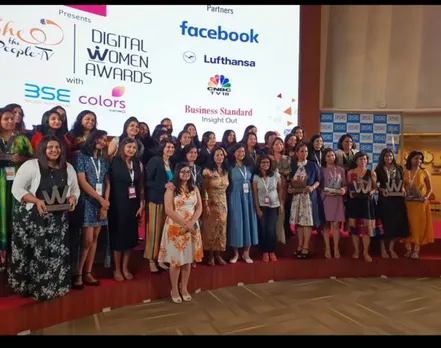 Winners of Digital Women Awards 2018
SOCIAL IMPACT
Vithika Yadav, Head – Love Matters India
Vithika has been the driving force behind a unique, yet significant concept in India. Love Matters is a platform for people to share stories and talk about love, sex and relationships with an open, honest, and non-judgmental attitude.
Nida Sheriff, Co-Founder – Snap Counsellors
Nida is an activist, filmmaker and writer. She co-founded Snap Counsellors, a micro-counselling service for teens on popular social networking app Snapchat. Snap Counsellors has since helped hundreds of teens across the globe.
Deepa Pant, Founder – SVATANYA
Deepa's idea of entrepreneurship dives deep into bringing about social change. As a social enterprise, Svatanya aims to empower underprivileged women by training them to make handcrafted products, which are later sold under its in-house labels, Amaryn and My Munchkin.
Priyanka Jain, Founder – Hygiene and You
Priyanka took the plunge into entrepreneurship with Hygiene and You. She envisioned to introduce environment-friendly menstrual cups to women in the country, thus providing a cost-effective advantage.
Madhavi Shankar, Co-Founder – SpaceBasic, INC.
Madhavi's debut venture, SpaceBasic, was the outcome out of an innate desire to make life simpler for students. The effective, fast and simple application is dedicated to mobilising lightweight communication and tasks to connect University Management, Hostel Administration, Students and Parents – on a single platform.