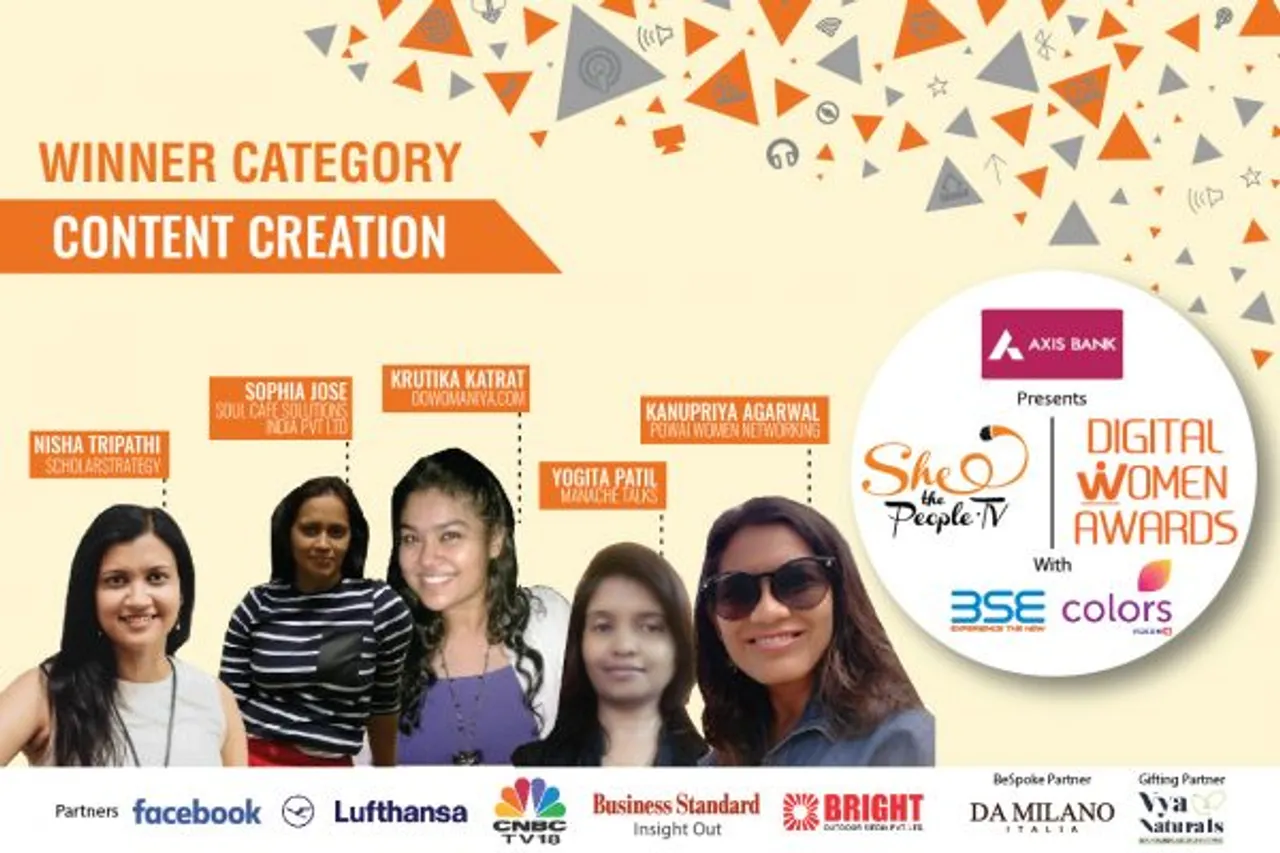 The recently concluded Digital Women Awards 2018 put the spotlight on women entrepreneurs who are breaking new ground in digital. Here is a look at our unstoppable winners in the Content Creation segment:
Nistha Tripathi, Founder – Scholar Strategy
Having worked successfully at the Wall Street and New York Internet startups, Nistha Tripathi moved back to Indore in India to start her own internet venture. Scholar Strategy is a super selective, high expertise and an applicant friendly mentoring service for engineers who are interested in pursuing higher studies such as MS/MBA/MIS/Ph.D./MFE/MEM. Nistha is also an author of several books and an avid blogger.
Sophia Jose, Founder – Soul Cafe Solutions India Pvt Ltd
After a decade of playing various roles in the corporate sector, Sophia Jose started Soul Cafe, an online platform, which is dedicated to building and nurturing soul relationships. A mom, travel and life enthusiast, she believes in the idea of trying to create meaningful relationships.
Read other stories on Digital Women Awards 2018
Kanupriya Agarwal, Founder – Powai Women Networking
Kanupriya's unique entrepreneurial journey features a community of women changemakers in Mumbai. Agarwal started Powai Women Networking with an idea to build an effective community where people get their queries resolved, grow their business and most importantly, make friends with like-minded women living nearby. PWN spread its wings from a WhatsApp group of some new mothers coming together to celebrate their first mother's day together.
Yogita Patil, Founder – ManacheTalks
Yogita Patil started ManacheTalks (मनाचेTalks), a Premium Marathi E-Publication to serve as a space for thousands of people to read, write and share important stories. Patil is a Civil Engineer by profession and worked in the insurance and finance industry until a few years when she decided to take her entrepreneurial plunge.
Krutika Katrat, Co-Founder – OoWomaniya.com
Krutika entered the digital space as an entrepreneur with OoWomaniya, with an aim to build a social enterprise having a larger impact on people's daily lives. The online platform makes space for consultation with gynaecologists, counselling for mental wellness and for information dissemination via SMS and offline letters. Katrat is a postgraduate in Biotechnology. She also has experience in basic research in structural and cancer biology with a specialisation in protein biochemistry.
Here are some moments from the event on Sunday: