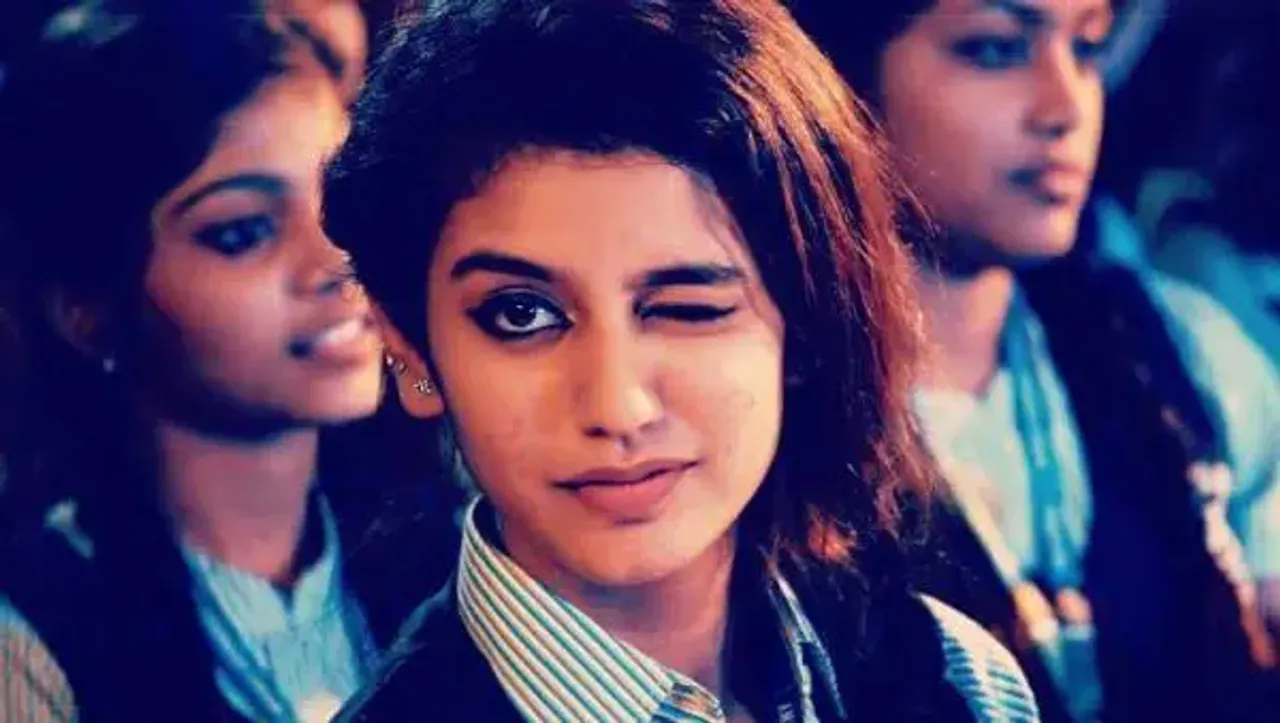 Priya Varrier aka the winking girl has run into more trouble. A new application has been filed, in objection to the popular wink scene from her film Oru Adaar Love as per a report in The Indian Express. Two Hyderabad-based petitioners want the Supreme Court to hear their plea, before handing out a decision on Varrier's petition to quash criminal charges registered against her.
The application says, "the 30-second clip shows a schoolgirl and schoolboy exchanging smiles, eyebrows wiggles and winks from across the way…Winking itself is forbidden in Islam and in a case where the act of winking is superimposed with a sacred song, written in the praise of Prophet Mohammed and his first wife,…the same act becomes an act of blasphemy".
Whatever be the reason, it is clear that Indians cannot get over a clip of a schoolgirl winking at a schoolboy.
It's amusing how grown up men obsession over a winking schoolgirl is not concerning to our society. However, of all atrocities committed in films in the name of  romance, a teenage girl winking, has caught our attention the most. We either have to find it cute or blasphemous, because a girl winking at a boy is certainly an exceptional occurrence in our culture.
Raise your hand if your eyes itch at the sight of winking girl
Would this wink have generated as much controversy, if the sexes in the scene get reversed? Would people still find it threatening if a schoolboy would have winked at a schoolgirl? No, because that is something which we have normalised in our male-dominated society.
Boys can wink, hold hands, sing cheesy songs, make suggestive gestures, and it is never a threat to our culture. Not even when a girl opposes such advances.
Such interactions have been vividly portrayed in films across all regions. They are often passed off as comic or "playful flirting". However, when it comes to a woman blinking to a mate who is obviously brimming with love or hormones for her, then suddenly it is a national phenomenon. We can't get over it!
But we forget that Varrier's wink is not just her own. If the song, or the wink has generated so much controversy, then why does it only surround Varrier?
Why isn't the films director or producer in as much trouble over this scene as the eighteen-year-old female lead? Probably because it's easier to target women, and also because Varrier was the one who benefited most from it. What I would want, is to not have to watch or hear about this winking scene ever again. We have spent way too much time obsessing over it. This is certainly not worth the importance we are giving it. Be it offensive or endearing, it's time to end our obsession with the winking girl.
pic credits: newsbugz.com
Also Read : India's Newest Sweetheart: Who Is Priya Prakash Varrier?
Yamini Pustake Bhalerao is a writer with the SheThePeople team, in the Opinions section.  The views expressed are the author's own