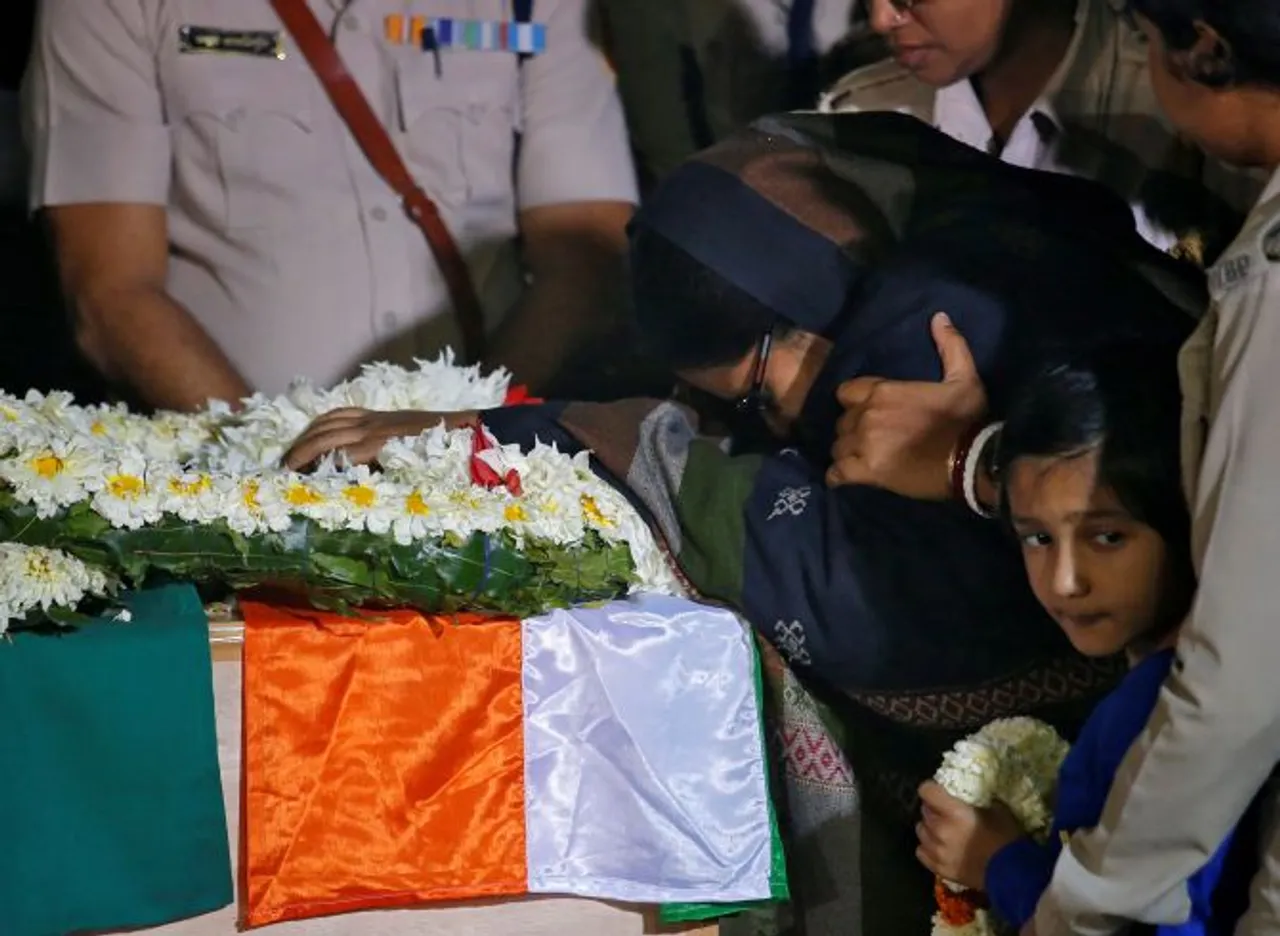 The heinous attack on Pulwama on 14th February that killed 40 CPRF jawans left the entire nation devastated and angry. Many Indians believe that a befitting reply should be given to Pakistan by declaring war. But is war a solution? Or should a peaceful dialogue between the two nations be given a chance?
Mita Santra, the wife of martyred jawan Babloo Santra, feels that 'war cannot solve every problem'. But the grieving widow who is still coping with her husband's death is being trolled for her view that dialogue should be "given a chance".
Santra belonged to Howrah, West Bengal. Her wife, an English teacher in Bauria, Howrah, came to know about the loss of her husband through television and news media. She refused to talk to Chief Minister Mamata Banerjee regarding the situation because the sudden disclosure left her shattered. But now instead of easing her pain, she is being abused on social media. She has been trolled on various websites and social media platforms and pulled up for being "cowardly and self-centered".
Explaining the reason why she is against war, she told The Times of India that every death in the battlefield ultimately leaves numerous soldiers' families devastated.
"As a teacher and a student of history, I know war can't bring any permanent solution. A wife loses her husband, a mother loses her son, a daughter loses her father," she said.
From housewives to university students, academicians and event prominent intellectuals lauded the teacher for her anti-war stance. But many people trolled her, calling her statement 'cowardly'.
The martyr's wife said she may have been misunderstood by some people who interpreted her anti-war statement as 'cowardice'. "I support the great bravery of our Air Force, Army, Navy. What I only oppose is a full-scale war. Terrorists are the enemy. My husband was a victim of brute terrorism," she said
However, several people from Kolkata, who witnessed the trolling, decided to take on the trolls directly. The student community and the intelligentsia in the city too took a stance against the trolls.
A woman who lost her husband in the #Pulwama attack, Mita Santra, has the courage to #SayNoToWar _ she's being trolled for it. I, and my organisation AIPWA, stand with Mita. In her own way she's just as courageous as any soldier & it's the armchair warrior trolls who r cowards. https://t.co/nYvUEo73Bd

— Kavita Krishnan (@kavita_krishnan) February 28, 2019
According to Political Stock Exchange, a show which is run on India Today, 33 per cent people support air strike, 14 per cent do not, 41 per cent want air strikes to continue.
@IndiaToday political stock exchange #PSE shows: 33 per cent support air strike, 14 per cent do not, 41 per cent want strikes to continue. Clearly mood is for tough action and challenge for PM @narendramodi is to resist the domestic pressure and find ways to de escalate.

— Rajdeep Sardesai (@sardesairajdeep) February 28, 2019
Picture Credit: Reuters
Read also: Don't go to war: Indian soldier's wife makes emotional appeal after Pulwama attack
Sonakshi Goel is an intern with SheThePeople.TV