To keep you glued to this article, here's an alluring image of the man.  Just because.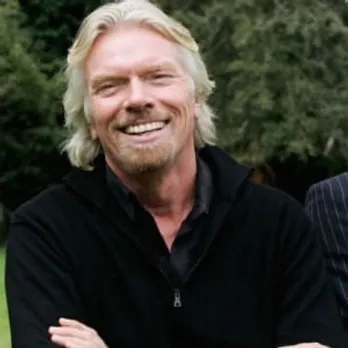 Picture Credit: biography.com
Now let's talk business. It looks like Richard Branson is winning a yes from the women all around! His last project, aimed at women business travellers, is something that has caught our eye.
The Virgin Hotel in Chicago took a new approach to designing their hotel rooms and dared to dub it "female friendly".
Richard Branson, in one of his interviews mentions the increasing rate of women business travellers and how his hotel could take the extra step to tap into that potential customer. According to the Centre For Hospitality Research, many of the competitors of Virgin Hotel are also adapting to this new idea.
In a video interview done with CNN, Richard Branson shows off all the new features that are "female friendly".
The room is designed in such a way that when a woman orders room service and is not "completely" clad, or laying dressed in something she wouldn't like the hotel staff to see her in, she can conveniently step into the dressing room which has a peep hole to witness the hotel staff deliver her room service. Definitely a suitable option for all those whose most comfortable clothing is a bathrobe, no kidding.
Another feature is a beautifully back-lit magnifying mirror that allows for you to put make up on without the trouble of bending over the bathroom counter. When you're at it, you might as well ask "Mirror mirror on the wall, who is the fairest of them all?"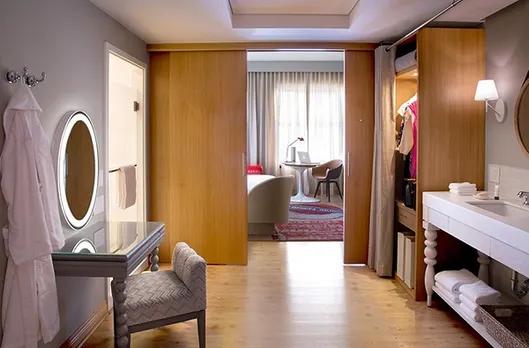 Designed for women: The Virgin Hotel room ( Picture Credit: cosmopolitan.co.uk)
The designers obviously have studied women thoroughly to provide a meticulous sliding shoe rack at the base of the closet. Let's give them credit for this, ladies. We're all guilty of travelling with more than just one pair of shoes.
Also read: Travelling is a way of life for the co-founder of The Hotel Explorer, Vishakha Talreja
Also, how many times have you cribbed about the hairdryer in the bathroom? Nobody likes the feel of wet hair touching the skin. Virgin Hotel has come through as a savior by providing this facility that doesn't disappoint. Along with showers that are big enough for two people! (Extra space is always a win!)
Another feature which is absolutely specific to women is their "Lover's Intimacy Kit"; two condoms, personal lubricant and a vibrator. Yep. Now, don't be flabbergasted at the contents of this kit, it is for your "pleasurable" stay. Pun intended.
Also read: Temperature wars in office: Hell may not freeze over but women might!
While Richard has won hearts with his new ideas, his witty and charming personality bowled over Devita Saraf, CEO and model face of Vu Technologies at Istanbul TALKS, a global entrepreneurship conference. Devita was chosen to represent India on a panel "Why Women Entrepreneurship Is Changing The World" and she asked Mr. Branson what were the pros and cons of being the face of his company. He astonished the crowd with this reply, "If I had your face, I'd be more successful!". Poor Devita couldn't stop blushing in front of 2000 people!
See what I mean?
Here's another picture of the man who is winning hearts all over.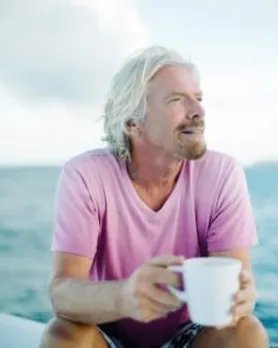 Picture Credit: huffingtonpost.com
Feature Image Credit: storypick.com