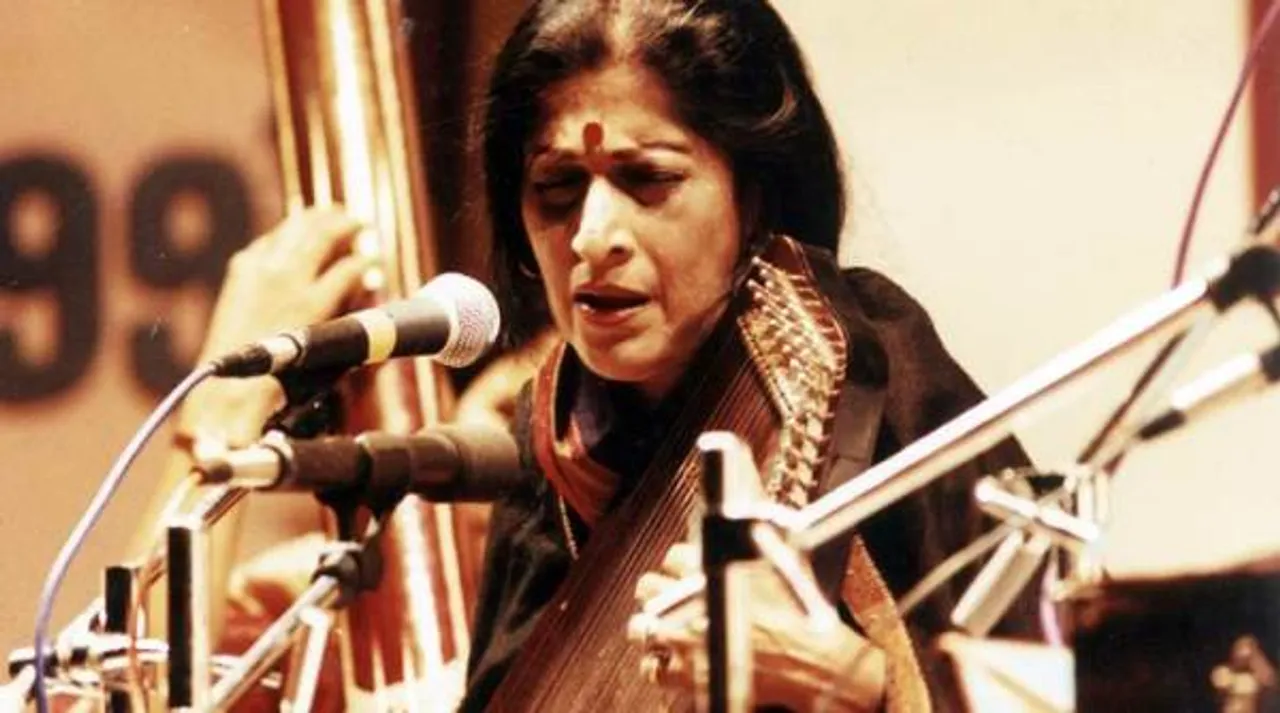 The doyen of Hindustani classical music, Kishori Amonkar, is no more. She reportedly passed away in her sleep at her residence in Prabhadevi in Mumbai on Monday night. Her sudden demise left her fans shocked as she had performed at a concert in New Delhi last week. She was 84, and would have celebrated her 85th birthday on April 10.
Terming her loss  "irreparable", Prime Minister Narendra Modi said, "The works of Kishori Amonkar will always remain popular among people for years to come."
Demise of Kishori Amonkar is an irreparable loss to Indian classical music. Deeply pained by her demise. May her soul rest in peace.

— Narendra Modi (@narendramodi) April 4, 2017
My live sketch of Kishori Amonkar during her concert at the Music Academy, early nineties. pic.twitter.com/BOVdsp6Wze

— Keshav (@keshav61) April 4, 2017
"Khayal gayaki will never be the same again without her looming presence. My saadar pranam to the genius," said Vidya Shah, classical singer and founder of Women On Record.
"I have always been an unlikely audience for classical music but somewhere I could credit Kishori Amonkar for breaking that spell for me. I heard her at the Xavier's College a few years ago. Such was her etiquette, charm and I'd even say her quirk that she would take nearly an hour to tune her voice and instruments before beginning a performance. Her voice took some getting used to, but once you were absorbed by it -- and I thought this as a young student trying to imbibe music values -- there was no going back," shared Shaili Chopra, founder of SheThePeople.TV.
Read Also: I can't Imagine A Life Without Music: Vidya Shah
Read on to know the  reasons why Indian classical music will not be the same without Amonkar:
1. Belonging to the Jaipur gharana, Amonkar was renowned for her distinctive style and innovation. She is also the proud recipient of two of the most prestigious awards, Padma Bhushan and Padma Vibhushan.
2.  Amonkar learned the finer points and techniques of the Jaipur gharana from her mother but developed her own personal style that reflected the influence of other gharanas.
3. Vitality and grace were two important tenets of all her performances. Besides singing classical khayal songs, she also performed the lighter classical thumri repertoire, bhajan, devotional songs and film music.
4. She was a versatile personality. She would travel across the country to deliver lectures revolving around the theory of rasa (feelings and emotions).
5. She was also a fellow of the Sangeet Natak Akademi, the national academy of music, arts, and dance.
Kishori Amonkar's name will be written large in the history of Indian classical music. Her demise has left a vacuum in the music industry which will be difficult to fill.
Image credits: Indian Express
Read Also: On her Death Anniversary; Celebrating Meena Kumari's life
Charvi Is An Intern With SheThePeople.TV