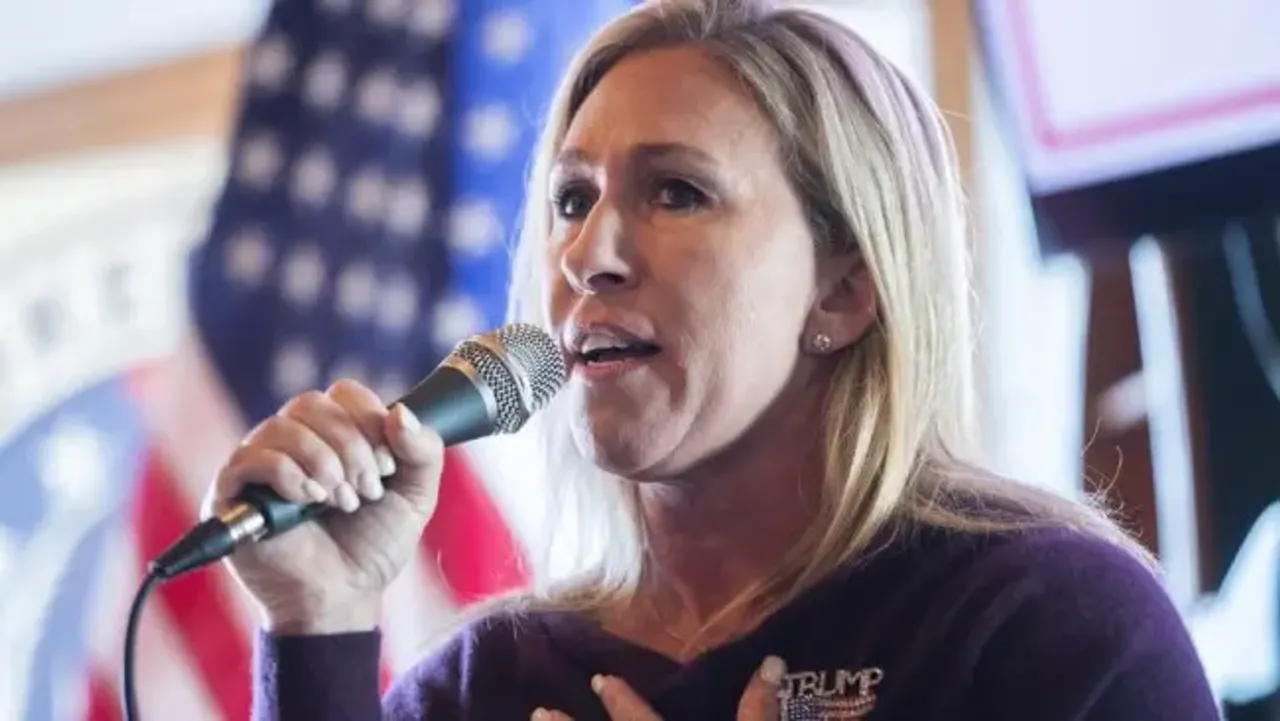 On January 13, the US house of representatives gathered to debate the second impeachment of President Donald Trump. Republican representative from Georgia, Marjorie Taylor Greene, voted against the impeachment while wearing a mask that said "Censored". Nonetheless, the House votes to impeach Trump by the vote of 232 against 197. The debate ended with Speaker Nancy Pelosi announcing the charges and making Trump the only president in US history to be impeached twice.
Greene also shared a video on Twitter calling the impeachment "Democrat's witch hunt" adding that she proudly voted NO.
The House just voted on the Democrat's witch hunt impeachment scam.

I proudly voted NO. pic.twitter.com/KCmcQVPHyj

— Rep. Marjorie Taylor Greene🇺🇸 (@RepMTG) January 13, 2021
In a tweet, Greene has now revealed that she plans to introduce articles of impeachment against President-elect Joe Biden on January 21, a day after he was sworn in as the President of the United States.
On January 21st, I'm filing Articles of Impeachment on President-elect @JoeBiden.

75 million Americans are fed up with inaction.

It's time to take a stand.

I'm proud to be the voice of Republican voters who have been ignored. #ImpeachBiden#QuidProJoe #BidenCrimeFamily pic.twitter.com/E83s1iOoVF

— Marjorie Taylor Greene 🇺🇸 (@mtgreenee) January 14, 2021
Who is Marjorie Taylor Greene?
Marjorie Taylor Greene is a politician, conspiracy theorist, and businesswoman who was elected to the US Congress in the November 2020 elections. She is a representative of the 14th congressional district of Georgia. Born in Milledgeville, Baldwin County, she pursued her education at South Forsyth High School which is located in Cumming, Georgia. Greene completed her graduation from the University of Georgia with a Bachelor of Business Administration, as reported by The Biographical Directory of USA.
Also Read: Rep Pramila Jayapal Tests Positive For COVID-19, Slams Republicans Without Masks At Capitol
She is one of the Republicans who objected to counting the electoral votes from Michigan. Greene has repeatedly refused to wear masks on the house floor claiming "my body my choice". She tweeted in November last year, "Masks, masks, masks...I proudly told my freshman class that masks are oppressive. In GA, we work out, shop, go to restaurants, go to work, and school without masks."
In the 2020 election campaign, she ran on a pro-gun, anti-immigrant and anti-abortion platform, and has embraced the QAnon conspiracy theory, which claimed that President Trump is secretly at war with a cabal of Satan-worshiping elites who run a child sex trafficking operation. Her Twitter bio says, " Congresswoman for Georgia's 14th CD, Christian, Wife, Mom, Small Business Owner, Proud American, 100% Pro-Life, Pro-Gun, Pro-Trump #MAGA"
Also Read: Who Is Liz Cheney, The Republican Congresswoman Who Announced She'll Vote To Impeach President Trump
Early on Wednesday, 29 September, Taylor Greene's husband Perry Greene filed for divorce, the leader confirmed. The couple has been married for 27 years and have three children together.
In his petition, Perry Greene wrote that he and the congresswoman had been in a "bonafide state of separation" before he filed the papers adding that their marriage is now "irretrievably broken."
"Marriage is a wonderful thing and I'm a firm believer in it," Taylor Greene told The Post in a statement. "Our society is formed by a husband and wife creating a family to nurture and protect. Together, Perry and I formed our family and raised three great kids. He gave me the best job title you can ever earn: Mom."
"I'll always be grateful for how great of a dad he is to our children," she added.