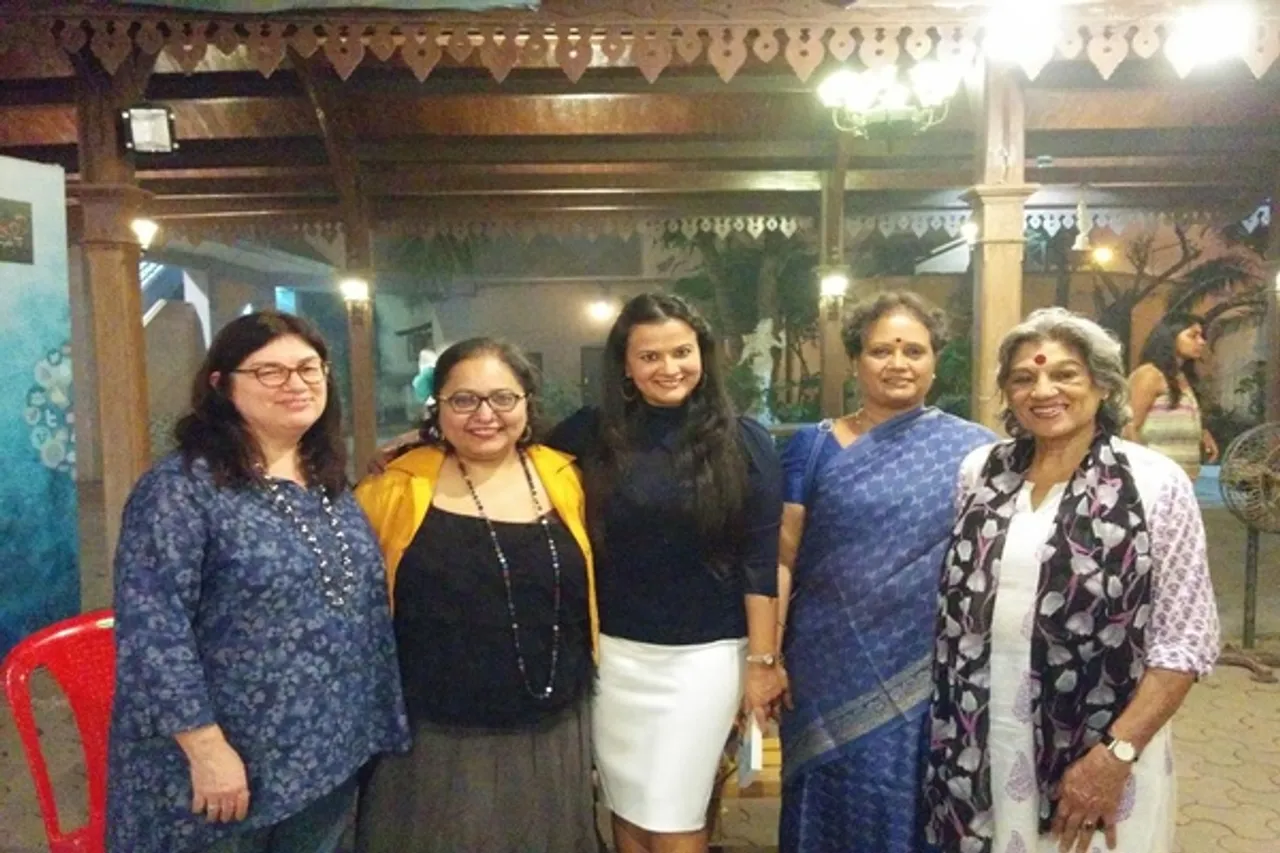 March is the month of the woman. It was only bound that this month's Feminist Rani has to be more fun, fierce and fearless than all the other instalments that we have put together so far. Our guests for the eve included big names like Emmy winning filmmaker Mary Dore and Indian filmmaker and founder of 'Agents of Ishq' Paromita Vohra. What made the conversation unique was the fact that our panelists, both at the top of their game, came from polarised cultures- while Mary Dore is an American Filmmaker, whose recent film 'She is Beautiful When She is Angry' talks about the second wave feminist movement in America; Paromita, who has worked with big names like UTV and PBS, her body of work largely focuses on urban gender and popular media, though its not limited to these two.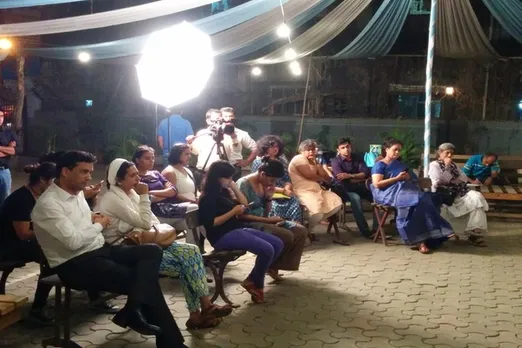 An intrigued, tweeting audience #FeministRani
Meghna Pant highlighted the contrast between the American and the Indian culture when it comes to gender, feminism and popular media. She ushered the conversation through topics like
the idea of films and fantasy,
popular figures speaking out on social issues,
the cultures of censorship and workplace;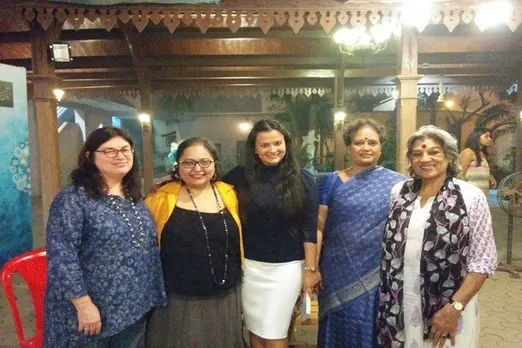 L to R: Our Panelists Mary Dore, Paromita Vohra and Meghna Pant along with audience members Dr. AL Sharada and Dolly Thakore
As serious as they sound, all the topics were filled with laughter and thought at the same time. With Mary speaking for America and Paromita for India, all subjects showed how contrasting yet similar these issues were at both places. Women's struggle is all the same everywhere- we are subjugated by men, upon whom culture has bestowed the art and ability for use of weapons like violence and control. As Paromita put it, " If we could talk more freely about our issues, we would be more confident as a culture.
Talking about media and fantasy, Paromita highlighted how our brains operate on fantasy. We generally tend to strive towards attainment of a life that the media make-believes. Mary agreed, sharing how she put catchy tracks like '">Free' , and did everything she could to detach her film SBWSA from the cliche' of being boring attached to a historical documentary.
On public figures and social issues, Paromita hit the nail on the head when she said that it is the culture that expects them to operate within a specific structure. When these very public figures speak against the prevalent culture, they face some serious backlash, take the example of Amir Khan. She said, "It is interesting to see how these actors/public figures use their power, when they reach a certain position in their career." Mary, on the American system said that the elite is more involved and active when it comes to social issues, and women's groups play an active role in maintaining a system of check and balance when it comes to the growing power of the elite. Though the American women continue to struggle with issues like reproductive rights and equality in pay.
Equality in pay is also a real issue in India. Mary shared how she had extreme trouble finding grants for her film SBSWA, which was based entirely on historical women's movements and women's groups. In India, there is great inequality in pay, as until a few years ago, popular presumption was that only films with a male protagonist will sell. But films like Queen, Piku and Erin Brokvich are changing that. We need more such movies. We also need to accept women for who they are and can be beyond their physical self. We need to be taken seriously.