Sarah Palin is a name that some admire, some detest, but very few can ignore. One of the most prominent and recognizable faces in American politics today,  she is currently in the news for her support for controversial Republican presidential nominee Donald Trump.
Want to know more about Sarah Palin? Here it is:
She is a former beauty queen. Don't drop your jaws yet, but she is the 1984 winner of the Miss Wasilla Contest ( her home state) and finished third in the Miss Alaska contest the same year.  She has left her pageant days far behind though, with her stints in journalism, and then of course by running for public offices, her most prominent achievement being elected the Mayor of Alaska in 2006.
She created waves after becoming the first female governor of Alaska at 42 years of age, which also made her the youngest governor of the state. A mother of five by the, she managed to effectively juggle her personal and public office commitments.
She was the Republican nominee for Vice President in the 2008 elections. Not only that, she was also the first Republican woman and second woman to be nominated for this post.
Sarah Palin                                                                                                                                                       Credit:Washpost Media
A conservative Republican, she opposes same-sex marriage and abortion, and supports capital punishment.
She has endorsed Donald Trump as the Republican nominee for President,inspite  of the controversial ideas and sexist statements that he keeps putting forth in media. She recently shared a post about Trump offering a job to an audience member in one of his speeches, saying, "Trump is not just talking the talk, he is walking the walk. "
Trump endorsements by ranking, as per The Int'l Spectator (@intlspectator) March 16, 2016  : Chris Christie; Ben Carson; Sarah Palin; Jeff Sessions; Carl Icahn; Ann Coulter; Pat Buchanan; Mike Tyson; Tom Brady; Hulk Hogan.
Ted Cruz, also a Republican candidate for the presidential nomination, had this to say about Palin to Washington Times, even though she doesn't support his candidature:
Sarah Palin is fantastic. Without her friendship and support, I wouldn't be in the Senate today … I will always remain a big, big fan of Sarah Palin.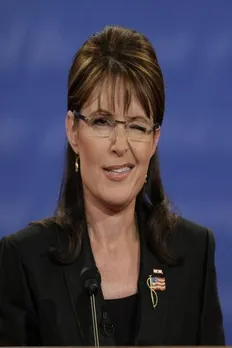 She is soon to feature in a courtroom like reality TV series where she plays judge. This won't be her first stint with television though. Ms Palin has earlier hosted ' Sarah Palin's Alaska' in 2010, a part travelogue part documentary series on the state of Alaska. News of her second bid with television has generated the right amount of newsprint in the US.