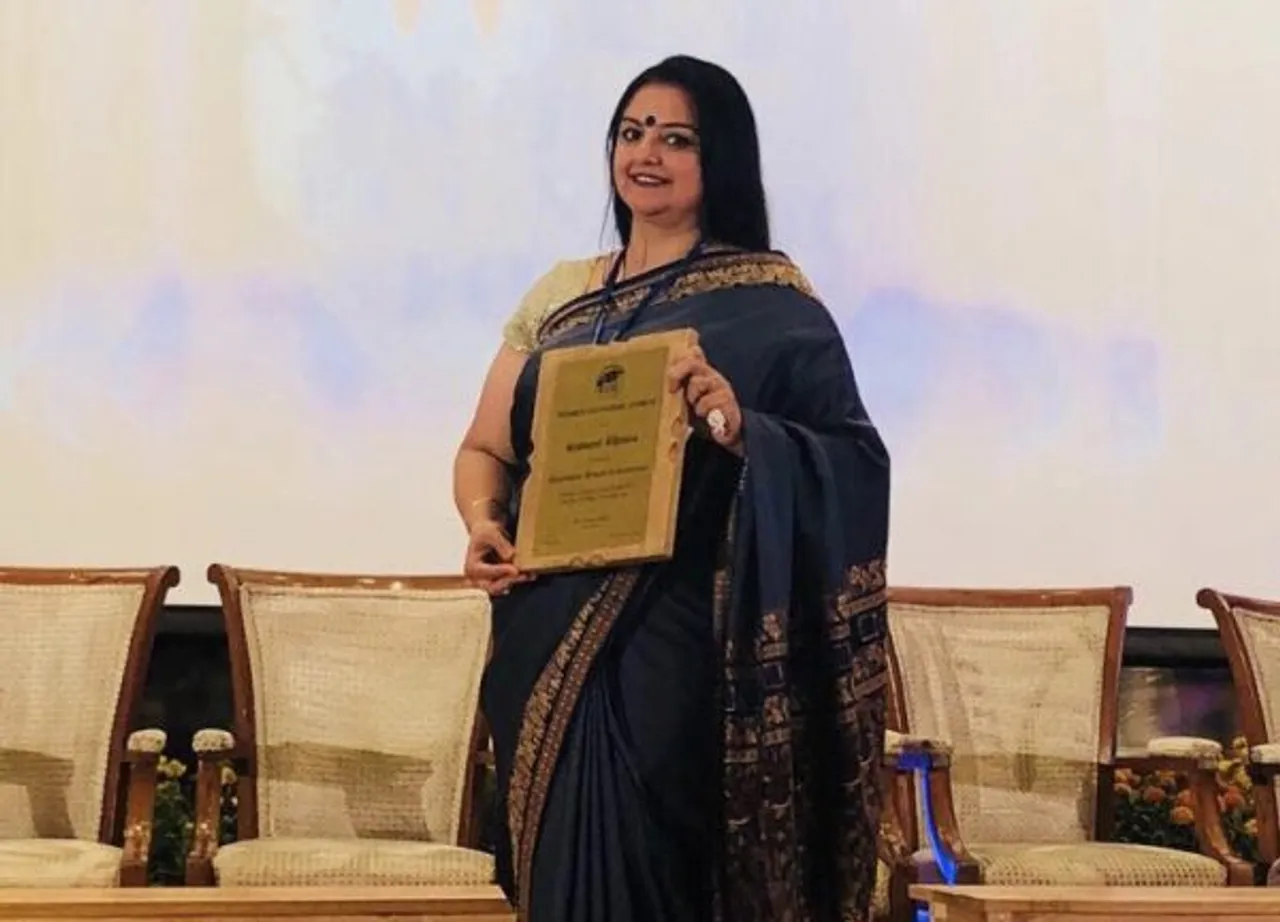 In a world of constant competition to prove oneself, there's always a need to upgrade one's skills and enhance abilities. Mumbai-based Savneet Bhasin, co-founder and CEO of 'Springboard by UpLearn', a Valiant Group Venture, enables both -- the corporate world and children -- to do just that. With an aim to help people become the best versions of themselves, Savneet has been organising workshops in the corporate arena and is known for delivering on client expectations for over two decades. Alongside, she has been mentoring school students for success in academics and in life.
SheThePeople.TV spoke with Savneet Bhasin about UpLearn, Springboard, women at workplace, development of children and more.
Please tell us about UpLearn and its vision...
UpLearn is a training facilitation platform for high potential professionals, who are looking to upgrade themselves in the corporate world. We do this by conducting various customised programs and workshops for companies. We help individuals and corporates work on themselves to enhance skills by devising the best possible program to match their requirements and enhance their skills to achieve exceptional performance. The training is aimed at strengthening their soft skills, people skills, corporate etiquette, mindset, etc. Its vision is to enable the best in people.
What factors do you consider when it comes to "enhancing skills for achieving exceptional performance"?
Every company has a different work culture, set of requirements for their employees, a way of working, etc. So by understanding all these factors, and more, we customise the type of workshops. We do have a panel of over 100 trainers who come from a range of backgrounds -- coaches, master trainers, image consultants, yoga instructors and experienced corporate professionals -- who can conduct workshops based on a particular requirement of the company.
How important do you think it is for young girls to see women in positions of leadership?
Young girls need female role models to inspire success. Girls often look to women, who lead, for cues about how to think and act. It's highly important. This desire is especially intense among young girls as they would feel more confident in their abilities to succeed and help them advance in their careers.
In what ways do you think women can be empowered to combat patriarchy in the corporate sector?
Patriarchy is the sad reality. It's more than important now to promote female leadership.
Professionally capable women should be given opportunities to participate in the decision making at the top level by giving them important roles in the hierarchy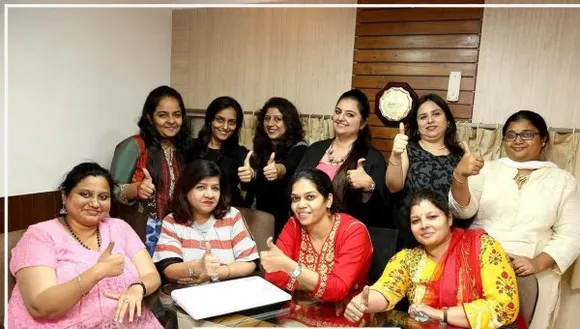 While conducting corporate training programs, what are the major areas you cater to?
We are a soft skill training company, so all our programs and workshops are designed in such a way as to provide soft skill and life skill training. So in line with this, we conduct time management programs, stress management, goal setting, problem solving, yoga workshops, personality development, grooming, presentation skills, dining etiquette, etc.
You deal with several organisations. What transitions have you noticed when we talk about women's participation in policy making and leadership roles?
I have observed that women participating in policy making are extremely compassionate and, at the same time, they are futuristic.
Women participating in policy making are both compassionate and futuristic
Please tell us about 'Train for India' and  'Unnati'?
Train For India
According to World Economic Forum, Cross Functional skills (or as we call it - Life Skills) are one of the most important skills that will be required for a wide variety of jobs. Their report highlights need for social skills - such as persuasion, emotional intelligence, etc. These skills are predicted to have higher demand across industries than narrow technical skills. This led to the building of "Train for India", a campaign in which professionals all over world spend few hours helping underprivileged children with soft skills. It is aimed at providing soft skills intervention sessions.
Education hasn't kept pace with the moving times. We still send our children through a fixed set of primary and secondary education steps, and now a college degree for acquiring the best jobs. The model doesn't actually prepare any child for a real world. Considering the importance of these 'soft skills', it is rather necessary to call them 'People' or 'Human' skills.
Education hasn't kept pace with the moving times
We feel the problem is so big that every stakeholder needs to participate, which means every person in this country who can do their bit, should do it. No organisation or person has an absolute solution. Having said that, we're pushing to do what we understand from a macro and micro perspective.
Unnati
This is a campaign for building high intensity soft skills in women who had great potential but were under-served. This proved to completely transform their personalities and helped them advance in their respective careers. The program is dedicated to enhance their confidence & skills for communication, team work, problem solving skills and work ethics.
Coming to Springboard, could you tell us what led you to start something so important, especially in this age and time?
These days children of almost all age groups are busy with smartphones and other gadgets for all kinds of reasons from recreational to educational. And most of the times, children, being so dependent on a nonverbal platform, tend to not develop their social skills. How should you interact with people you meet for the first time, how should you interact with elders, how should you be independent? Many children lack such basic conversational skills. So our aim at Springboard is to train and educate children in this aspect, we help them develop a growth mindset. We conduct such social skills workshops and also combine it with dining etiquette.
What -- according to you -- is the overall development of a child? How can the Indian society collectively work towards it?
The world today is changing at a faster pace than ever. More that 80 per cent of top management in advanced economies have more humanitarian skills than the technical ones. Today, we're seeing the rise of new work models such as freelancing and remote work.
In the most advanced companies, teams are learning to be more agile, to work with distributed teams, and to scale up or down to adapt to ever-changing conditions. This is the future of work
All our workshops at Springboard are customised according to the needs of the children. A few days before the workshop, we have a brief informal interview with the child, from which we get an idea about his basic mindset, personality, etc. On the basis of this, we design the workshop for him/her. These workshops include thinking skills, decision making, puzzle solving, lateral thinking apart from communication skill training, personality grooming, etc. After the workshop we also have a session with the parents, to brief them about how they need to work on their children. Such dedicated attention is something that our education system fails to provide.
Do you think our mainstream education system caters to the space of mental health among children?
Our mainstream education system is slowly working towards it. Children belonging to different age groups should be given continuous mental support through counselling sessions.
What is your advice to those children who are on their way to explore unconventional paths? Do you think Indian parents are supportive when it comes to unconventional choices?
As compared to situations a decade ago, I think parents today are pretty supportive of their child's career decisions.
It is not about becoming a doctor or lawyer anymore, it is about being smart enough to find a way to pursue your passion, and opportunities are such these days, that they are most certainly met with success. Parents have understood this, and have become more supportive of their child
If you're given the responsibility, what would you like to change or introduce in the school curriculum?
I think experiential learning is essential for students. The system needs to move away from the rote learning culture and inculcate practical aspects of learning. I would like to see life skills training and probably even vocational learning implemented in schools. Even the parents need to be educated concerning handling the children, their study culture and careers paths.
How important is it for children to upgrade their skills from an early stage? Do you think parents in India understand this to some extent?
Children are at an impressionable age, and it is during such time that as parents and teachers we must guide them. They should be given the freedom to explore different avenues, that is when they will find their passion. Having a passion in life is crucial for a child to develop one's personality. Apart from this, the child's decision making and interpersonal skills, the behaviour, body language, reflexes during different situations, etc. should be developed. Along with this, the child should be physically groomed, because your appearance plays a crucial role in making you a confident person. Parents these days to some extent understand the importance of overall development of a child and start early.
Having a passion in life is crucial for a child to develop one's personality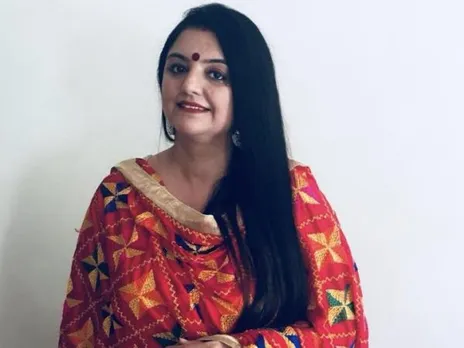 Savneet Bhasin
Your hobbies include ethnic fashion design, cooking and meeting people. How do you manage to find work life balance in such a high pressured position? Give us some tips.
One needs to learn to prioritise smartly because it is not about doing the important things first, but, it is more about doing the urgent things first. Maintain a planner to help you keep track of things that you are doing, and it is essential to fit in some 'me time' in your planner. It is often without this 'me time' that professionals go crazy in a corporate environment.
Another thing is as women, the onus of looking after the home is also on us, though it need not be. But if so, feel free and be confident to ask for help from your family or friends. Have open communication with your family where you explain to them the importance of your career choices. You need to take charge of your life, set priorities, indulge in occasional 'me time,' and take your family's help whenever needed, everything else gets taken care of!
Also Read: How Ketaki Latkar Is Enhancing Language Skills Among Children