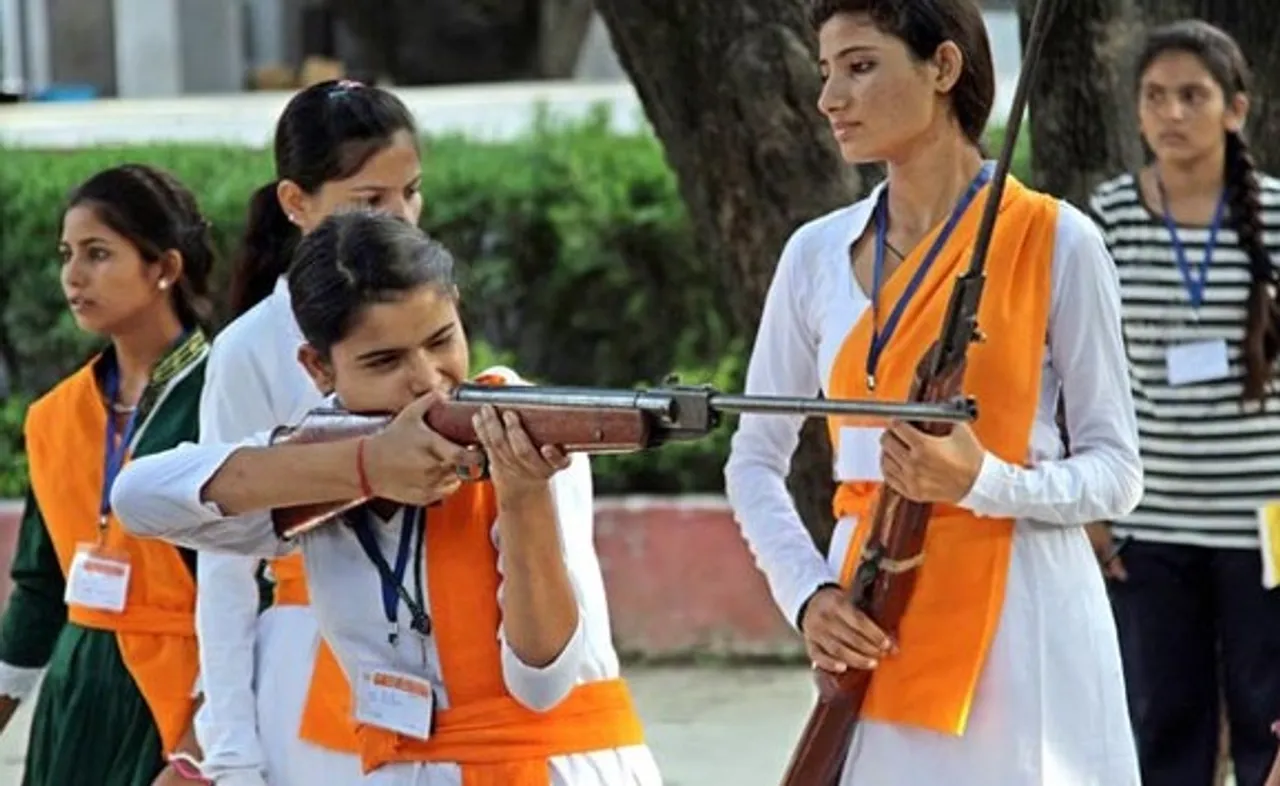 Durga Vahini -- the women's wing of the right-wing Vishwa Hindu Parishad (VHP) -- has been carrying out summer self defence training camps all over India, across rural, urban, semi-urban areas alike. That piqued my interest, so I decided to go and see who I could meet at the VHP office, under which they operate. Durga Vahini is the female counterpart of the Bajrang Dal.
VHP workers I met estimate that the Durga Vahini has a full-time membership of 25,000 women. That's something echoed by Malaben Rawal, the national president of Durga Vahini, in the controversial documentary India's Daughter She is someone who clearly advocates for a Hindu mindset or Hindu nation, in keeping with the group's philosophy.
Also read: Special Feature: Women in Indian Armed Forces
Founded by VHP and RSS member Sadhvi Ritambhara in the year 1991, the group largely operates on the idea that there is a Hindu nation and that there is the West, completely disregarding the fact that the Indian mainland has been home to several ethnic and religious identities from the first century.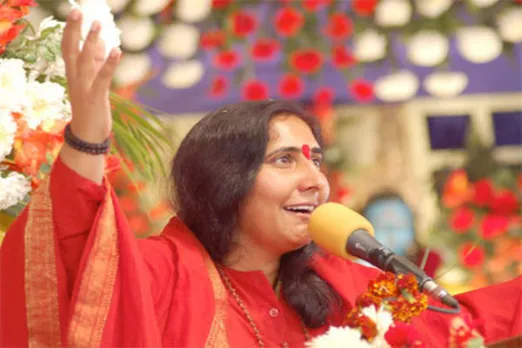 Sadhvi Ritambhara, founder of Durga Vahini ( Picture Credit: hindutemple.net)
The Durga Vahini -- which operates on the trinity of 'Suraksha, Sewa and Sanskar' (security, service and enculturation) -- caters to an age group of 18-35.  While the party workers I spoke to believe that women need to be trained and taught how take care if themselves, they felt their fundamental roles shouldn't change.
Their body of work incorporates self-defence training camps for women that are organised at various locations across the year. They are also taught basic use of fire-arms in this period. The group helps women gain access to public services like vocational training, skill development and rehabilitation programs.
Criteria to join the women's group, or take part in the training camps: You need to be Hindu, and a woman.
The recruitment and training process of the members of Durga Vahini is also taken care by the VHP, an organization that is greatly dominated by men. The member women are known as 'matri-shakti' (mother power). As revealed by an active member of the Bajrang Dal to ShethePeopleTV (on condition of anonymity), these women are mostly wives of politically active male members from the VHP.
Also read: Karunya's aviation journey & why women should take to the skies
In my understanding, the organisation gives you the freedom and access to engage with education and thought as much as you like, but only after they have painted a wall tinted with a staunchly Hindu worldview between one and reality.
Any experiences you want to share?
Do get in touch
(Views expressed are personal)
Read more blogs by Sakshi Singh Sirari here.