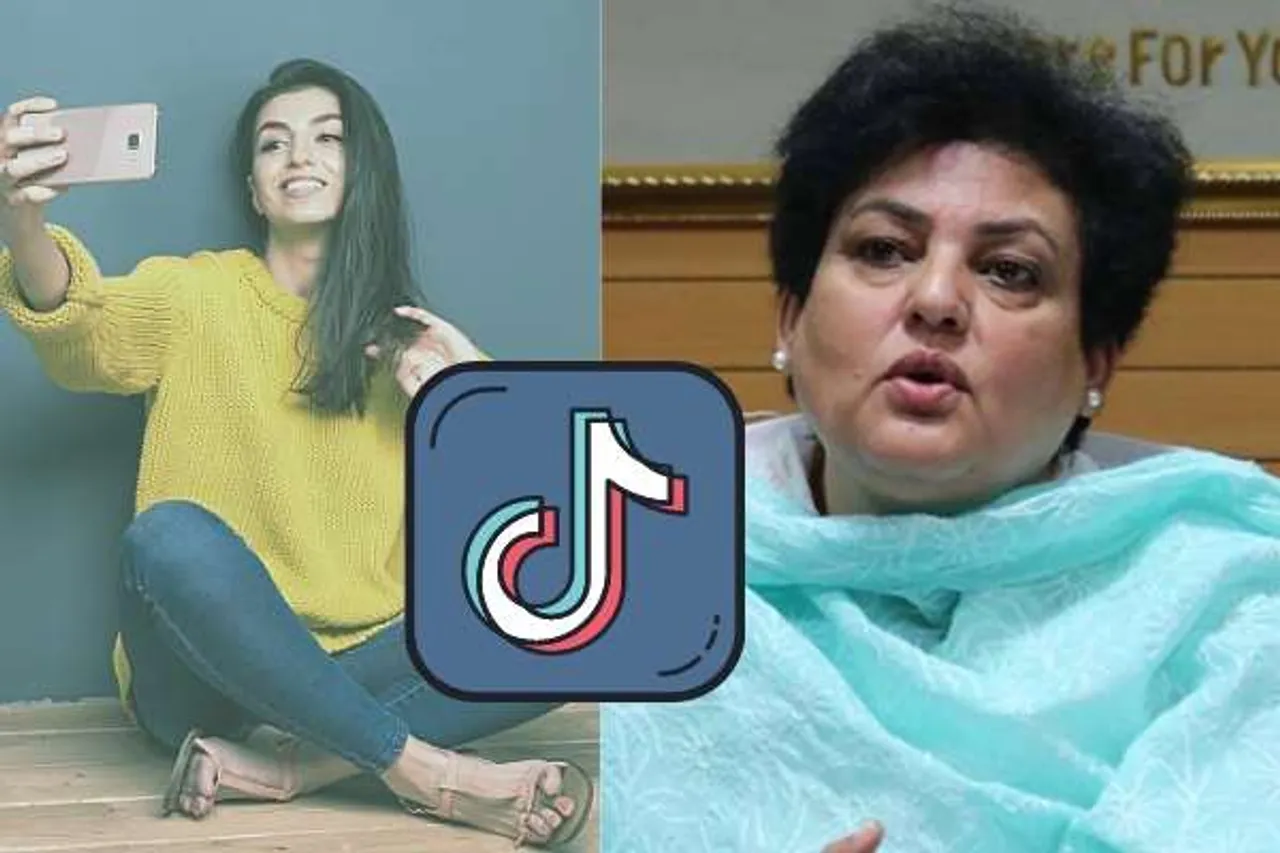 China's current relationship with India may have led to the ban of TikTok but a key campaigner to ban the app in the country has been National Commission of Women (NCW). The Commission's chief Rekha Sharma has raised issues with the content on the app, for carrying videos that mock rape, show violence and assault against women.
In the light of the TikTok ban, SheThePeople speaks to Rekha Sharma for this exclusive interview.
SheThePeople: The government has banned TikTok. What has been your biggest concern regarding the app in India?
Rekha Sharma: It's a big issue resolved. We are thankful to the government for banning the app. There have been repeated issues with it.
On TikTok their creators were beating women, they were enacting 'rape' via videos. I know they deleted some videos after our intervention but how many times could we check with them?
We have had to point out issues with the app very often, but it's not for us to do that. It's for the platform to ensure they check the content.
Q. Are there any specific reasons you felt this app itself was a safety hazard?
A. Many times people would report TikTok to us. As you know young minds get attracted towards to negative issues because they were packaged well on TikTok. Such content puts pressure on young minds. There was no mechanism in place by the company for the app to check what was going on, on TikTok.
If most people on this app are from middle class and lower middle class, and mostly are students or youngsters, they were clearly getting inspired by these videos. We have been hearing stories of young people dying by suicide when their followers decreased on the app. We need to provide our youngsters something more positive. I think youngsters were wasting a lot of time on this and doing unproductive work, thinking they were making money but this was short-lived. They were wasting their productive time that could be used for skill building and other issues.
Q. If content is also a big reason for the ban, do you think this can be extended to other social media?
A. Yes, absolutely. Especially when such applications are not in our hand and the money is not going to the country. There has to be some check on these social media apps from both content and financial point of view. Whether from India or from abroad, there should be some say of the local government.
Q. Content can be created on any other platform too. What's your assessment of other platforms as of now?
A. When people reach out to us with complaints, we take it up with these platforms. I sometimes see fake accounts or objectionable content and I bring it up but I think they (platforms) ought to see those who are violating norms. If you compare Twitter, Facebook and other platforms, then TikTok was the worst place for youngsters. Short earned money from creating such videos cannot be their life goals.
Q. We also saw recently the Bois Locker Room incident on Instagram where youngsters were seeing exchanging messages and objectifying women.
A. We need to sensitise youngsters. Awareness also comes from the family. How come we don't talk of dos and don'ts with our children? Parents are also too busy on social media. We need to give more time to youngsters. We have seen Locker Room issue where both boys and girls both were involved. We cannot put everything on law or the government. We need our families to look into this.
Q. How critical is the responsibility of the platform in such cases?
A. They must check the content. By chance if it has appeared, then the platform must remove it and report it to the authorities. They should not have to wait for our complaints. It should have been flagged off earlier by the platform itself.
Q. What do you have to say to creators who have been depending for their livelihoods on apps like TikTok?
A. I hope they will now focus on their actual lives than being on these useless videos on TikTok. If parents start depending on earnings of their little children that is also child labour according to me. I hope other platforms learn a lesson from this ban. I do hope because of better policies other platforms will sieve such videos.