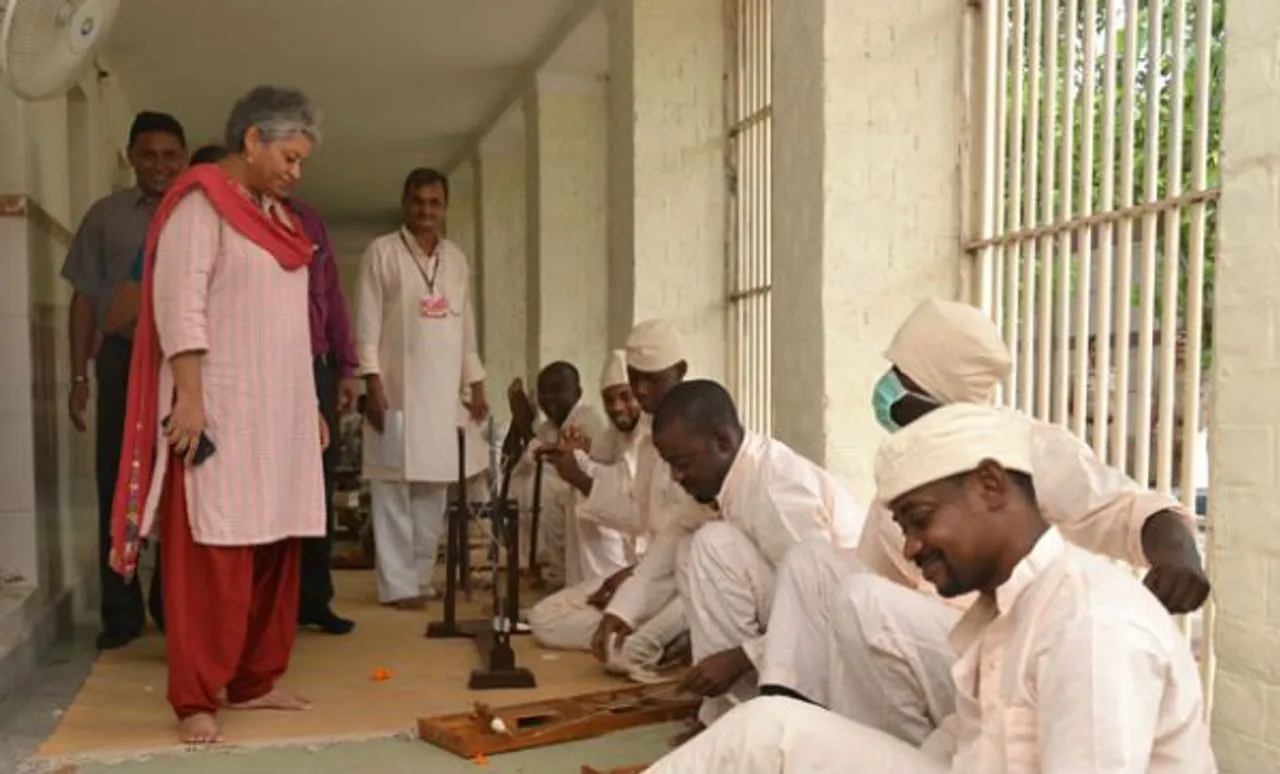 They say it's a man's world but some gutsy women challenge that trend. Meet Anju Mangla, who took charge of the high-security men's prison in Tihar jail. She has become the first woman superintendent.
Earlier, there have been two women -- Kiran Bedi and Vimla Mehra, who have served as DG of Tihar -- but this is the first time in Indian history that a woman has become the superintendent of a men's jail in New Delhi.
"Don't call me a jailer," says a smiling Mangla who describes herself as not a very bossy and "harsh" person. She prefers everyone at the jail to call her superintendent rather than "jailer".
Also Read: My name is Aishwarya and I want to be a police officer – a story of grit
Mangla's duties are to look after 800 inmates between the age group of 18 and 21. While speaking to PTI, she said, "The inmates are like children to me. They are quite young, vibrant and full of energy but they have been on the wrong side of law."
Mangla began her service in1990 and has been working in Tihar jail for over three years now. Mangla, who describes her prison as a 'gurukul' or a 'hostel', belives in that here under her guidance the inmates could be educated further.
Having served as the superintendent of the women's jail, her mantra includes creating a personal bond with the prisoners.
"It is a challenge but our Director General Sudhir Yadav reposed his faith in me. I have accepted the challenge. How you treat other human beings makes all the difference," she adds.
READ: 'Police Didi' initiative should teach more girls about the law: Trisha Shetty
According to PTI, Mangla has already started training the inmates and also divided them into groups based on their knowledge. She is segregating them into groups to know the type of education they require so she could tutor them accordingly. It is known fact that most prisoners lack the basic level of education they need.  Other than that, after classes,  they also have the facility to play outdoor sports, including volleyball.
"During the recent Constitution Week, we even organised a mock Parliament where the inmates raised various issues concerning women and children," she says.
Also Read: Meet Bhavani Banu, the 13-yr-old Police Chief
Mangla is ensuring not just their education but is keeping a check on whether they have fun during their stay in jail.
"During festivals, we have day-long events with participation of all inmates," the police officer said, adding, "Imparting a disciplined way of life in a Gurukul sort of way is what we are doing here. They live like hostellers too."
Feature Image Credit: Business Standard
Join Us on https://www.facebook.com/SheThePeoplePage
Follow Us on https://twitter.com/SheThePeopleTV