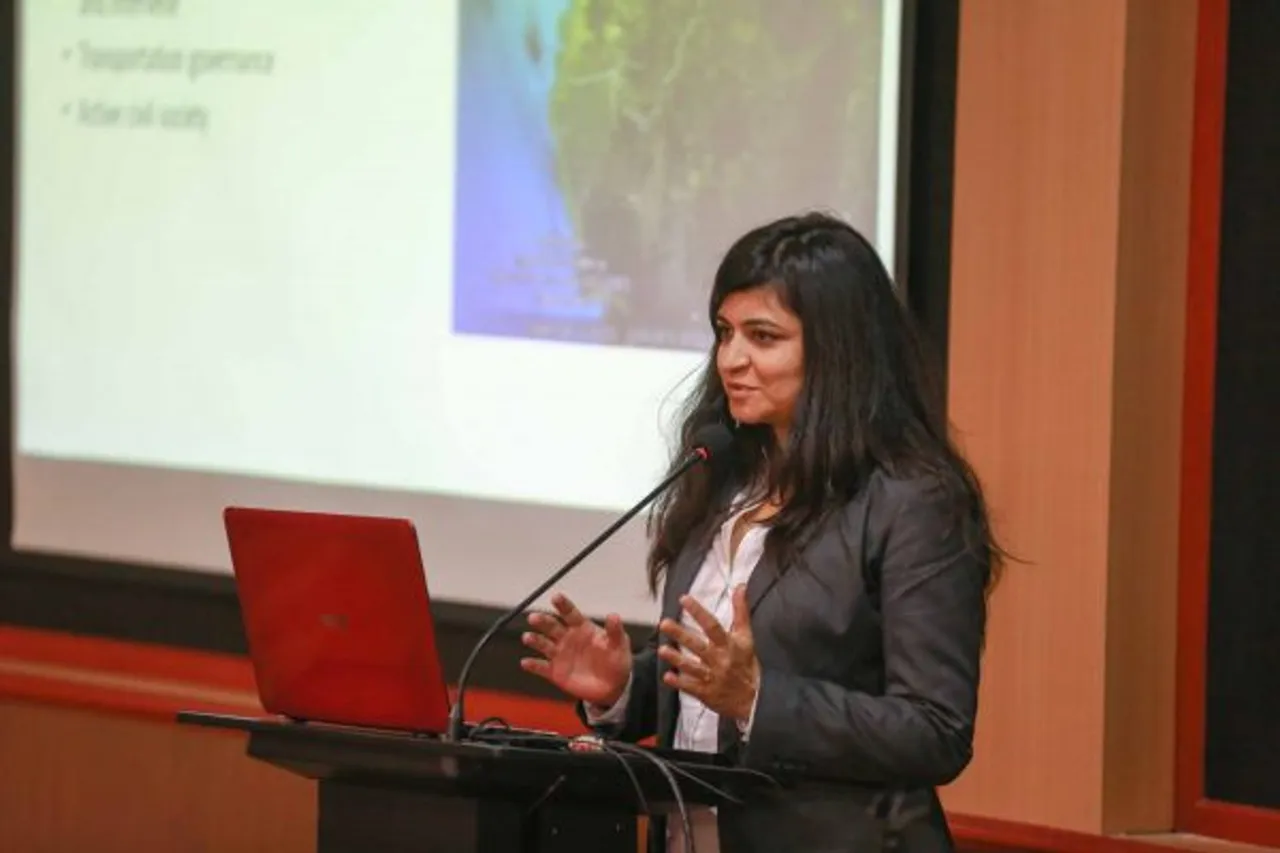 Last month, The Intergovernmental Panel on Climate Change (IPCC) released a special report on Global Warming of 1.5°C, which is now regarded as one of the most important climate change reports ever published. Several scientists across the globe have been part of the research, panels and further, presentation of this report. India's representation rightly made a mark here, too, with Scientist Minal Pathak serving as prominent member of the IPCC.
Pathak is currently working as a senior scientist with the Technical Support Unit of Working Group III (Mitigation) of IPCC. Also a member on IPCC's recently established international task group on Gender, she coordinates activities at the Global Centre for Environment and Energy at Ahmedabad University. She is a visiting researcher at Imperial College, London, and many other prominent institutions across the world.
SheThePeople.TV engaged in a conversation with Pathak about her life as a scientist, encouraging girls in science, the latest global warming report and citizens' responsibility towards the environment.
"Reading developed my scientific temperament"
She recalls that she developed her interest in the field of science primarily because of the extensive reading she engaged in. "I had a lot of questions while growing up, which led me to discover and learn out of curiosity. Reading on a  daily basis helped me gather the needful information, too. This is what particularly shaped my thinking as a young girl," she recollects.
Challenges
Pathak, who holds a PhD in Environmental Science, did not have it easy while entering the field. The challenges of initiating something of this scale in the field of science we immense, she recalls. "Education in this particular direction was challenging first and foremost. I wanted to pursue environment science (which I eventually did), when I graduated. However, I was strongly discouraged. I had several people constantly telling me there isn't a stable career in this and so on," she shares. 
Another struggle, she says, was that the remuneration wasn't very good initially for anyone in the field. "For instance, I remember, I was told that since I had attained a PhD, it was easy for me to try for banking or administrative services." She feels now there's more awareness as the environment is discussed more in this age and time. 
Difference in experience working in India and abroad
As a professor, she has not only actively served in India, but has also held many positions in several institutions, across the world. Her research focuses on low carbon cities, scenario assessment, transportation decarbonization and urban resilience. She has over two dozen peer reviewed publications, including articles, book chapters and technical reports.
Working with teams and colleges across the world, she has had various experiences in the professional scenario. "I think it has been very different. There is very high level of professionalism at the workplace internationally. In fact, that has helped me become a better professional. Factors like commitment to work, meetings, timelines, work ethics are prominently polished there," she reflects. Pathak believes people abroad are more respectful and accommodating towards employees.
"The kind of exposure that young girls, even boys for that matter, have abroad in art, culture and overall development is immense. It's changing in India, but we're not there yet."
She also points out to the poor infrastructure in institutions. For example, we lack extensive libraries which are good enough for children to have access to.
The IPCC_CH report on Global Warming: How even 1 degree matters now
The special report on global warming is a huge indicator of where we're going wrong and the consequences we have to face for our negligence and actions when it comes to the environment. Elaborating on it, Pathak says: "The Intergovernmental Panel on Climate Change has been publishing these reports for the past 30 years. But this one is particularly significant because of the stage that we are at. We're very close to the tipping point. We have  gone up by 1 degree on an average, temperatures are soaring across the world. This is going to have a severe impact on people and ecosystems if we don't do anything. To give you an example, we may lose 90 per cent of all corals at this rate."
She points out that this report and other global warming factors signalise that we can no longer deny the reality that exists. The report, she says does lay down implications. "The door isn't closed yet, but there's very little space left."
Changes scientists suggest that govts and citizens can undertake
The report, which highlights that every half a degree of warming matters henceforth, makes way for an important direction world citizens have to take in order to rectify the damage done. "I'm glad you're asking this because it's important to understand that while national and local policies have been suggested and are getting to work, citizens have a personal responsibility to rectify and carefully proceed further," she adds.
"We have to own up to our responsibility"
Pathak suggests that energy and resources are something that are used in every activity that we're engaging in. "We can make small differences through facts like usage of automobiles, placement of garbage, consumption of food and materials, etc. For example, walking and cycling in areas where we can avoid the use of vehicles that cause pollution."
As a professor and scientist, she shares, she has come across awareness campaigns and trials, which she feels is a good start. "There are multiple environmental drives going on, it's great and I feel the inertia of day-to-day life doesn't allow us to think beyond at certain extent. Families and institutions have to be more careful in educating children about usage of resources, she suggests.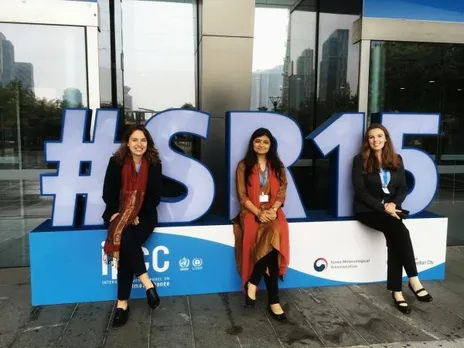 Minal Pathak with her colleagues at the IPCC.
Women in science and opportunities 
When we talk about women in science, there's a lot we need to work towards for young girls who want to make a career in this field. Pathak says, "To encourage more girls in science, it's first important to make opportunities valuable for them equally." She acknowledges that the governments, authorities and institutions are doing the needful to some extent but, she emphasizes that it has to be done more on a larger scale. "And what about these cultural barriers? Our country's patriarchal thought process is also one reason why girls are not able to enter in this field."
"Women are going to space, they're flying planes, running companies, negotiating deals, and winning Nobel prizes. We need need to reach out to young girls and tell them there's nothing they cannot do."
As a scientist, she understands the importance of science in everyday life and urges for more women to be able to make a mark in this field, too. She says it's important to reach out to young girls in the remotest corners of the country and make them aware, not only about science but a plethora of options that are available for them. "It's important to first build potential in girls and then encourage them further. This has to start by first demolishing roadblocks and acknowledging the intelligence that girls carry. Further, measure on basic level have to be instated to spread awareness and build their interest in this education," she urges.
"I would advise young girls, aspiring for careers in science, to stay focused and set their priorities right"
Pathak, who herself is in such a high-pressured position, is working her way up which is believes is the result of disciplined lifestyle. "I value my time and space equally. It helps me focus better and live life a certain way that I plan for it to," she says. For young girls who wish to pursue such field, she says they need to set the right, ambitious goals for themselves and make the highest effort in order to accomplish these goals. "Think carefully about what you're engaging in and ask yourself why you're doing so. Also, remember that it's only you who has to make it happen on your own. So, set a high ambition and work religiously to get there," she concludes.
Featured image credit: Minal Pathak
Also Read: Girls Need To Know It's Cool To Be A Scientist Or An Engineer: Huma Abidi