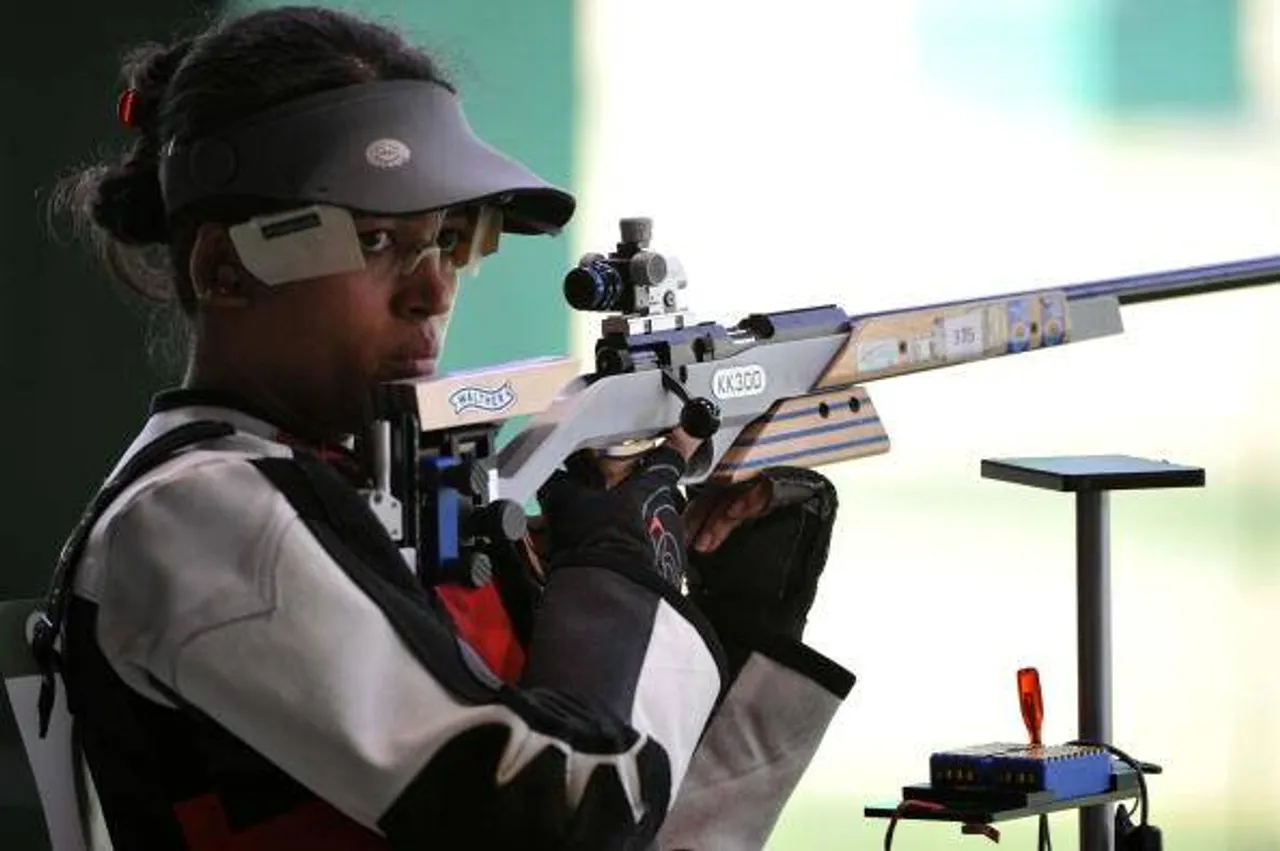 Veteran women's rifle shooter Tejaswini Sawant clinched a silver for the country in the women's 50m Rifle Prone Finals at the 21st Commonwealth Games (CWG) on Thursday.
Indian shooter #TejaswiniSawant bags #Silver medal in Women's 50-metre Rifle Prone event today. #GoldCoast #CommonwealthGames #GC2018 #GC2018Shooting #CommonwealthGames2018 #CWG2018 pic.twitter.com/4TfKn9tHF3

— All India Radio News (@airnewsalerts) April 12, 2018
Another Indian in the fray, Anjum Moudgil, was competing too, but failed to make a mark.
More from the CWG 2018 updates here
With this win, Tejaswini became the first Indian woman to win a medal twice in this event at the Commonwealth Games. The only other Indian to win a medal in this event was Roopa Unnikrishnan
Competing in her third Commonwealth Games, the celebrated shooter Tejaswini went ahead in the game by shooting 102.1, 102.4, 103.3, 102.8, 103.7, 104.6 for a cumulative score of 618.9 over six series in the final at Belmont Shooting Centre. Singapore's Martina Lindsay Veloso held the first spot with the gold medal, while Sotland's Seonaid Mcintosh claimed bronze.
Keep the Shine Alive! Congratulations to #TejaswiniSawant for winning Silver Medal in Women's 50 m Rifle Prone Finals in #commonwealthgames18#GoldCoast2018 pic.twitter.com/5fIgQa0jxH

— Dr. Rutvij Patel (@DrRutvij) April 12, 2018
Moudgil scored 602.2 to finish 16th in the field of 20 competitors, a disappointing performance.
Our female shooters continue to make us proud! Hearty congratulations to #TejaswiniSawant for clinching the silver medal in Women's 50m Rifle Prone Finals. #CommonwealthGames2018 pic.twitter.com/P2uGHW5k0U

— Bikram Majithia (@bsmajithia) April 12, 2018
Also Read: Not ready to hang up her gloves: Remembering Mary Kom's finest Sporting Moments
With Tejaswini's win, India now stands tall with its sixth silver medal. India's overall medals tally is now 25
The 37-year old Tejaswini was a gold medallist at the 2006 Commonwealth Games in the 10m air rifle singles and pair events. The Arjuna awardee is also the first Indian to clinch a gold in the world championship in 2010. Again, at the Commonwealth Games 2010 in Delhi, she bagged the silver in 50 rifle prone singles and bronze in 50 m rifle prone along with Meena Kumari. She also bagged a silver in 50 m rifle 3 positions event along with Lajjakumari Goswami at the 2010 CWG.
Congrats #TejaswiniSawant for winning Silver in 50m Rifle Prone Finals #GC2018Shooting #GC2018 Great Performance 👍 pic.twitter.com/zEWLYgtKOQ

— Ishant Sharma (@ImIshant) April 12, 2018
One more medal for India in #CommonwealthGames2018...!!
Congratulations to #TejaswiniSawant for winning #Silver in women's 50m Rifle Prone event... #GC2018 #GC2018Shooting #IndiaAtCWG #IndiaAtGoldCoast pic.twitter.com/uj7BmtZSAn

— Ashok Gehlot (@ashokgehlot51) April 12, 2018
#CommonwealthGames2018: #TejaswiniSawant shoots silver in women's 50m Rifle Prone Finals#GC2018 #GC2018Shooting #CWG2018 #TejaswiniSawant pic.twitter.com/lfsftlcBMa

— SheThePeople (@SheThePeopleTV) April 12, 2018
Kudos to you, Tejaswini!
READ: #KheloIndia Will Hone Young India's Sporting Talent
Also Read: Does India take its sportswomen seriously?
Feature Image Credit: Sportskeeda