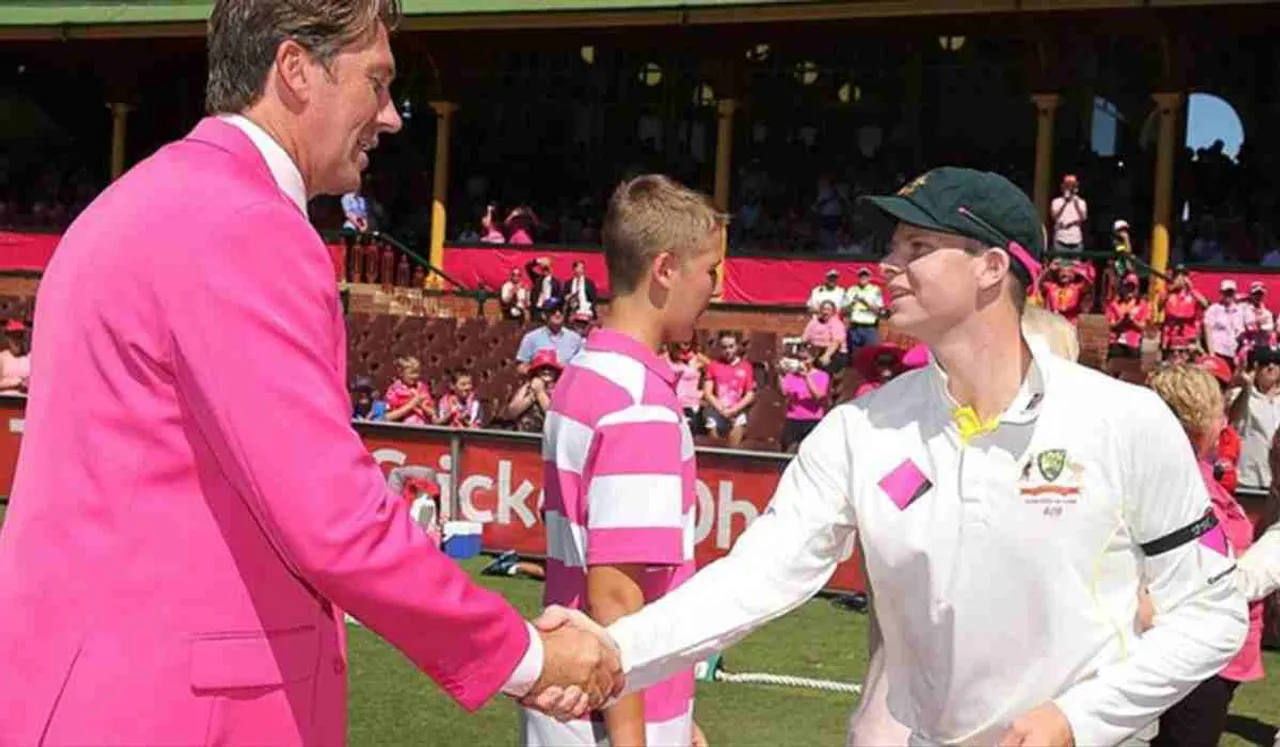 The annual celebrations for Jane McGrath Day turned the Sydney cricket ground Pink on Saturday as India and Australia walked in to play on day three of the third test match in the ongoing series between the two cricket teams.
Originally recognised as Ladies Day, Day 3 of the "Pink Test" was renamed Jane McGrath Day after the name of Australian cricketer Glenn McGrath's wife who succumbed to a battle with breast cancer 13 years ago.
This year marks the 13th year of Jane McGrath Day, where funds will be raised for the McGrath Foundation, and spectators at the SCG will wear pink to express their support. The primary aim of this charitable foundation is to raise funds in order to provide breast cancer patients access to breast care nurses in rural and regional Australia. The foundation also aims at increasing breast awareness among young girls.
Also Read: Google's AI Outperforms Radiologists At Detecting Breast Cancer
Players from both India and Australia participated by placing their signed pink caps in a bowl which will later be auctioned by the McGrath Foundation to raise money for Breast Cancer awareness as well as support McGrath Breast Care Nurses in communities across Australia.
Welcome to Jane McGrath Day at the SCG - one of the great days on the sporting calendar.

If you're able to do so, support the incredible @McGrathFdn by purchasing a virtual pink seat at https://t.co/pOKktBatFP pic.twitter.com/VgW5SpapYV

— cricket.com.au (@cricketcomau) January 8, 2021
Before the play began, Cricket Australia tweeted, "A day dedicated in honour of Jane McGrath, in support of those experiencing breast cancer!"
A day dedicated in honour of Jane McGrath, in support of those experiencing breast cancer! 💕

Ahead of the third #AUSvIND Vodafone Pink Test, a very special group of people unfurled the iconic silk in front of the stand named in Jane McGrath's honour! pic.twitter.com/k4iJgwgPtD

— Cricket Australia (@CricketAus) January 8, 2021
Alison Szwajcer, one of Australia's first breast care nurses, was also present at SCG on the occasion of Jane McGrath Day, reported ANI. Szwajcer also served as a nurse to Jane McGrath during her battle with breast cancer. According to McGrath Foundation co-founder and president Glenn McGrath, she had a "huge impact" on his family. He added, "When we first met Alison, we couldn't have imagined the difference her support would make to Jane, but also our entire family."
Former Indian batsmen Sachin Tendulkar also extended his support by gifting an autographed Team India Test jersey to Glenn McGrath which will later be auctioned to support the charitable foundation.
Also Read: Meet the Sportswomen Who Will Represent India At Asia Rugby's "Unstoppables" Campaign
Sharing a picture of the autographed jersey, Tendulkar wrote in an Instagram post, "Happy to lend my support to @mcgrathfoundation's noble efforts during the #PinkTest to help patients & their families dealing with breast cancer."
View this post on Instagram
Image Credit: Batsman.com