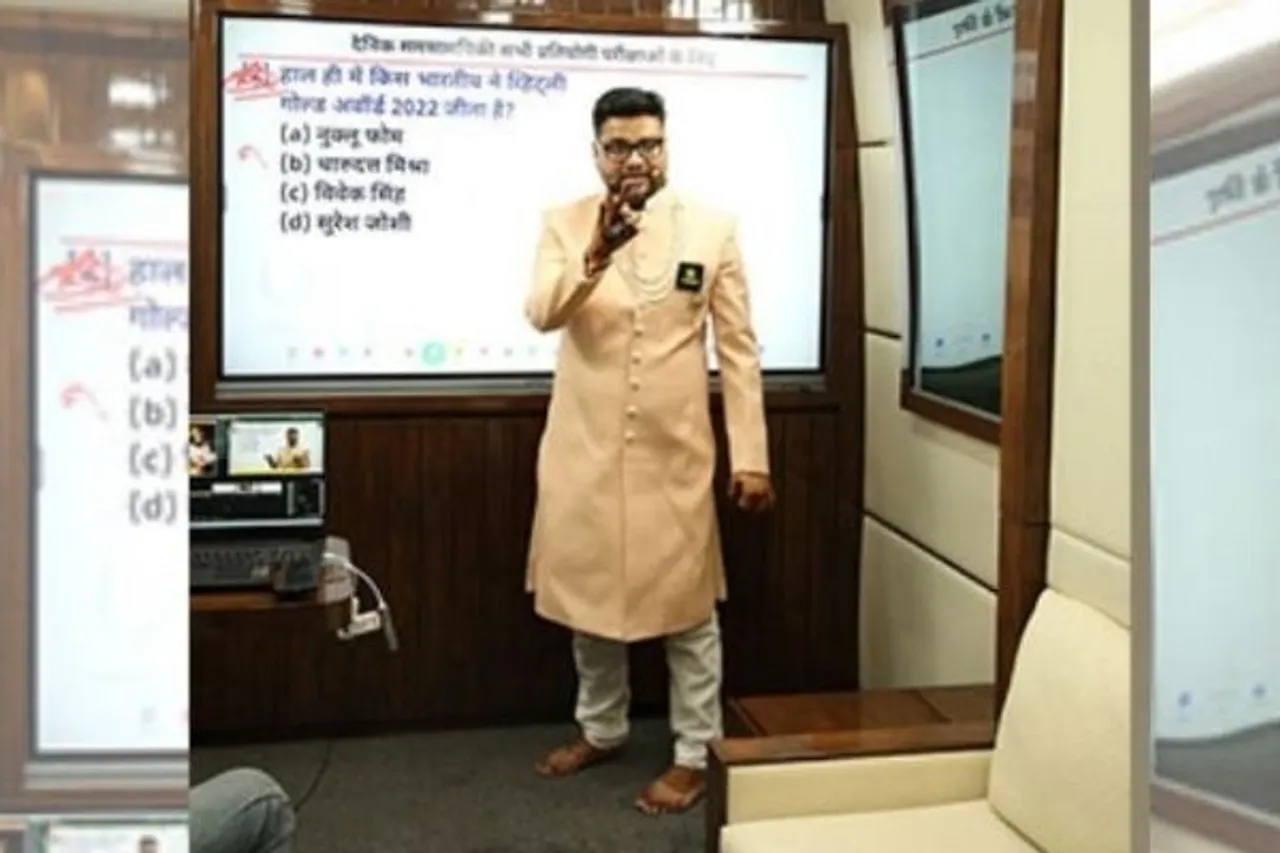 You must have heard of people taking a long leave before and after their wedding to enjoy this personal milestone of life to the hilt. For some professionals, however, duty comes first. One such professional is Priye Kumar Gaurav from Alwar in Rajasthan. He is a famous coaching teacher from Alwar in Rajasthan known for his YouTube-based classes on current affairs. He was teaching on wedding day also as he didn't want his students to suffer because of his absence.
Viral Video
A video, where he can be seen decked up in his wedding classes taking online classes, has gone viral. Not only this, he finished other wedding functions and then again went back to preparing for the class on Current Affairs for the next day.
Nirmal, one of the authorities of the coaching institute, said in an interview, "He had informed about his wedding date around five months ago. Usually, a holiday for 4-5 days is granted, but he said he did not wish to miss any single class and would take lectures on the wedding day as well." Here's the viral video.
---
Suggested Reading : Rajasthan: Bride Appears For Exam Amidst Wedding Rituals In Barmer
---
A lot of netizens have taken to social media platforms to applaud him for his hard work and dedication. "You are so hardworking, sir", wrote one user. Another one wrote, "India needs more teachers like you"
Bride sits for an exam on wedding day
It is great to see teachers showing great dedication to their work. Do you know what makes a teacher happy? Seeing a student work hard and show tremendous progress along the path. A quintessence of dedication is Shivangi Bagthariya, a student of Shanti Niketan College who was appearing for her fifth-semester exam for Bachelor of Social Work (BSW). She decided to put her education first and took her exam on her wedding day. She turned up at the examination centre in her bridal lehenga. Her future husband accompanied her too. Her video went viral on social media and many praised the woman and the families for making education a priority.
"The roots of education are bitter, but the fruit is sweet," commented a user. "Good to see people, Husband and In-Laws encouraging their daughter in law for studies," another wrote.