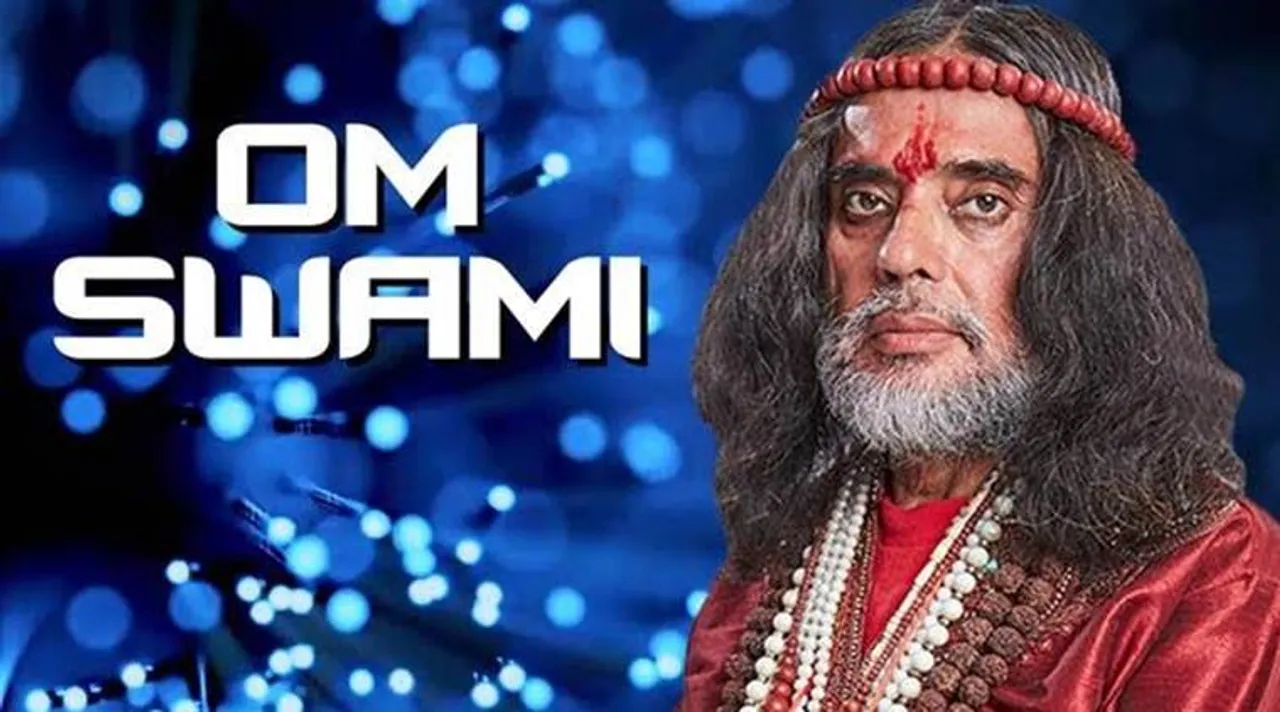 It is a little embarrassing to accept that I watch BigBoss and have been watching it since it started airing in India. But nevertheless, even after sense prevailed and I stopped watching television altogether, this year again BigBoss generated an ever-diminishing curiosity in me to watch it for its line-up and I did. But this time it is a little more exhausting to sit through the one-hour show (I know no one forces me to, but curiosity about what 'Indiawale' are like, won over me). The one person who is standing out in the mockery 'Indiawale' are making of themselves is- Swami Omji!
Hate to call him Swamiji but lack of creativity here forces me to address him with an adjective that should so not be used for him. While you might think that he is a saintly figure and I am being a total modern bitch trying to disrespect the Indian cultural figure, only I am not! Starting from his intro. in the show, he was little annoying but funny as everyone laughed on his antics. As he entered the house and met beauty queen, Lopamudra, he kind of forgot that he was an effing guru and and started using his one sure-shot pickup line on her- 'aap bahar se hi nahi, andar se bhi sundar hain' (You are beautiful both inside and out). I mean come on guru ji, this is not 17th century! His entire chat with Lopamudra was both disgusting as a guruji and annoying to the audience's ears.
As the first day passed, the guruji was being all snobbish among mere humans and tried to establish his snobbery on the housemate by revealing how he is a virgin and that's why he cannot be in the sun for longer as he has got too much energy inside him. If you are already curling up your nose, wait there's more...
Day 2 saw many fights and general mumbo jumbo happening on the show, but the trigger point was when Swamiji quarrelled with Akansha, another inmate of the show and an Indiawali, for making their team lose out on a hint (A stupid task the peeps were having). Wait, I thought, saintly figures have the ultimate calm and are not bothered by worldly issues. Then in the next scene, he is seen threatening Lopamudra again for disclosing his secrets and at the same time calling her 'Devi' (goddess). This hypocrisy is out of my wits. Then he goes on completely tarnishing Akansha's character by bringing her divorce into the house and warning TV actor Gaurav Chopra that she is looking to marry him.
As shocking as this incident is and it being shown very casually on Indian TV for sensation and so-called masala, it is also heart-shattering. First, this is what India is being represented as by a saint in 2016, where if a woman comes out of a bad relationship, she still has to bear the cross of that broken marriage. So easily it is established that all the fault there could be for the divorce was that of the woman and not anyone else because 'she could not save her marriage'. How convenient!
Secondly, calling a woman Devi does not in anyway mean that a man is respecting her if he is not showing the respect through his actions. And Guruji, going on blatantly threatening women in the house, dissecting their character because of a personal choice and imparting conditions on them, is surely not being the greatest example of respect.
Well, we're not the only ones outraged.
Who says Swami Om Ji is a Godman? We can't do this to God. She will be most insulted!

— Shobhaa De (@DeShobhaa) October 19, 2016
#SwamiOmJi conduct on @BiggBoss @ColorsTV ungracious. A total misrepresentation of hindu beliefs & sainthood!

— Swami Dipankar (@swamidipankar) October 19, 2016
This reminds me that he recounted an incident of a Hollywood actress (apparently, Elizabeth Hurley) coming to talk to him in a revealing dress and how he asked her to turn away and kicked her in the butt (gasps). To save his own arse, he says that the actress thanked him for relieving her of her chronic backache. Don't know if this could be the highest level of trash his mouth is capable of or there is more to come. He not just shamelessly displays moral policing, but also forgets basic decency by kicking.
A little snooping on the interweb tells us that this is not the first time Swamiji has been a total asshole to women. Earlier on a news channel in a debate about Radhe Maa also, he started beating up a woman for disagreeing with him.
Another piece of information is that he is the global president of Ojaswi Party founded by Asaram Bapu and Narayan Sai, both of who are in jail currently for sexually assaulting women.
Picture credit- Indian Express