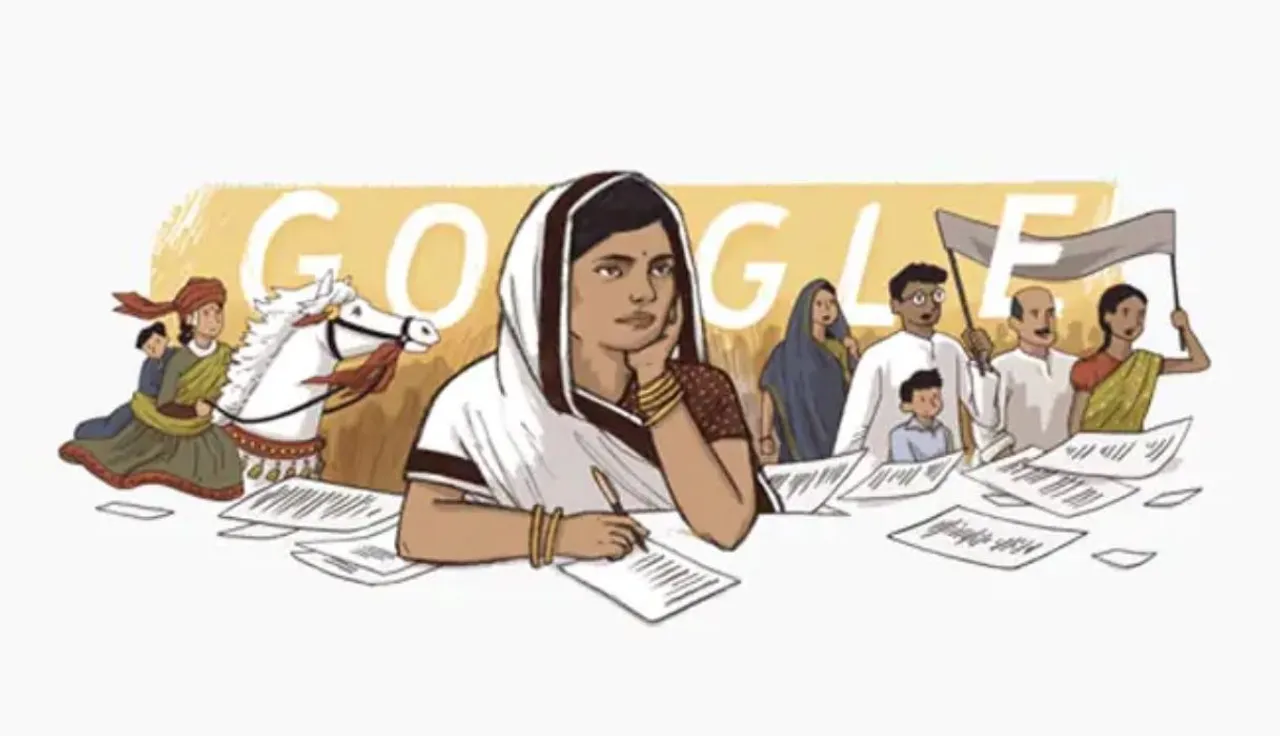 Subhadra Kumari Chauhan Google Doodle: Today's Google Doodle celebrates famous poet Subhadra Kumari Chauhan on her 117th birth anniversary. The Indian poet, who wrote the famous poem Jhansi ki Rani,  is also known as India's first woman Satyagrahi, a trailblazing writer and freedom fighter.
In the animated doodle, Chauhan is seen sitting with a pen and paper as Rani Lakshmi Bai can be seen on a horse in the backdrop, along with satyagrahi's marching on, depicting the poet's greatest works. New Zealand-based guest artist Prabha Mallya made the doodle on Subhadra Kumari Chauhan for Google.
Chauhan was a renowned poet who rose to national prominence in a male-dominated era with the evocative poem Jhansi ki Rani, which is regarded as one of the most recited ones in Hindi literature to date. Born in 1904, in the village of Nihalpur, Chauhan went to the Crosthwaite Girls' School in Prayagraj and later passed the middle-school exam in 1919. She then married Thakur Laxman Singh Chauhan of Khandwa in 1919 when she was just 16 years old and had five children with him. Two years later, she moved to Jabalpur, and alongside her husband, joined Mahatma Gandhi's Non-Cooperation Movement. In 1923, she became the first woman Satyagrahi to be arrested. She was also jailed twice for her involvement in protests against British rule between 1923 to 1942.
An outspoken advocate for progressive causes, Chauhan was inspired to write constantly from an early age and was even known to write while riding a horse cart on her way to school. Her first poem was published when she was just nine-year-old. During pre-independence reach, as a participant in the Indian Nationalist Movement, she used her influential poetry to call others to join the fight for their nation's freedom. As a writer, she primarily focussed on the hardships of Indian women and the challenges they overcame during the freedom movement to motivate others.
Chauhan published a total of 88 poems and 46 short stories in her career as a writer. She was also a member of the legislative assembly of the state (erstwhile Central Provinces). She passed away in 1948 in a car accident in Seoni, Madhya Pradesh, on her way back to Jabalpur from Nagpur, where she had gone to attend an assembly session.
Feature Image Credit: google.com