When you grow up in a Bengali family, it is common to see your mom, aunts and grandmothers wear sarees. For Smriti Lamech, the women in her family inspired her to wear sarees from a young age. Smriti says that she started wearing sarees at functions and weddings as a teenager.
Smriti wore her first saree at an event when she was 14 years old
A former journalist, and now an independent social media consultant, Smriti wore her first saree at an event when she was 14 years old. She tells us, "There can be a mental block sometimes, if you don't start wearing sarees young. You rarely feel comfortable in them. However, if you wear one everyday for a week, you can cross that barrier."
When Smriti went to college, she started wearing jeans and t-shirts as she was practically living out of a suitcase. However, she did return to wearing sarees once she started working after graduation. Her collection came about because her mom would pick up a saree for her from every state that she visited. When Smriti got married, she got about 20-30 sarees as gifts from her mom - all different varieties, weaves and from different states!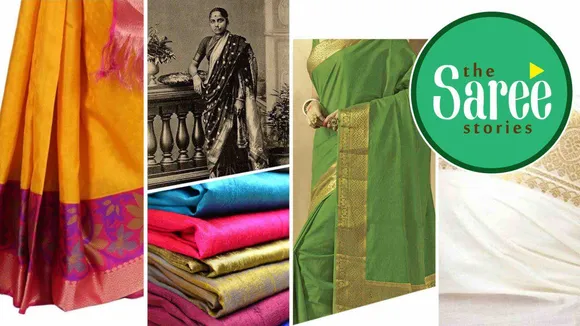 The Saree Stories. In conversations with some wonderful women who believe in the power of looms #SareeStories
Smriti talks about one saree that she just fell in love with right before she got married. Smriti had gone shopping before her wedding and already stretched out her budget on the clothes. When she saw this saree - she was awestruck - a beautiful chiffon saree with zardozi work, the saree was fuchsia and a mustardy orange colour. She wanted to buy this saree as well, but since it was quite expensive (and outside of her budget), she let go of the idea. Then something wonderful happened - one of her uncles who had come down for her wedding told her he wanted to buy her something of her choice, and guess what Smriti asked him to buy for her? The dual coloured chiffon saree.
Talking about the saree that she still adores, she tells us, "I think one of the main reasons I love this saree is that it is a combination of two beautiful old forms of hand embroidery - Zardozi and Chikankari. Mukaish is also an art that is dying out, for want of patronage and also due to ignorance."
She adds, "Back then, we were young, newly married, and a lot of our friends were getting married too. I wore that chiffon saree to about 20 marriages, and I loved every bit of it! However, the saree tore a little bit when it got caught on a nail, so after that the appeal just kind of… went away. I finally retired the saree after wearing it continuously for all the weddings that took place that year!"
Now, Smriti has a large collection (given by her mom and by collecting herself). She also talks fondly of her Ikkat and Baluchari sarees. She says she cannot say that any one particular saree is her favourite because tastes keep changing, and her idea of a favourite keeps changing. However, she says all sarees have stories and of course, the some stories are her favourite, like the one she mentioned above.
SheThePeople.TV is meeting with women who love their sarees, and believe in the power of looms. Have a story? Share it with us – write a note in the comments, and we will be right in touch.
--