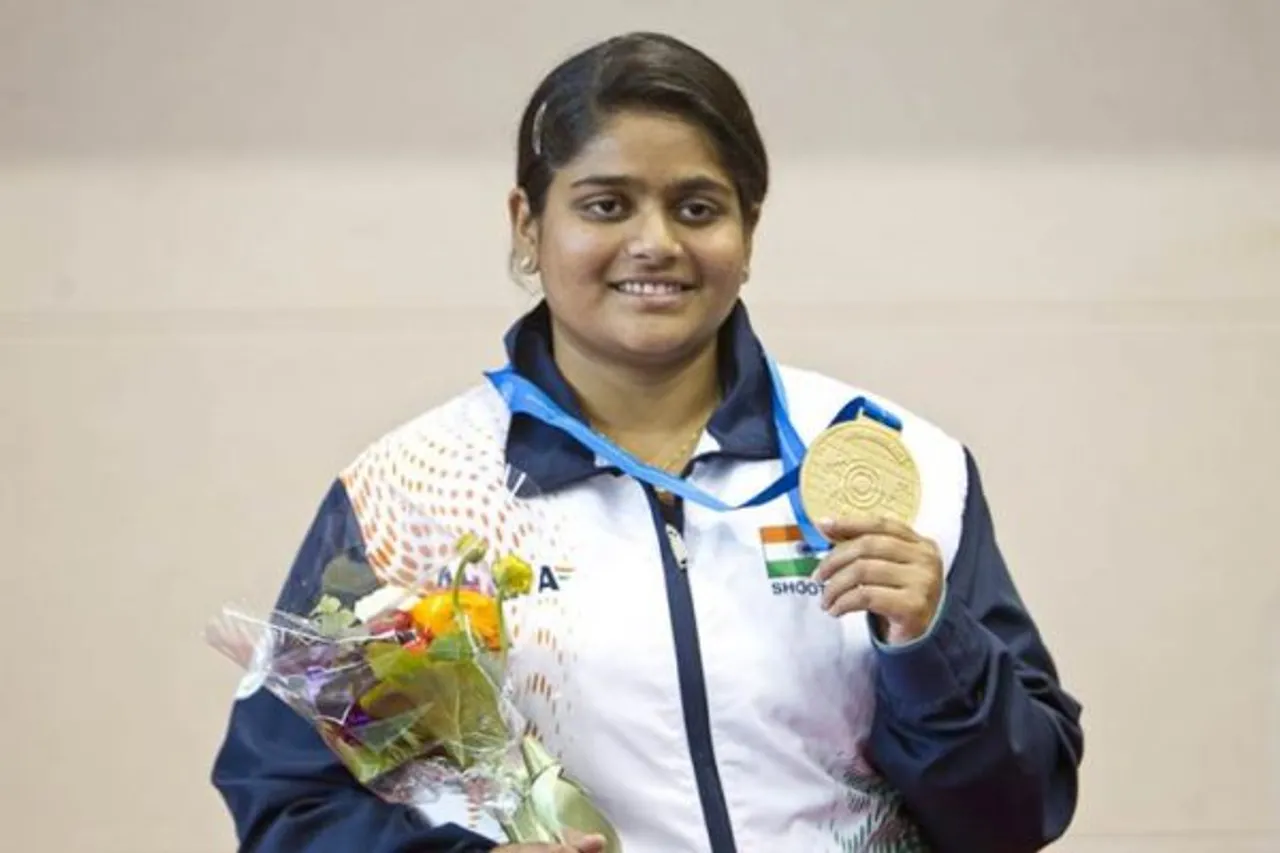 Shooter Rahi Sarnobat made it to the headlines with her performance, last year, when she became the first Indian woman to win an Asian Games gold in the 25m pistol event. Sarnobat hails from Kolhapur, Maharashtra, and is the sixth Indian so far to win gold at the Asian Games. The 27-year-old is now determined to break all records at the next Tokyo Olympics in 2020. SheThePeople.TV catches up with Rahi.
Tell us about your journey. What were you like as a child?
My 12-year-long journey has all the elements that make for a complete story. From a dream start to a career-threatening injury, it has it all. But my journey is nowhere near completion. I have a long way to go and many more milestones to reach.
"As a child, I was the reticent kind. I liked to be left to my element and never looked forward to social interactions."
What inspired you to take up shooting?
I was introduced to shooting when I was in Grade 9 and I joined the NCC. Shooting is an individual sport that requires one to be very calm, quiet, focused and attentive. It perfectly suited my personality and I took an instant liking to it.
READ: Women In Sports Are More Liberated Than In Any Other Field: Arshi Nad
You have participated in many tournaments and became the first Indian woman shooter to win a gold at the Asian Games. What has this meant for you?
This medal comes after a long wait, but the timing could not have been better. Post my injury and break from the sport, critics had almost written me off. I needed to prove to myself that I still had it in me. And I was able to do it. This medal is even more special as it is my best stint at the Asian Games so far.
Talking about the injury, share how did you overcome the challenging time when you had met with an accident and injured yourself. Months into rehab and how hard it was to return to competitive shooting?
In 2017, I had an elbow injury. Those three years were the toughest phase of my life. The experts had advised me against continuing the game. Shooting isn't just my passion, it's an integral part of me. Yet, there were times when I did consider giving it up. Looking back, I think it was for the best. It was then, that I learnt how strong I am. Someone who does not give up no matter how tough the odds. In the age bracket that is considered prime for any athlete, I wasn't even able to train, let alone compete. But I believed I had it in me and kept working patiently to get back. And get back, I did! Although it took me a year to regain my competitive form, the end result was my career-best performance!
Career Highlights
Sarnobat is the 2008 Commonwealth Youth Games gold medalist.
She also won two gold medals at the 2010 Commonwealth Games in India.
The powerful shooter was also the first Indian woman to compete in the 25m pistol event at the 2012 Olympics. She had finished 19th.
In 2014, Commonwealth Games in Glasgow, she won gold in women's 25-metre pistol.
In the same year, she won the Bronze medal in the 25-metre pistol team event at the 2014 Asian Games at Incheon.
You also have a Commonwealth gold in your pocket. what drives you towards the sport? What does it mean to you?
I have always wanted to give back to my country, contribute in some way to its betterment. I never had expected that I would achieve that through shooting. I am one of the lucky few, who find and are able to pursue a profession they excel at. What drives me is the knowledge that I am capable of bringing further recognition to India as a sporting nation. I feel it is my duty and responsibility to give it my best every single day and make that happen.
READ: Disability Is An Important Issue, Especially In India: Arwa Imtiyaz Bhat
What were some of the biggest challenges which came in your way?
I would say overcoming my elbow injury was by far the biggest challenge. Fortunately, I never had to face any kind of opposition from my family.
"Factors like girl child, only child, girl taking up an unconventional sport and so on have never come in my way. I am blessed with a very progressive and supportive family and I'm thankful for it."
After seeing other players and teams, what do you think India lacks in terms of  appreciating all kind of sports?
I would say India is already getting there. There has been a great improvement in all areas be it infrastructure, facilities or competition exposure. The Khelo India initiative is a testimony to this fact.
"The overall mindset is evolving, of the Government and citizens, alike. And the road ahead is only going to be better."
What is your core passion and long-term vision?
Shooting is my passion. And achieving something for India that no one else has, is my dream. My sport is a fairly expensive one. In the long-term, I would like to make at least some form of it accessible to people from all walks of life.
Also: Meet Tulsi Parihar, the Longest-serving SOS Mother
How do you balance life, family, profession?
Like I said earlier, my family is very supportive and have been so right from the start. They have been very understanding and have never begrudged me for missing out on most of the important occasions. So I never had to worry about striking a balance. Without their unfaltering backing, I would never have reached where I have today.
How sports, in general, has liberated women in the area? Do women now seek to take up this professionally?
It's about the achievements of women who took up sports as a profession, in the era when a woman's place was considered the kitchen. The entire credit for the evolving perspective of society towards women partaking sports goes to them. Women are no longer considered less capable in the field of sports or any other profession. The confidence that this instilled in women has led to their par excellence performances across sports in the last two decades. It is what encourages many more young girls to fearlessly take up sports professionally.
Women are no longer considered less capable in the field of sports or any other profession. The confidence that this instilled in women has led to their par excellence performances across sports in the last two decades.
Tips for aspirant women like you
Always be sincere in whatever you take up. Give your 100% every single day so that there is no room for regret. Most importantly, be selfless towards your profession. Don't pursue it for material gains. Pursue your profession for your love for it and gains will be an eventual by-product.