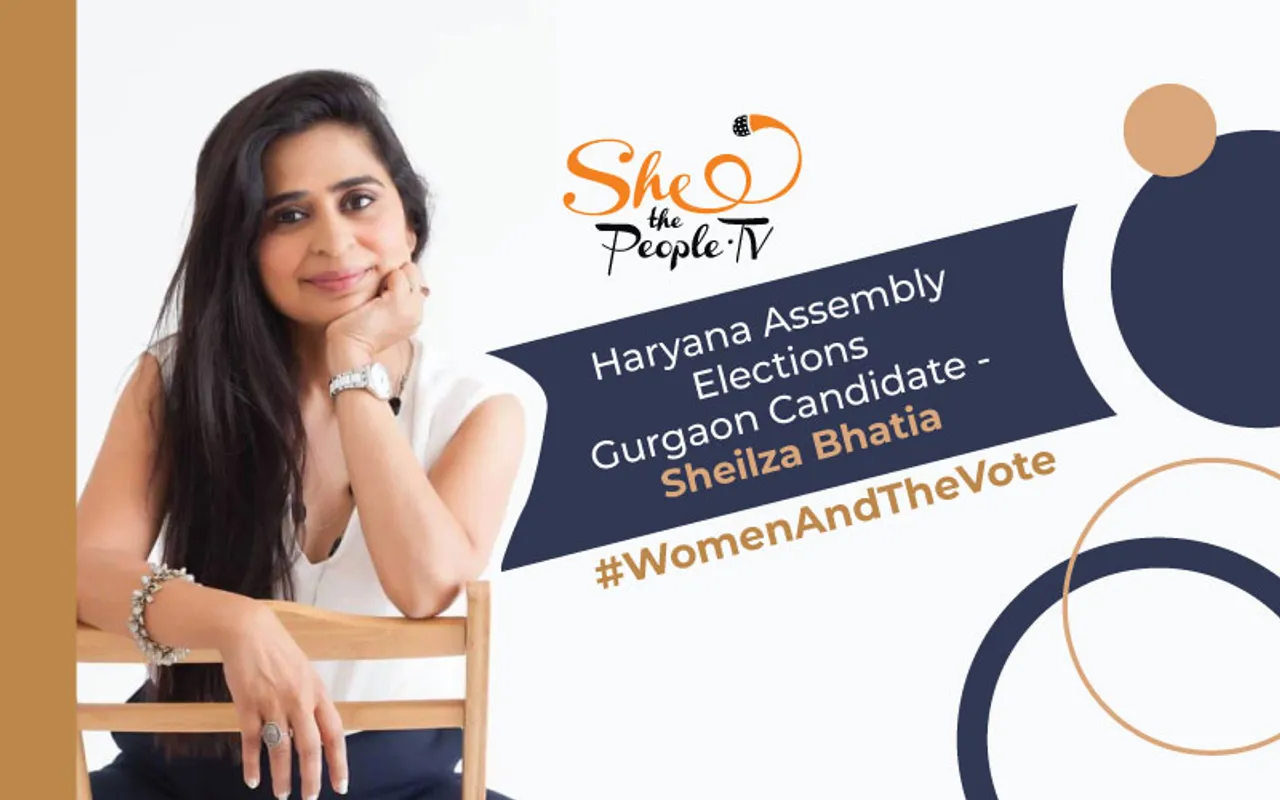 Gurugram has never had a female elected Member of Legislative Assembly ever in the 12 assembly elections the state has had since 1967. In all Haryana has only 13 women MLAs out of a total of 90 legislative seats and in the recent Lok Sabha elections only 11 women contested out of 223 candidates and only one won an MP seat - BJP's Sunita Duggal who won from Sirsa. However, in the upcoming Haryana assembly election, a woman candidate is contesting from Gurugram perhaps for the first time. Entrepreneur and social activist, Sheilza Bhatia, is all set to contest from newly-formed Swaraj India party.
Foray into politics
In June, Swaraj India declared that it will contest from all 90 constituencies in the Haryana assembly election and that 33% of their candidates are going to be women. A few days later, it released their first list of 10 candidates which included Bhatia as their candidate from Gurugram legislative constituency. Talking to SheThePeople.TV, Bhatia recounts her journey into becoming a political activist back in 2014 during the Anna Hazare movement. "After the movement, the Aam Admi Party was formed and at that time I had decided to be a part of active politics. This was the time I approached Pankaj Gupta, the National Secretary of AAP to join the party."
Women of Mewat are extremely talented artisans. However, they didn't have access to commercialising their work. So that's where we entered, I along with a team sat down with the women of Mewat and reworked the products like rugs and then we started selling them around 2017. - Sheilaza Bhatia
She worked with the election campaigning team of AAP in all the elections they contested in key areas like booth management, short-listing of candidates, etc. "I got good exposure and experience of handling election process and around the same time, I also got to work with Yogendra Yadav (former founding member of AAP)," she remembers.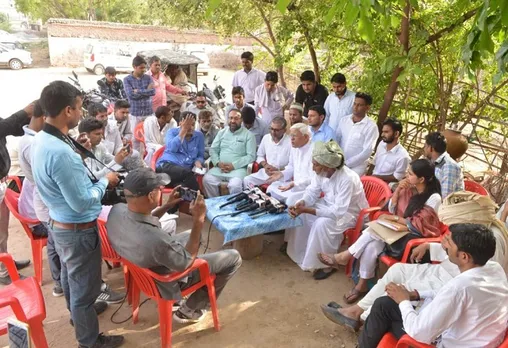 Sheilza working with local administration
Fast-forward to this year's Lok Sabha Election, Bhatia returned to politics as a campaigner. She campaigned for AAP-JJP candidate Mehmood Khan in the recently concluded Lok Sabha election. He contested from Gurugram MP Seat but lost to incumbent BJP MP Rao Inderjit Singh. After this, she took a break again to focus on the expansion of her NGO- Janm Foundation and her son's education. "This time around Yogendra Ji approached me and asked if I would like to contest for the Haryana assembly election from Gurugram seat? It took me several rounds of discussions and a lot of deliberation after which I decided that I will give it a shot," she reveals.
ALSO READ: Only 11 Women Candidates Among 223 To Contest Elections In Haryana
The struggle to strike a balance
Women have it worse than men in politics and much more in this field than any other. For them, it isn't just the outside world they have to conquer but the world within their houses as well. Similarly, Bhatia also struggled to choose between attending to her son's education as he has his board exams this year and her political career. "I have had this opportunity of contesting in elections twice in the past. But I denied it because I needed to devote my time to my two children, who were really young at that time, more than my political career. Even this year is very critical as my son is in grade 12 and I told him that I would give all my attention and time to him and quit politics for a few months. But after my family supported me and assured me that this is the right thing to do, I decided to go with it," she adds.
From AAP to Swaraj India
Party chief Yadav says that he first met with Bhatia while campaigning for AAP in Mewat. He was leading a team, of which Bhatia was a member. "We put in a lot of efforts in campaigning in Mewat in those days but we didn't get enough votes. This discouraged a lot of our teammates and then eventually I left the party but I still kept working in Mewat. However, I also lost touch with the other members.
Around two years ago, I found out that long after our campaign got over in Mewat, Sheilza kept going back to the town and started to work with women over there. There was no personal gain for her to keep revisiting the place. She never had to contest any elections there. It wasn't her caste community as well. Her sheer commitment to work with the Mewati women because it was the right thing to do and because it was necessary are some of the strongest characteristics of her personality," he says.
If we go by mandate and whatever has happened in Lok Sabha election, the wave, etc. I would call it a myth but if we go by that then leave aside Swaraj India. In this scenario then all parties fall on one side and one party falls on the other side. So if we start thinking this way then no one would want to contest. - Sheilza Bhatia
He shares that he met with her again around six months ago when she was still a part of AAP and yet she asked him what more can they do together for Mewat? "Her commitment, tenacity, and dedication touched me and that's why I encouraged her to contest from the Gurugram assembly seat on the ticket of Swaraj India," Yadav adds.
ALSO READ: For The First Time 78 Women Candidates Become MPs
Working with women of Mewat
She decided to contest the election "for the larger cause of women's empowerment". This is one of the many initiatives in the broader scheme of women's cause that Bhatia endorses. Her Janm Foundation also focuses on creating better livelihood opportunities for the women of Mewat. "Women of Mewat are extremely talented artisans. However, they didn't have access to commercializing their work. So that's where we entered, I along with a team sat down with the women of Mewat and reworked the products like rugs and then we started selling it in around 2017."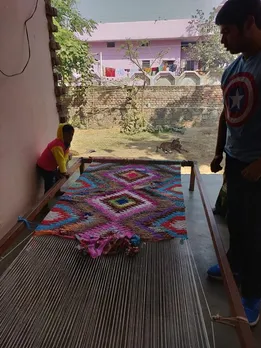 Mewati woman working on a rug
"The response was amazing and so we are now trying to enhance the product line to include varied products like colorful teapots etc. We are also working towards creating a digital platform so we don't have to require manual labor which is exclusive to Mewat and connect these women of Mewat to their buyers," Bhatia shares.
Vision for Gurugram
Bhatia's vision to solve city-specific issues of Gurugram finds roots in her first visit to the city around eight years ago. "When we moved here, there were a lot of expectations from Gurugram. It was called the Millenium city where one should come to reside. But since then up until now, we have only seen the downfall. We aren't talking about the bigger issues but basic issues of governance. We have basic infrastructure, water, electricity, security of women and general law and order issues that have consumed Gurugram. And these are the key areas which I am going to focus on right from the time of campaigning and even when I get an opportunity to become an MLA."
ALSO READ: Women In Politics Have Always Been Treated As Second Class Citizens
On safety issues for women, she says that 50% of the battle will be won if we have a woman representative. "Only a woman can understand the situation of another woman. So if I do become an MLA then one of the foremost key areas that I will be focusing will be women's safety," she adds.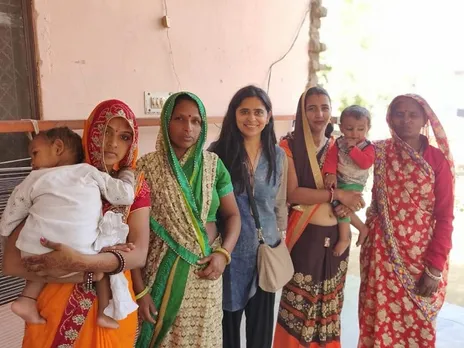 Sheilza with her team of Mewat women
Why Swaraj India?
Talking about why she chose to join Swaraj India as it is a fairly new party and the Lok Sabha election results paint a picture of the fact that the majority is with the BJP, she says, "If we go by mandate and whatever has happened in Lok Sabha election, the wave, etc. I would call it a myth but if we go by that then leave aside Swaraj India. In this scenario then all parties fall on one side and one party falls on the other side. So if we start thinking this way then no one would want to contest. But this is not the case as I see so many more candidates from Gurugram this time. Just because there is a trend and people have this impression that this is the only party (BJP) that's going to win, that is the ideology I don't get convinced with."
"I am contesting from Yogendra Ji's party because I connect with him," Bhatia voices. On why she did not contest from AAP when she has already campaigned for candidates of that party several times, Bhatia says "I didn't think about this at all. AAP doesn't have a formal structure in Haryana and that's the reason I thought even if I invest my time here, it wasn't going to lead me anywhere. I wanted to be more productive and that's why I thought of doing my work in Mewat. But when Yogendra Ji's proposal came up, it was an opportunity that heightened my growth. I didn't even think of talking to AAP since I knew AAP is as good as a new party in the state."
ALSO READ: Why Indian Politics Needs A Sisterhood, By Angellica Aribam