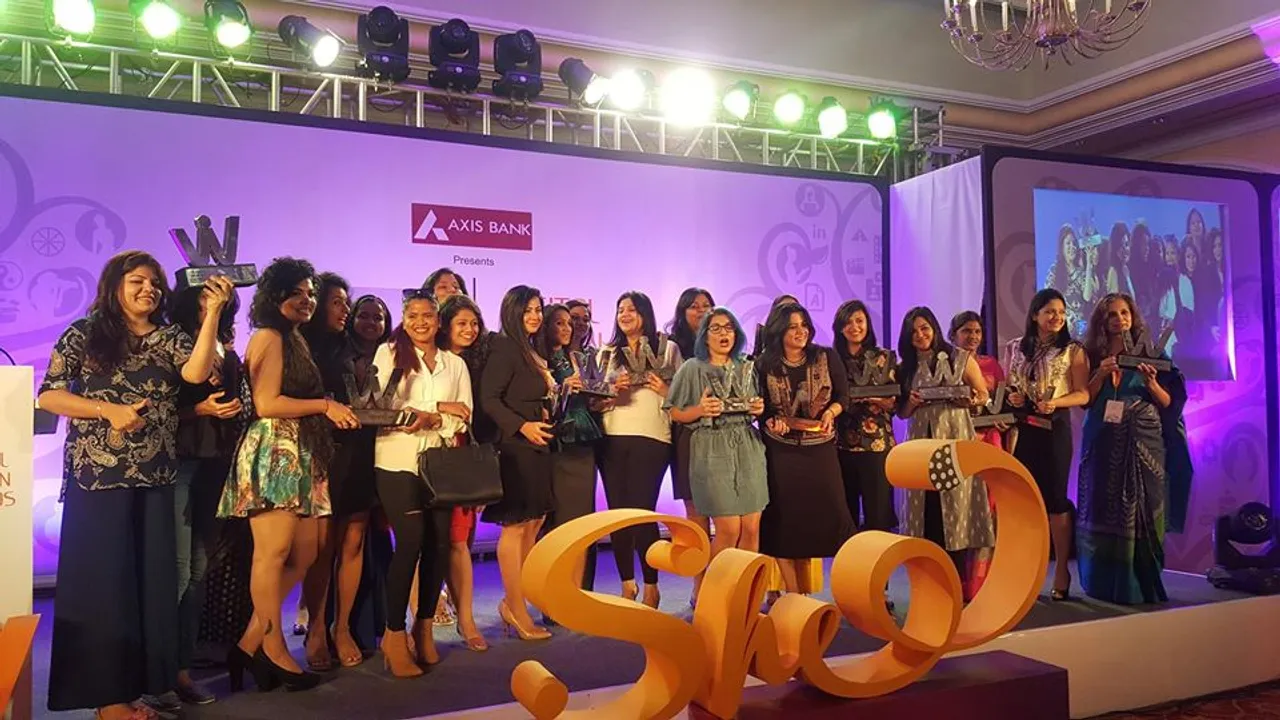 We kick-started a panel called She Leads the Internet at the Digital Women Awards in Mumbai, by talking about the discrepancies in India -- where the gender gap when it comes to internet access is very high, indeed. But there are people working to change this, and here's a snapshot of what we learned.
Also Read: Meet the Digital Women Awards Social Impact Winners
Neha Barjatya of Google India described the revolutionary concept of having rural women as ambassadors of the internet -- the Internet Saathi program has been making waves indeed. The estimates are that only one third of India's online users are women... that one in ten rural users is a woman. Neha spoke to us about the barriers that are commonly reported, including cultural barriers, and access in the first place-- also that people don't know what they don't know. These women though as ambassadors -- rural women on cycles, with their internet saathi box/ gear -- have reached about 1 million women! Though Neha tells us that the number is now even higher than that. Inspiring stuff.
We also spoke to Aditi Prasad, COO of Robotix, which is focused on robotics and robotics education, on the need to develop an interest in STEM (Science, Tech, Engineering and Maths). Surprisingly, even in India, where we have such a strong emphasis on science and engineering (and medicine!), there is a gender gap when it comes to representation, especially at higher levels of education. Well, Aditi let us know, they're taking no chances. They start training in robotics and coding at the age of 4 -- and not just in private schools, either, but also for under-served areas. They're based in Chennai and are proud of their girls code program. And while Aditi laughed off the fear that robots are going to take over our jobs, she didn't entirely discount it, either! She did note that they're training the workforce of tomorrow. More power to the sisters running this show!
Also on the panel was the game-changing Rema Subramanian, co-founder of Ankur Capital, an impact angel fund. She has been focusing on sharing her more than 2 decades of entrepreneurial experience with young start-ups, that they look to invest in. And it's quite interesting that they're focusing on social ventures that are also scalable businesses -- from cold storage to healthcare, they in fact look at businesses across the rural-urban divide. What's incredible is that they're all seeing and using tech as the big enabler -- here's to more change, more women leading the internet, and more actionable solutions, going forward!
#DigitalWomenAwards @amritat inConvo - AditiPrasad @SoyRobotiX ReemaSubramanian @ankurcapital NehaBajratya @GoogleIndia #sheleadstheinternet pic.twitter.com/KrS4ppRUsI

— Shruti Mishra (@Shruti29Mishra) November 13, 2016
What a lovely topic 'She Leads the Internet' by @amritat at #digitalwomenawards @SheThePeopleTV pic.twitter.com/2rA7FFTnuZ

— Rohit Khilnani (@rohitkhilnani) November 13, 2016
Neha Bhajratya talks about spreading the knowledge of #InternetSaathi to rural women. @GoogleIndia pic.twitter.com/Vvy75iV4tk

— SheThePeople (@SheThePeopleTV) November 13, 2016
Also Read: Meet The Digital Women Awards Winners For Content Creation