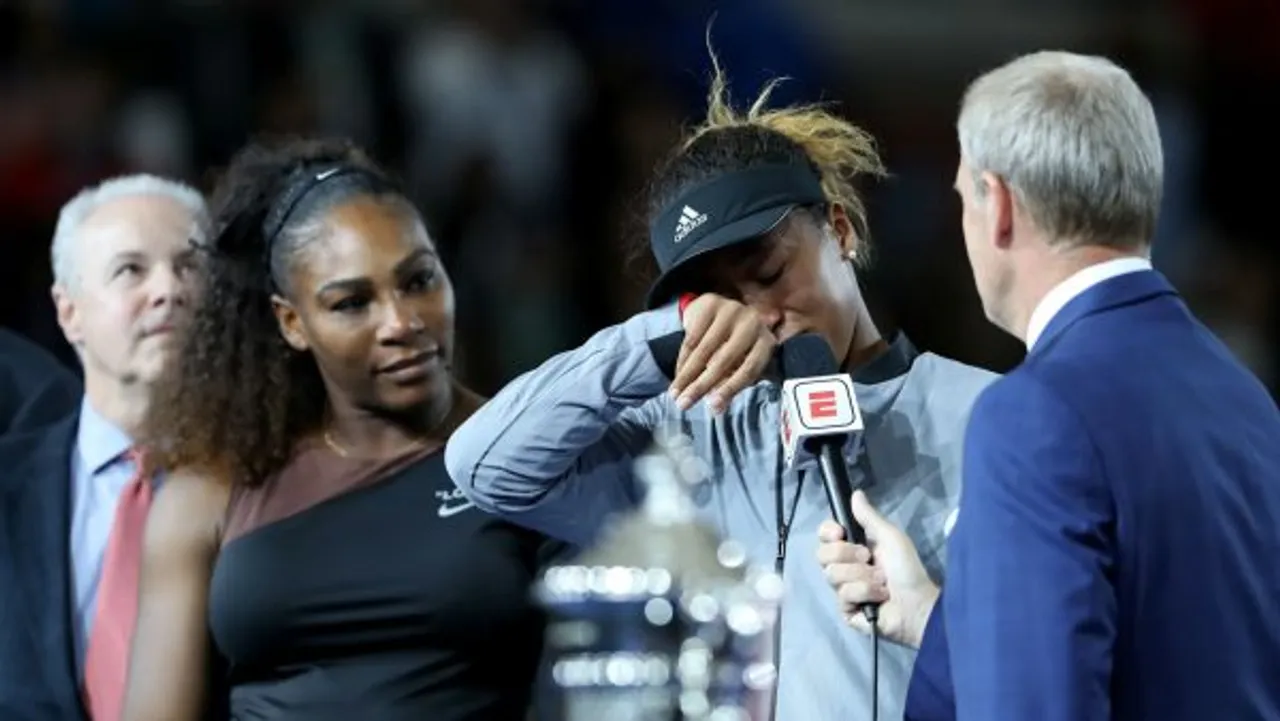 The 23 Grand Slam winner Serena Williams on Tuesday spoke up, after consulting a therapist on the infamous 2018 US Open final meltdown, when she realised that she had robbed Naomi Osaka a chance to celebrate her maiden title win. Williams had engaged in war of words with the umpire and now she feels guilty of being unfair to Osaka.
Serena wrote a heartfelt letter apologising to Naomi Osaka, to which the 21-year-old Japanese player responded with a beautiful message. She applauded the seven-time Wimbledon champion for her bravery and praised the manner in which Serena stood for herself.
In her essay published in the US magazine Harpers Bazaar, Serena recalled, "When Naomi's response came through, tears rolled down my face. 'People can misunderstand anger for strength because they can't differentiate between the two,' she said graciously. 'No one has stood up for themselves the way you have and you need to continue trailblazing.'"
Osaka secured her first two Grand Slams at the US and Australian Open since her last outing on a grass court
During Serena's outburst at the US Open, she had accused the chair umpire to be a "liar" and a "thief." Naomi had won the game defeating Serena 6-2, 6-4 to triumph in her first major in September last year. However, Serena engaged in a controversy with chair umpire Carlos Ramos. For the misbehaviour on court, she was handed a code violation for coaching, docked a point for smashing her racquet and penalised a game for verbal abuse.
The American missed most of the 2017 WTA season due to her pregnancy. The tennis ace had earlier spoken about the complications she suffered after giving birth to her daughter. During her pregnancy, she was ranked No 1 in the world and won the Australian Open in her first trimester.
"Not only was a game taken from me but a defining, triumphant moment was taken from another player, something she should remember as one of the happiest memories in her long and successful career," the 37-year-old Williams wrote. "My heart broke."
READ: How Naomi Osaka Rose To The Top From World No.72 In A Year's Time
Naomi, on the other hand, became Japan's first Grand Slam singles champion – man or woman – after thrashing her idol, Serena Williams, in last year's US Open final. She went toe-to-toe with the 23-time Grand Slam champion and defeated her.
Serena went on to write in the essay: "It was in this moment that I realised the real reason the US Open was so hard for me to get over: It wasn't because of the backlash I faced but rather because of what had happened to the young woman who deserved so much more in her special moment. I had felt that it was my fault and that I should have kept my mouth closed. But now, seeing her text putting everything in perspective, I realised she was right."
"Ultimately, my daughter is the reason I use my voice, the reason I picked up a racket again," she added.
Meanwhile, Serena has advanced to the semi-finals of the on-going Wimbledon after she defeated American compatriot Alison Riske on Tuesday.
READ:Retribution In Tutu: Serena Williams' Fitting Reply To Catsuit Ban 
Feature Image Credit: US Open / Twitter